Over the past week, a lava lake in Hawaii has been rising, and occasionally flowing over its rim into the crater it's located within.
The lava lake, which has been active since March 2008, is inside an open vent located within Halemaumau Crater on Kilauea volcano.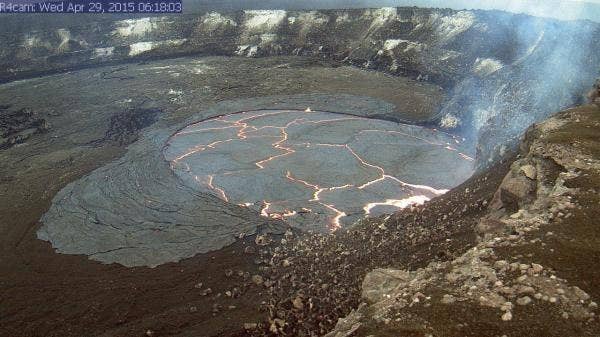 This is the first time lava from the vent has been viewable from a public platform within Hawaii Volcanoes National Park, geologist Janet Babb told the Associated Press on Thursday.
On Tuesday, and again on Wednesday, the lava briefly overflowed the lake's rim.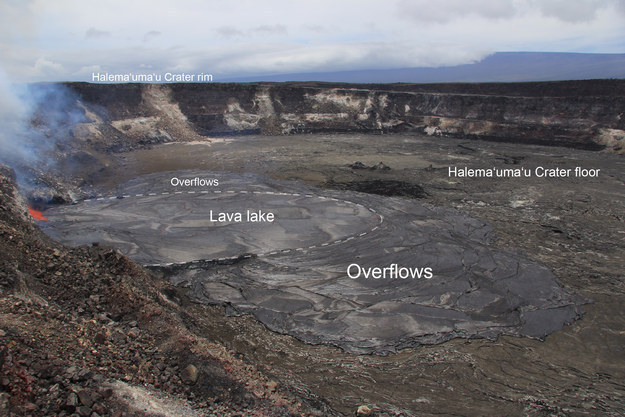 A rockfall on Tuesday also triggered a large explosion, which hurled chunks of lava onto the rim of Halemaumau Crater, which is about 270 feet above the lake.
Hawaii Volcano Observatory geologists working on the far side of the crater captured this image of the plume rising after the explosion: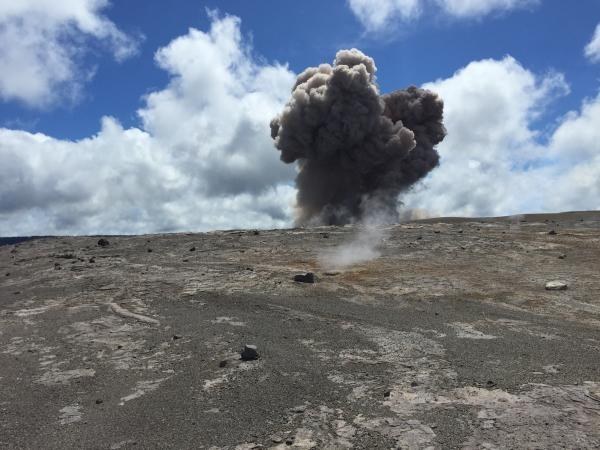 By Thursday, the lava was starting to recede again as part of its natural ebb and flow.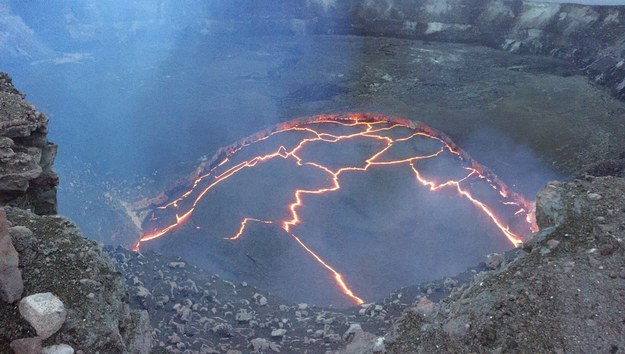 The lava lake will likely continue to overflow intermittently, the United States Geological Survey told Hawaii News Now.
The last time molten lava was visible in the crater was in 1982 when a fissure erupted, and the last lava lake located there was in 1974.
In the early 1800s until 1924, there was constantly a lava lake in Halemaumau crater. During the late 1800s, a group of artists known as the Volcano School preserved the scene of active lava in the iconic images they painted.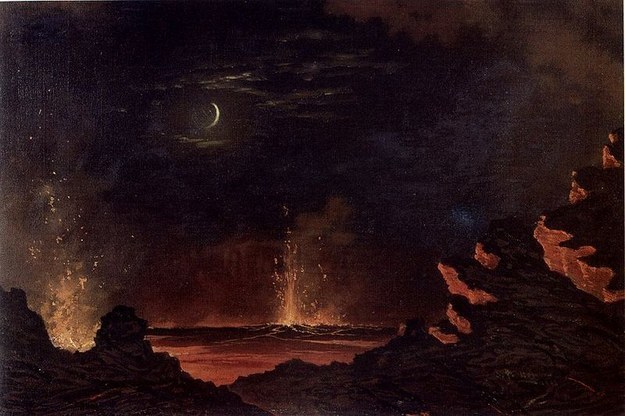 In 1924, there was a huge eruption inside the volcano that doubled the diameter of Halemaumau Crater to roughly the size it is now.
After the eruption in 1924, lava lakes have been periodically visible. From 1967 to 1968, the entire crater was filled with molten lava, and as a result a "bathtub ring" can still be spotted on the walls of the crater where the lava was at that time.
Earlier this week, officials at Hawaii National Volcanoes Park released a statement asking visitors to be prepared for large crowds, which has been an ongoing problem as people flock to view the lava.
On Sunday, a park ranger used a stun gun on a man and then arrested him because he was flying a drone over the lava lake, the Associated Press reported.
The man was reportedly asked three times to bring the drone down, which eventually he did. Witnesses said the ranger used excessive force.
Meanwhile, a lava flow that started on June 27 along Kilauea Volcano's East Rift Zone continues to move into different breakouts.
Hawaii County Civil Defense issued a statement saying the recent rise in the lava lake has "not resulted in any significant change or increased activity" to the earlier flow.