A shooter opened fire in a South Florida high school on Wednesday, killing at least 17 people.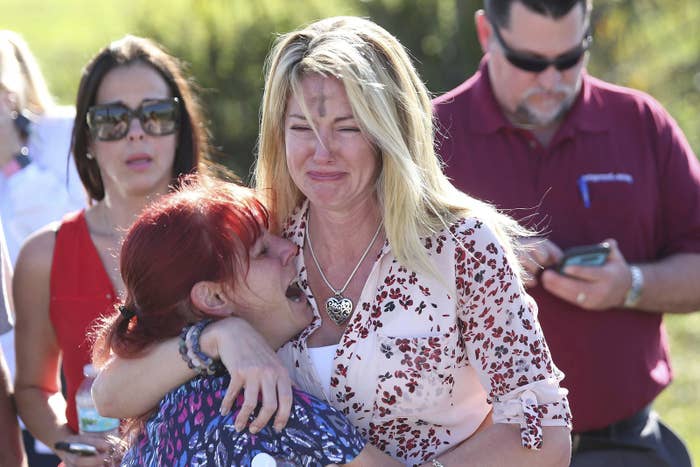 As the shooting was happening, students barricaded in classrooms and closets inside the building reached out to their parents to say what they feared might be their last words.
One student wrote to her parents, "If I don't make it I love you and I appreciated everything you did for me," according to a screenshot shared with WSVN reporter Jessica Holly.
A 14-year-old student texted his dad to say that his mother couldn't come get him because the school was still "on lockdown" and "you could get hurt."
Miami Herald reporter Carli Teproff, who shared the 14-year-old's text message, said the student had been reunited with his family.
James Harrison, a sophomore at the high school, texted his stepfather, "I love you," and said he was "really scared." He also asked his stepfather to call the police and not to call him, because he needed to stay silent.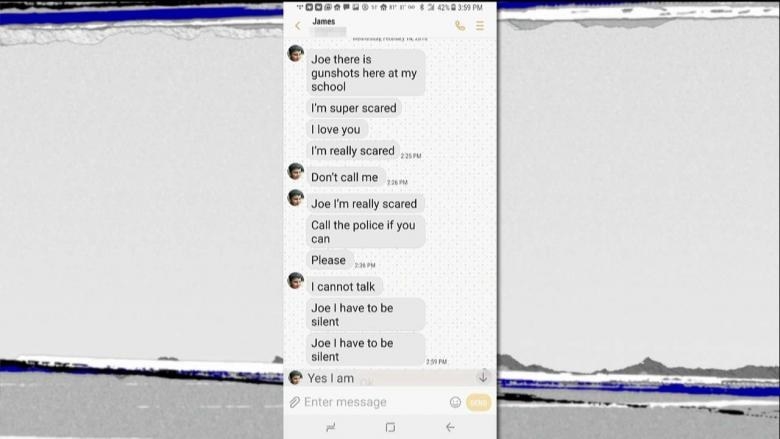 "I just couldn't believe it because there were so many shots that I heard and I was so scared and I was so anxious because I didn't know what was going on," Harrison said in an interview with Fox News after the shooting.
"I saw everybody else in my class was texting their family members," he said, "so I just ended up picking up my phone just doing the exact same thing and trying to contact."
"I contacted my stepfather, my mother, and both of my brothers to try and see what they could do and try to get them to call the police to see what's going on," Harrison added, explaining that some students didn't know if the school was holding some kind of drill until they confirmed on CBS News' website that there was a shooting going on at their school.
Beth Feingold told the Associated Press that her daughter, Brittani, sent a text that said, "We're on code red. I'm fine," but followed up with another text saying, "Mom, I'm so scared." She and her daughter were later reunited.
Len Murray told the AP that his 17-year-old son, who is a junior at the school, sent him a text saying: "Mom and Dad, there have been shots fired on campus at school. There are police sirens outside. I'm in the auditorium and the doors are locked," according to the AP.
Moments later the teenager texted, "I'm fine."
Murray told the AP that he raced to the school, but was stopped by authorities near a highway overpass within view of the building. He texted his son to save his battery and the boy's mom texted him to turn off his ringer.
A junior at Marjory Stoneman Douglas High School, who asked not to be named, told BuzzFeed News that as he texted his family during the shooting he "thought that this could be the last thing I ever say to them."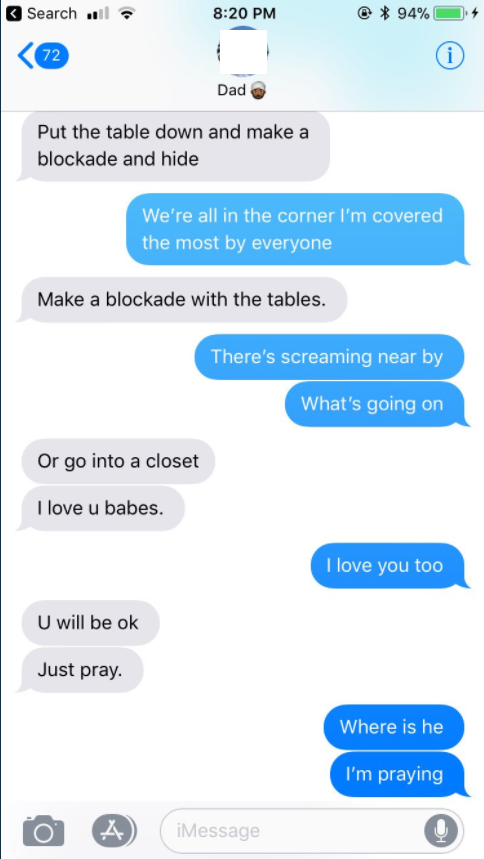 The high school junior told BuzzFeed News that he thought he was "going to die hiding in a corner waiting for someone to come shoot him."
Through text messages, his dad advised him to make a blockade with tables or to find a closet to hide in. They told each other "I love you," and his dad told him "just pray," which the student says he was doing.
The student also told BuzzFeed News he thought about how "everyone will just forget about us a week later, like with all shootings. Just another number."
"I'll never see my family again or have dance parties with my sisters again," the student recalled thinking. "I just thought I was going to die."
He also texted his mother and both of his sisters that he loved them.
The student told his mom he was hiding and scared.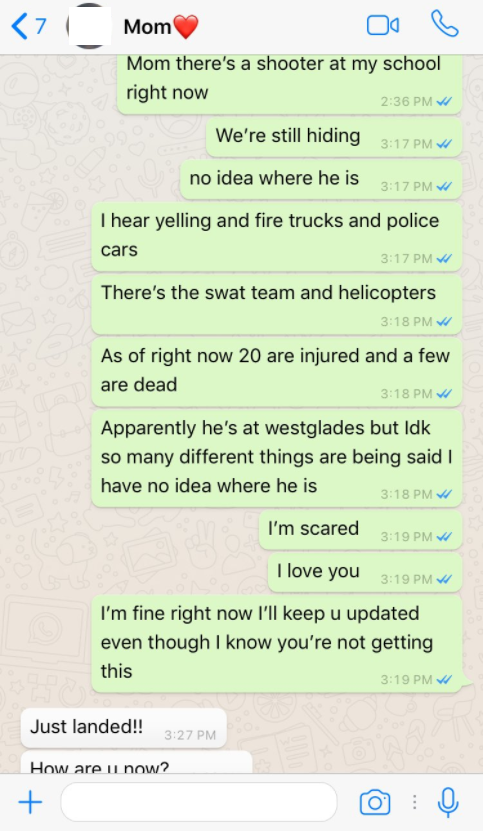 He also texted his sister, who is a seventh-grade student at Westglades Middle School, which is located next door Marjory Douglas High School. He told BuzzFeed News that at the time he sent her the texts, there "was a lot of confusion as to where the shooter was."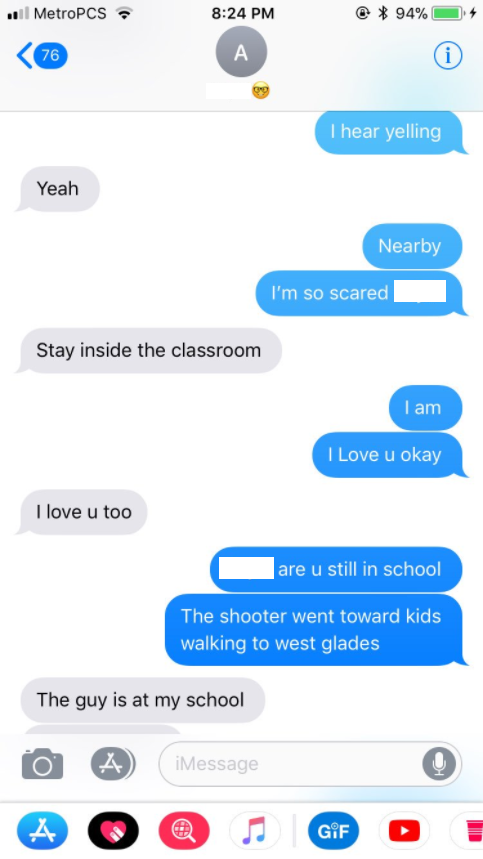 And he texted his 10-year-old sister, who told him that his dad was crying. "Don't be scared," he wrote her. "Tell him everything is okay for now."