Another Clown Was Spotted In The Woods And Police Say This Needs To Stop
The latest clown to be spotted was chased back into the forest by a North Carolina man with a machete, police said on Tuesday.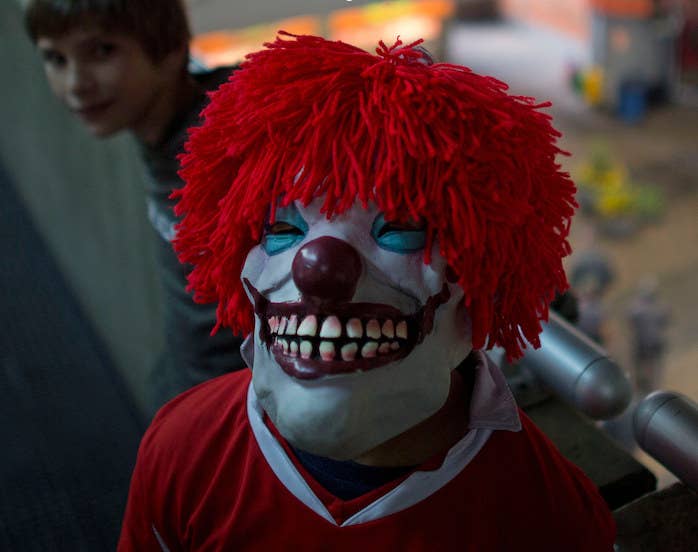 Yet another clown spotted on the edge of a forest has police officials calling on people to stop it.
On Tuesday, a clown was reportedly seen at the edge of the woods in Greensboro, North Carolina, following recent reports of a clown allegedly trying to lure kids in Winston-Salem and South Carolina's Greenville.
Police said a witness called in to report seeing someone wearing a scary clown mask, red curly wig, yellow dotted shirt, and blue pants and shoes leaving the woods near an apartment complex. Another man with a machete also chased the clown back into the forest, but officers were unable to find anyone matching the description.
Chris Bass told FOX8 he lives at the complex with his wife and two children. He said he was on his balcony when he saw the clown and grabbed a machete to chase after it. He said it was his "fatherly instinct."
The sighting came two days after two children in Winston-Salem told police that a clown tried to lure them into the woods with treats. A second sighting was reported that night about 2 miles away.
On Monday night, a woman reported a clown wielding a machete tried to lure her into the woods on the outskirts of Winston-Salem. The Forsyth County Sheriff's Office said Tuesday that the woman described the clown as having red bushy hair and a red nose, black gloves, a black tie, and white shoes, FOX8 reported.
The story from the two kids was similar to a report last week in Greenville of a clown talking to children near an apartment complex.
No children were involved in the Greensboro incident.
Citing the "heightened tensions" from the recent reports, Greensboro authorities discouraged anyone from participating in any "copycat behavior," saying it would only unnecessarily increase public alarm and drain police resources.