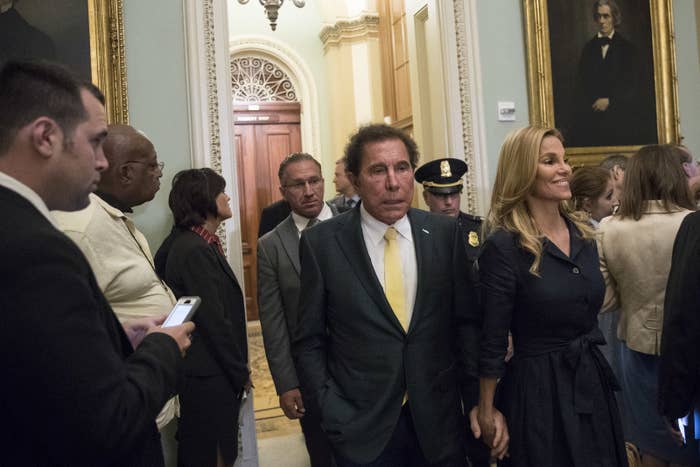 The Nevada Gaming Control Board has opened an investigation into allegations Las Vegas casino magnate Steve Wynn engaged in a long pattern of sexual misconduct, including with employees.

"After completing our review, the Nevada Gaming Control Board is conducting an investigation with regard to the allegations of sexual misconduct involving Steve Wynn," board chair Becky Harris said in a statement to the Nevada Independent. "The Nevada Gaming Control Board will conduct its investigation in a thorough and judicious manner."
BuzzFeed News reached out to the board for a statement and more details.
The board's investigation comes after the Wall Street Journal published an article Friday detailing allegations of sexual misconduct against the casino magnate.
The article includes interviews with dozens of women who worked at Wynn's casinos and reported "behavior that cumulatively would amount to a decades-long pattern of sexual misconduct." Wynn told the WSJ in a statement that it was "preposterous" that he "ever would assault any woman."
On Friday, the Massachusetts Gaming Commission announced that it would conduct a regulatory review of Wynn Resorts, which is building a $2.4 billion casino near Boston, WBUR reported.

On Saturday, Wynn resigned from his role as finance chair of the Republican National Committee.
The following day, Republican Sens. Susan Collins and Lindsey Graham called on the GOP to return Wynn's donations, which totaled more than $200,000 last year, according to Federal Election Commission filings.
The Nevada Gaming Control Board, which is one of two regulatory agencies that oversee gaming in the state, has the power to take punitive action against Wynn as an individual, which would not affect the corporation's license in his name, according to the Nevada Independent.
The Nevada Gaming Commission, which is responsible for administering regulations, granting licenses, and ruling on disciplinary matters brought by the Nevada Gaming Control Board, requires that applicants for a gaming license are "a person of good character, honesty and integrity."
Another regulation also requires that all gaming establishments are operated in a manner suitable to protect the "public health, safety, morals, good order and general welfare of the inhabitants of the State of Nevada."