Louise Linton is a 36-year-old Scottish actor who married US Treasury Secretary Steve Mnuchin in June. Mnuchin is a 54-year-old Hollywood producer, hedge fund manager, and banker who worked for Goldman Sachs and joined Trump's presidential campaign in 2016.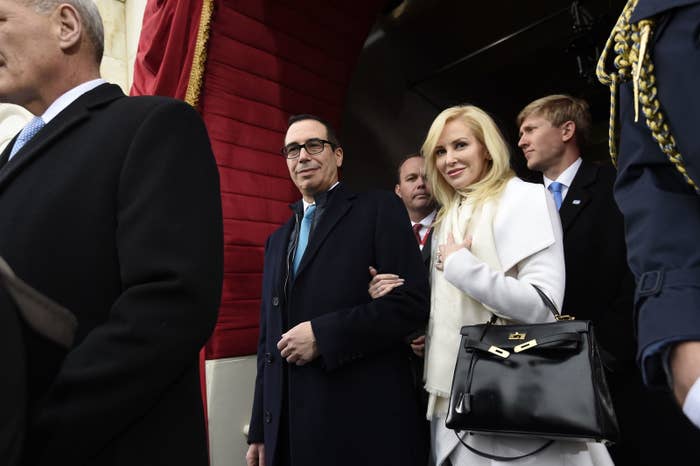 On Monday, Linton went to Kentucky with her husband and Senate Majority Leader Mitch McConnell. Both men were in Louisville to make the case for Congress to overhaul the tax code, saying it would help the middle class.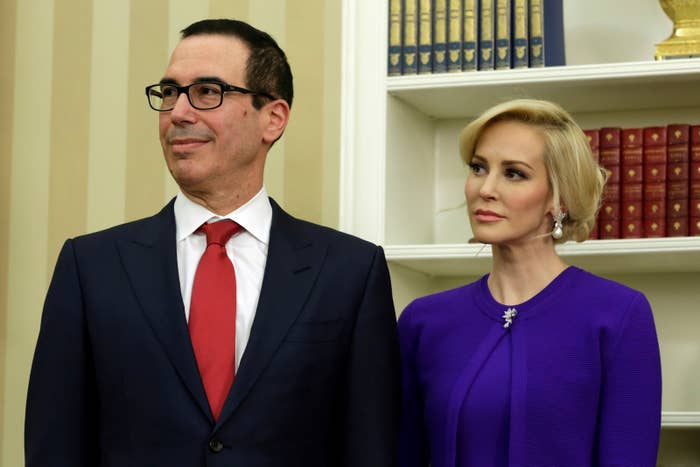 On Monday night, Linton posted a photo on Instagram of herself getting off a government jet with the caption "Great #daytrip to #Kentucky!" and the hashtags of various pieces of her expensive wardrobe, such as #rolandmouret, #hermesscarf, #tomford and #valentino.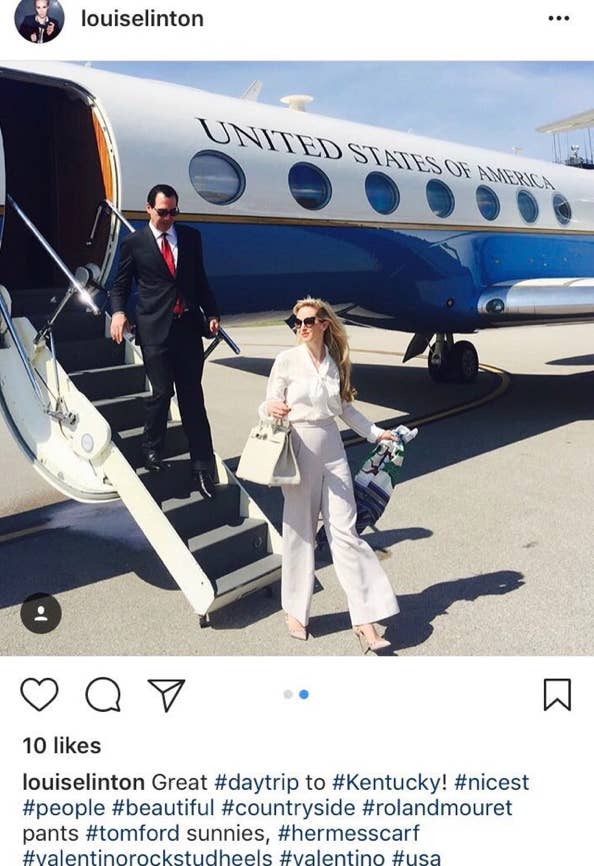 In response to the Instagram, Jenni Miller wrote under the photograph, "Glad we could pay for your little getaway. #deplorable."
And Linton decided to respond. "Aw!!! Did you think this was a personal trip?! Adorable!" she wrote. "Do you think the US govt paid for our honeymoon or personal travel?! Lololol. Have you given more to the economy than me and my husband? Either as an individual earner in taxes OR in self sacrifice to your country?"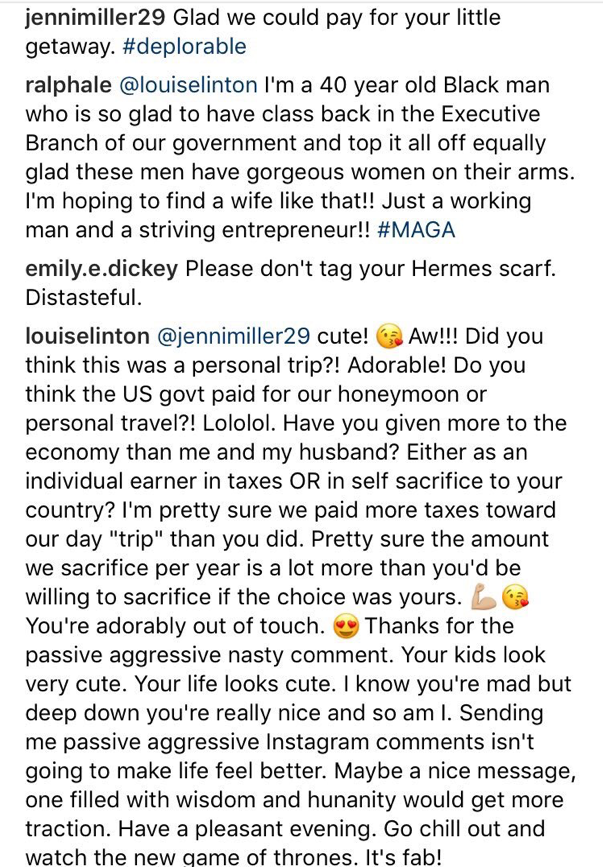 On Tuesday, Linton apologized for her posts. "It was inappropriate and highly insensitive," she said in a statement.
But before that, people took to Twitter to criticize Linton's comment.
They called Linton "a bit defensive."
And made jokes.
People also noted that Linton had once written a memoir about spending a year in Zambia, caring for an HIV-positive orphan and hiding out from murderous rebels — except it wasn't entirely true and was pretty racist.
Miller, a registered Democrat and 45-year-old mother of three from Portland, Oregon, told the New York Times that she was taken aback by Linton's words.
"If she hadn't made her account private, I would have written back with a very snide Marie Antoinette joke," Miller said.
The Oregon mother said she just didn't understand why Linton had to share the brands she wore when visiting a state with a high poverty level.
"I think my post was just five or six words, and she had to go on basically a rant about it to make herself look more important and look smarter, better, richer — all those things," Miller said.
Miller posted on Instagram twice following the exchange, first saying, "Apparently I offended this deplorable girl I had never heard of until today," and, "She says she's a nice person. I doubt it. There weren't any Nazi sympathizers at my wedding. #byelouise."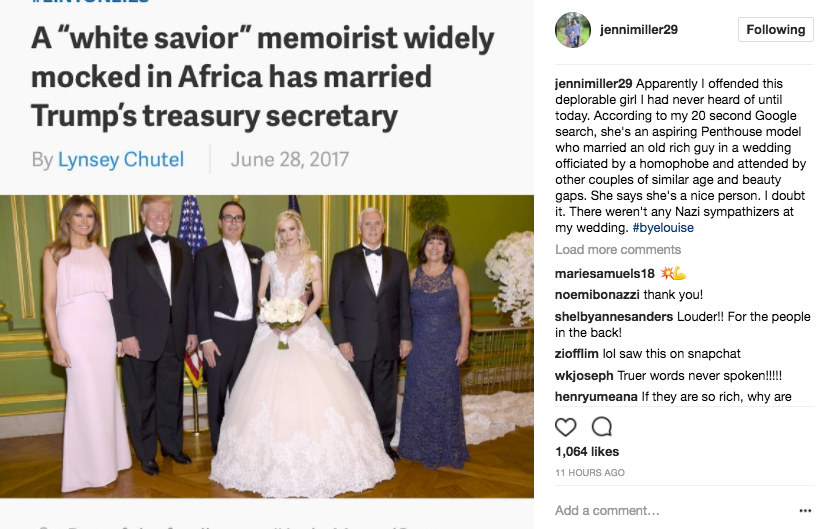 Miller then linked to a friend's YouCaring fundraising campaign, writing, "What I do know is that for the price of one $11,000 handbag, our friend Marty could spend 11 days in an inpatient rehab facility to help him recover from a stroke. His insurance denied coverage. His family can't afford to pay. And yet, people like @Louiselinton feel superior because they own an object worth so much that they value so little."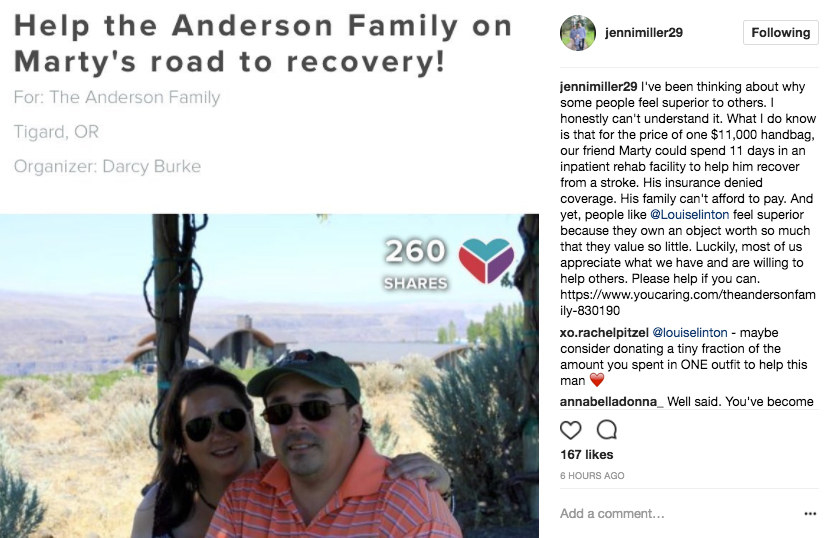 A US Treasury Department spokesperson said that Linton had not been sponsored by any of the brands she hashtagged and that the Mnuchins reimbursed the government for the trip.