St. Louis Police Officer Out Of Hospital After Being Shot In The Face
"He was targeted because he was a police officer," Mayor Francis Slay said after a 46-year-old sergeant was taken to the hospital in critical condition.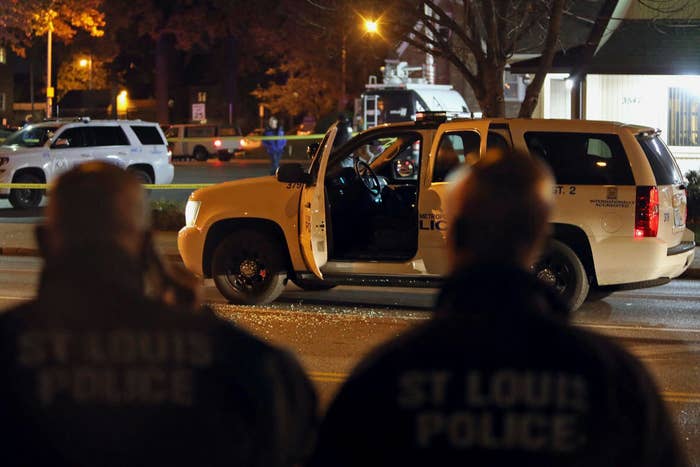 A St. Louis police sergeant was shot twice in the face Sunday night when a driver pulled up beside his patrol car and opened fire. The suspect was later shot dead by police.

The 46-year-old was released on Monday morning, police told BuzzFeed News.

The officer was sitting in his squad car at a red light when a person in another vehicle pulled alongside, firing at least two shots into the police vehicle, authorities said.
"He was targeted because he was a police officer," Mayor Francis Slay said at a press conference at Barnes Jewish Hospital, where the officer was taken in critical condition. "He didn't stop anybody. He didn't point a gun at anybody. All of us as a community have to do what we can to help find this guy."
The sergeant has been on the force for 20 years and is the father of three kids, the Associated Press reported.
Early Monday, St. Louis Police tweeted that the suspect in the shooting had been killed in a "officer-involved shooting." No police were injured in that incident. Speaking at a press conference, Chief Sam Dotson said the suspect fired shots at officers after fleeing from a car driven by a woman.
"We believe that the individual was involved in several robberies, perhaps a carjacking, perhaps a even homicide that have occurred over the past few days. We believe he knew he was good for those crimes and that we were looking for him and that's why he aggressively attacked officers," Dotson said.
Police on Monday afternoon identified the suspect as 19-year-old George P. Bush.
The authorities released a booking photo of Bush taken when he was detained for resisting arrest on Oct. 16, 2015.
The shooting in St. Louis comes on the same day that a police officer in San Antonio was fatally shot while issuing a traffic ticket.
The suspect pulled up behind the squad car, walked towards the passenger's side of the police car, and shot the officer in the head, according the police.