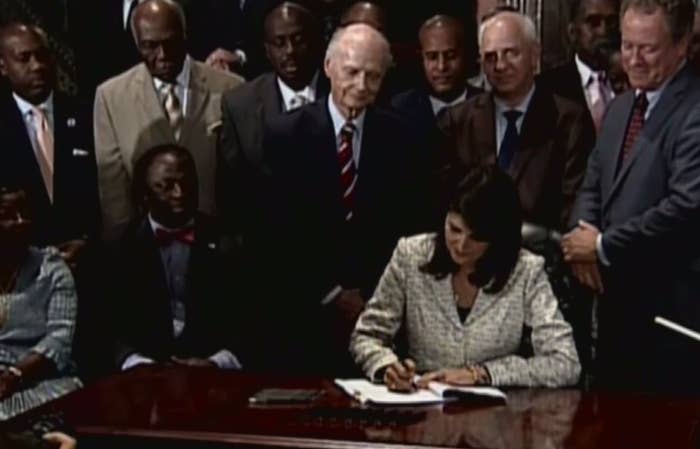 South Carolina Gov. Nikki Haley on Thursday signed a bill to remove the Confederate battle flag from the statehouse grounds, noting the weeks of grief and compassion that have consumed the state since a gunman killed nine people at Charleston's Emanuel AME Church.
"Twenty-two days ago, I didn't know that I would ever be able to say this again," Haley said. "But today I'm very proud to say that it is a great day in South Carolina."
Haley signed the measure into law at a ceremony at the statehouse hours after the bill got final approval from South Carolina's House of Representatives.
She credited lawmakers' quick action to the example set by the victims of the shooting and their families.
"Nine people took in someone that did not look like them or act like them, and with true love and true faith, and true acceptance, they sat and prayed with him for an hour," Haley said before signing the law. "That love and faith was so strong that it brought grace to their families. It showed them how to forgive."
The flag, which has flown at the statehouse for more than 50 years, will be removed from the grounds at 10 a.m. Friday, Haley's spokesperson told the Associated Press.
The bill, which was passed on a 94–20 vote, calls for the flag to be housed in the Confederate Relic Room and Military Museum in Columbia.
"We will bring it down with dignity and make sure that it is put in its rightful place," Haley said.
The debate that started on Wednesday lasted more than 13 hours. The House discussed at length an amendment to replace the Confederate flag with the state flag, but it was narrowly rejected by a vote of 57–63.
"We saw members start to see what it was like to be in each other's shoes, start to see what it felt like," Haley said. "We heard about the true honor of heritage and tradition. We heard about the true pain that many had felt. And we took the time to try to understand it."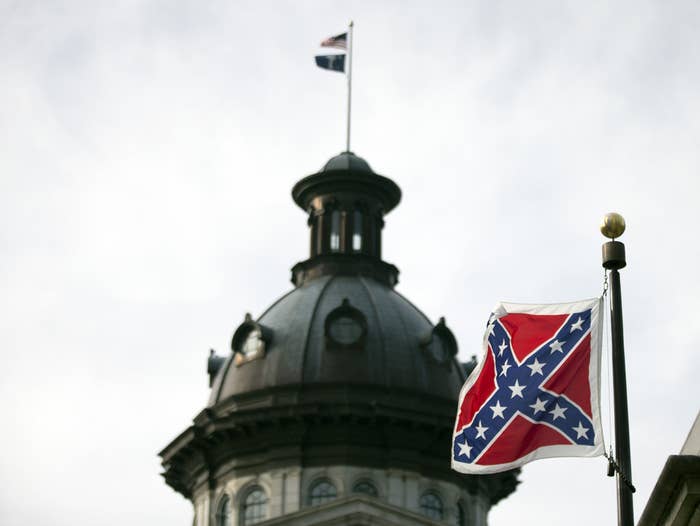 On Monday, the South Carolina Senate passed the bill to remove the flag on a final vote of 36–3.
The Confederate flag was originally raised at the Capitol in the early 1960s to mark the Civil War centennial, and at a time when the civil rights movement was starting to grow.
In 2000, a series of protests about the Confederate flag's position on top of the Capitol led to moving the flag to its current spot on state grounds and to the Heritage Act that says the flag can only be lowered with approval of the legislature.
Calls to remove the flag were amplified after nine people were killed last month at a historic black church in Charleston. The suspect, Dylann Roof, had posted multiple pictures online of himself posing with the flag, as well as as online manifesto about white supremacy.
Two activists were later arrested outside the Capitol on June 27 for climbing the flag pole and removing the Confederate flag.
Haley, along with other officials, have been among those rallying for the removal of the Confederate flag, saying that while some people see the flag as part of tradition, others find the flag to be a symbol of a brutal past and that it "does not represent the future of our great state."
The governor released a statement Thursday after the final vote, saying, "It is a new day in South Carolina, a day we can all be proud of, a day that truly brings us all together as we continue to heal, as one people and one state."
Charleston Mayor Joseph P. Riley, Jr., said the day marked a new opportunity to build tolerance and acceptance.
Today, in South Carolina, division has been replaced with unity. Our state capitol building -- a building that belongs to all South Carolinians -- will house flags that belong to all South Carolinians as does the flag of our state and the flag of our country.

For more than half a century, the confederate battle flag has been atop our state capitol or in front. This reasonably insulted many of our citizens and kept alive wounds of prejudice and hate. For many years, efforts have been made to have this flag retired to a museum.

Today, at long last, this has been done. Our state's response to a horrific act of racial hatred has been a clear and decisive act of graceful unity, respect and healing for all of our citizens.

Governor Haley and members of our General Assembly deserve the highest praise from our citizens. They will be able to carry with them for the rest of their lives deserved pride for this historic and healing action.

We have an opportunity to work together and build new bonds of acceptance, tolerance and inclusiveness for our children and grandchildren.
Cornell William Brooks, NAACP president and CEO, released the following statement on Thursday:
The NAACP applauds the South Carolina legislature for voting to remove the Confederate Battle flag – one of the longest standing symbols of hatred and exclusion -- from public spaces and state grounds today. The confederate battle flag as a symbolic stain of racism has been dismissed from the state capital grounds and may now be deposited to a museum. This flag should be studied and no longer honored. This legislative decision affirms the 15 years of collective advocacy of the NAACP on both the national and state level to bring down the flag, in particular our 15 year economic boycott of the state that was joined by the NCAA and UAW. As we head to Philadelphia for our 106th Annual Convention this Saturday, we can now consider an emergency resolution to lift the economic boycott of the state. Today, South Carolina ushers the state and our country into a new era -- one of unity and inclusion at a time of such profound tragedy. By removing the flag, South Carolina not only denounces an odious emblem of a bygone era but also honors the lives of nine students of scripture who were gunned down in a church, including that of Rev. Clementa Pinckney, the former South Carolina state senator. We applaud Governor Nikki Haley for her leadership and moral courage by changing her position and supporting the flag removal in the aftermath of tragedy. This decision will make South Carolina more welcoming and affirming of all people irrespective of their skin color.