Skagit River Bridge Collapses In Washington
UPDATE: An Interstate 5 bridge collapsed into the Skagit River on Thursday evening, sending cars and drivers into the water. There were no fatalities.
The Associated Press reports that a truck carrying an oversize load hit the bridge, plunging a section of the span and two vehicles into the Skagit River. The cars' occupants suffered only minor injuries.
The Skagit River Bridge is located north of Seattle between Burlington and Mt. Vernon.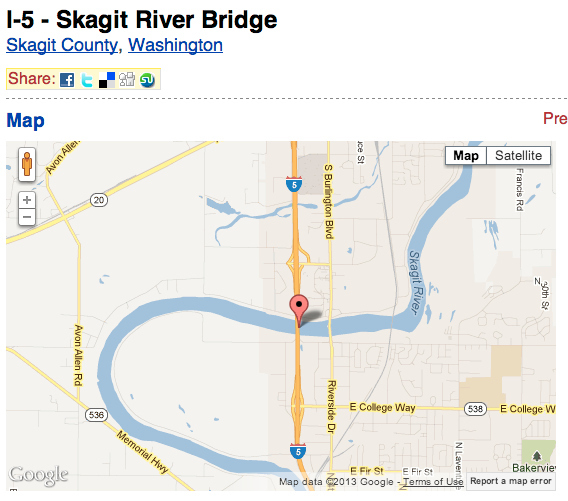 According to the State Patrol, people and vehicles are in the water.
UPDATE — May 24, 2013, 12:22 p.m. ET: Everyone accounted for and no fatalities.
Two people were in a truck and another in a car, but are safe now.
UPDATE — May 24, 2013, 12:37 p.m. ET: There are reports that an oversize load may have struck the bridge, which is being investigated by the Washington State Department of Transportation.