The U.S. Navy Has Built A Realistic Shark Drone
The drone, called "GhostSwimmer," was developed for surveillance. And it's just the latest machine to mimic the animal kingdom.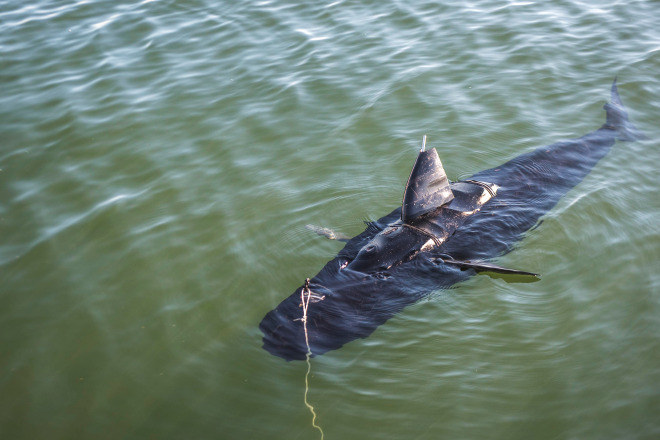 The U.S. Navy announced it is finishing testing of an autonomous underwater drone named GhostSwimmer that looks like a really big shark.
The drone is similar in size to a shark, measuring 5 feet long and weighing almost 100 pounds. It can float near the top of the ocean or dive as deep as 300 feet, all while collecting information for surveillance and reconnaissance missions.
"It swims just like a fish does by oscillating its tail fin back and forth," said Michael Rufo, who is the director of the Advanced Systems Group that designed GhostSwimmer.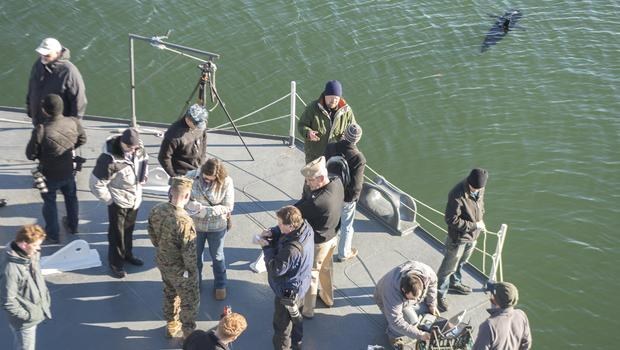 The shark drone comes out of the Navy's Silent NEMO experiments, which are aimed at developing unmanned biomimetic vehicles — or machines that mimic living things. GhostSwimmer, for example, was designed to look like a fish for "low visibility intelligence" missions.
"GhostSwimmer will allow the Navy to have success during more types of missions while keeping divers and Sailors safe," Rufo said.
The drone will also be able to detect underwater mines and recover equipment, which are tasks the Navy currently trains bottlenose dolphins and California sea lions to do.
Technology companies and the military have been working on drones inspired by nature for years, with success stories that include the super-fast Cheetah, the soaring SmartBird, the lizard-like Stickybot, among others.