Embattled former White House communications director Anthony Scaramucci appeared on The Late Show With Stephen Colbert Monday, and discussed Reince Priebus, Steve Bannon, and other gossip from his time in the Trump White House.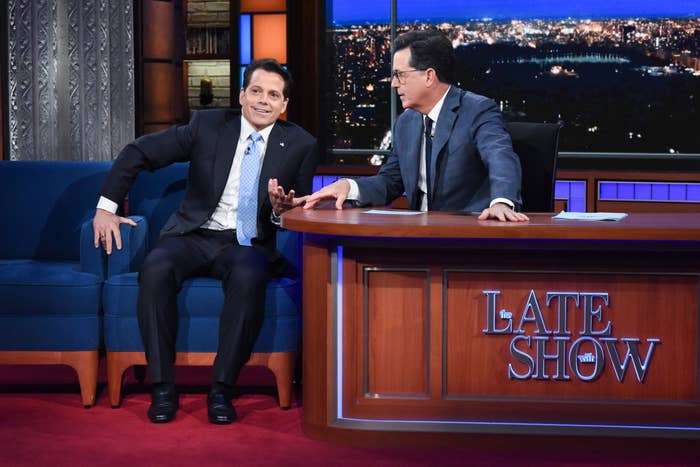 It was Scaramucci's second televised interview since being fired from the Trump administration last month, following a Sunday appearance on ABC News.
Scaramucci was ousted just 10 days after joining the White House as communications director. But in that short time, he had already become notorious for going on an expletive-laden rant about top White House aides in a call with a journalist.
Asked by Colbert whether he felt burned by his firing, Scaramucci demurred, saying that he never anticipated working in the White House for an extended period of time.
"When you take a job like that, Stephen, you know there's an expiration date," he said. "I didn't think I'd last too long, but I thought I'd last longer than, like, a carton of milk."
During Monday's interview, Colbert showed a now-infamous picture of Scaramucci and former White House chief of staff Reince Priebus in which the two appear to be giving each other a death stare. "That's a rough photo, right?" Scaramucci responded.
Colbert then asked Scaramucci if he was brought into the Trump administration to get rid of Priebus and White House press secretary Sean Spicer, both of whom resigned shortly after Scaramucci joined the communications team.
"I don't want to say it that way," Scaramucci replied hesitantly.
"Say it like the Mooch!" Colbert demanded.
"So the Mooch of Long Island would say there's no love lost there," Scaramucci said. "I mean, look at the picture — there's no love lost there."
Asked by Colbert who might be behind the White House leaks now that Priebus is gone — Scaramucci spent a good part of his final days in the administration accusing the then–chief of staff of tipping off journalists — the former communications director conceded that it might be Bannon.
"Well, I've said that," Scaramucci said. "I've been pretty open about that."
"Is Steven Bannon a leaker?" Colbert pressed.
"I said he was, and I obviously got caught on tape saying he was, so I have no problem saying that," Scaramucci said.
"Is he going to be gone in a week?" Colbert asked.
"That's up to the president," Scaramucci said.
"What do you think? What does the Mooch think?" Colbert asked.
"If it was up to me, he would be gone," Scaramucci said. "But it's not up to me."
Later, as he doubled down on questions about President Donald Trump's response to the violence in Charlottesville this past weekend, Colbert asked Scaramucci directly if he thought Bannon was a white supremacist.
"I don't think he's a white supremacist," Scaramucci said. "Although I've never asked him if he's a white supremacist. What I don't like though is the toleration."
But while Scaramucci said he thought Trump should have spoken out more forcefully against the groups behind the rallies in Charlottesville, he nevertheless defended the president.
"He is a compassionate person," he said. "I know him as a compassionate person."
Scaramucci has spent days hyping the Late Show appearance, dropping multiple announcements across several social media accounts, including an Instagram profile created this weekend.
This picture is captioned: "It's not where you've been. It's where you are going. #stephencolbert #guestbathroom #thelateshow"
This photo was just posted with several hashtags, including #GameFace #lateshow and #lateshowwithstephencolbert.
And here he is backstage Monday giving a two-thumbs-up.
He continued promoting the interview as the show aired, posting a video of himself watching his appearance from his Midtown Manhattan restaurant the Hunt & Fish Club.