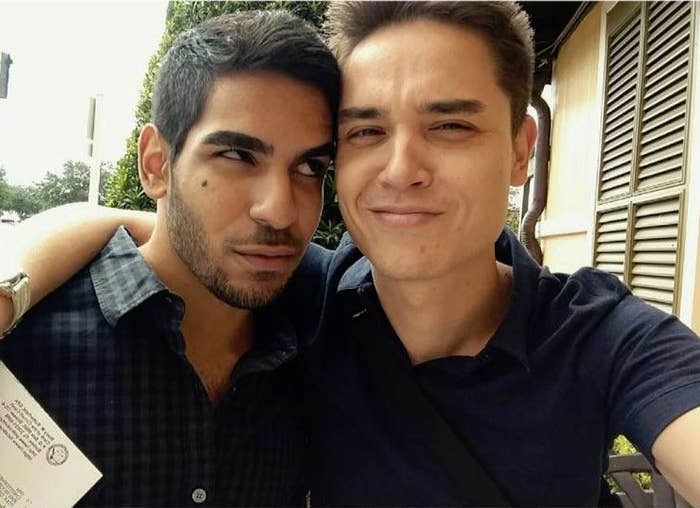 The families of a couple killed Sunday in the mass shooting at an Orlando nightclub said they will have a joint funeral, instead of the wedding they had hoped for.
Juan Ramon Guerrero, 22, and his boyfriend, Christopher "Drew" Leinonen, 32, were among the 49 people killed at the Pulse nightclub in the deadliest mass shooting in U.S. history.
The Guerrero family told Time that they hope to have a funeral where the couple can be buried side by side.
"If it's not a funeral, they were going to have a wedding together," Juan's 24-year-old sister Aryam said.
"They were honestly so in love. They were soul mates. You can tell by how they looked at each other," she said. "It's a little comforting that they died together."
Juan's father, Ramon Guerrero, 61, said he believed a joint funeral service was what his son would've wanted. Drew's mother, Christine Leinonen, 58, was also in support of the idea, he said.
The couple with their families during the holidays.
The couple had been dating for two years and were living together, family members said.
Christine told ABC News that she's proud of her son, who had established the Gay-Straight Alliance at his high school. She said she last spoke to him on Saturday night and her last words to him were "I love you, Chris."
Juan had been studying at the University of Central Florida. His sister said he hoped to become a financial advisor.
"He was so much love and light," she said.
Ramon said that Juan would have turned 23 in a few days and that his wife would cook all of his favorite foods in his honor.
"He was a beautiful kid, a hard worker, friendly, sweet person," he said. "I lost part of my life."