Tyrannosaurus Fossil Owned By Nicolas Cage Returned To Mongolia
The Tyrannosaurus skull was illegally smuggled into the U.S. in 2006 where it was sold at an auction for $276,000.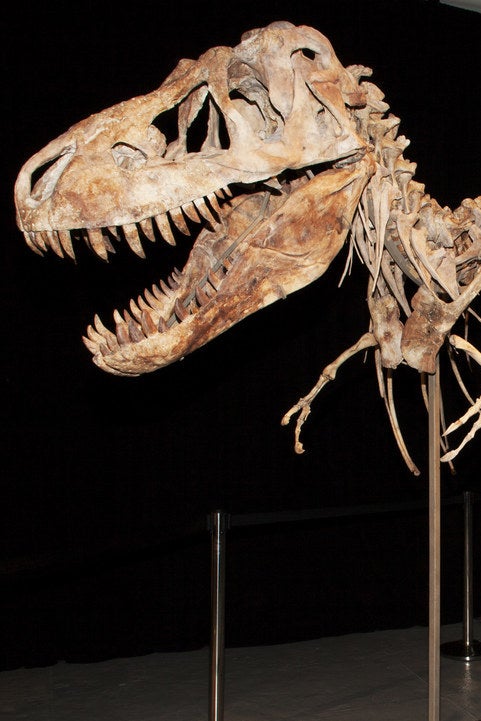 U.S. officials have ordered a Tyrannosaurus bataar skull to be returned to Mongolia after the dinosaur artifact was found to have been illegally smuggled into America and sold at an auction.
While a complaint filed last week did not name actor Nicolas Cage, the details match a widely publicized purchase of the 67 million-year-old skull the Hollywood star made for $276,000 at a Beverly Hills auction house in 2007, Reuters reported. Cage reportedly outbid Leonardo DiCaprio for possession of the fossil.
Manhattan prosecutors filed papers in federal court on Wednesday to secure the 32-inch long skull and return it to Mongolia, the Associated Press reported. Officials said it was smuggled into the country in 2006 by being falsely identified as "fossil stone pieces."
The actor has not been accused of any wrongdoing, and authorities said the skull was voluntary handed over.
Cage has had financial problems after a series of over-the-top shopping sprees, which his business manager said included in 2007 alone three homes, 22 automobiles, 12 pieces of expensive jewelry, and 47 purchases of artwork and exotic items, CNN reported
The return of the skull is part of a larger initiative by U.S. officials to give back stolen artifacts from Mongolia's Gobi desert. More than a dozen dinosaur fossils have been returned since 2012, including a nest of dinosaur eggs and three full Tyrannosaurus bataar skeletons.
"Each of these fossils represents a culturally and scientifically important artifact looted from its rightful owner," U.S. Attorney Preet Bharara said in a statement.
The Tyrannosaurus bataar is related to the infamous Tyrannosaurus rex and was similarly a vicious meat eater. The remains of the dinosaur have only been found in Mongolia, where it has been illegal to export remains since 1924.