Pope Francis Plans Vatican Meeting With Sex Abuse Victims
Pope Francis announced Monday he will meet with a group of sex abuse victims at the Vatican after comparing the "ugly crime" to performing "a satanic Mass."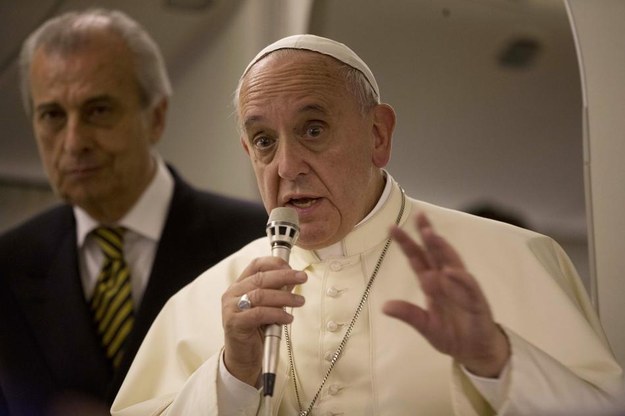 Pope Francis said he plans to meet soon with sex abuse victims and will show "zero tolerance" for anyone in the Roman Catholic Church who abuses children.
"There are no privileges," the pope added.
Francis revealed that three bishops are currently under investigation by the Vatican for abuse-related reasons, although it wasn't explicit if they had committed abuse themselves or covered it up.
The pope, 77, spoke after his Middle East tour to reporters for almost an hour on his flight from Jerusalem to Rome.
"Sexual abuse is such an ugly crime ... because a priest who does this betrays the body of the Lord," he said.
Francis plans to meet with up to eight victims in what will mark the first such encounter of his papacy. The Pope said the meeting and a Mass at the Vatican hotel would take place early next month.
A statement from the office of Boston Cardinal Sean O'Malley, who is arranging the meeting and heads a commission established by the Vatican to investigate sex crimes, said the details hadn't been finalized but that the meeting was expected to take place "in the coming months."
The pope is under pressure to act after the United Nations published a report accusing the Vatican of systematically placing the "preservation of the reputation of the Church over the protection of child victims." In April, the pope asked forgiveness for past wrongs and made a vow to root out abuse in the church.
Cardinal O'Malley also said last month he will recommend that clerics be held accountable regardless of Church rank, which victims' groups have pressed the Vatican to do.
On the plane ride, Pope Francis also noted the upcoming Vatican meeting with the Israeli and Palestinian presidents, but tried to downplay the importance of the encounter. The pope said it would not be a time for peace negotiations, but they would pray together and said a rabbi and Islamic cleric would join him in leading the prayers.
"We are coming just to pray, then everyone goes home," he said. "But I think prayer is important, praying together."