Police Identify Gunman In "Ambush-Style" Shooting That Left One Sheriff's Deputy Dead, Four Others Injured
The suspect shot off 100 rounds during the attack before he was killed, a Colorado sheriff said.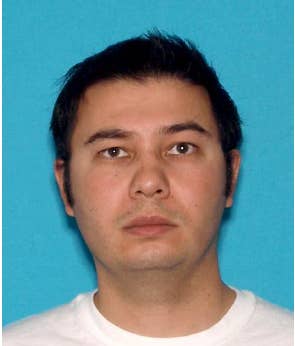 Law enforcement have identified the gunman who shot five officers, killing one of them, and two civilians in an "ambush-style" shootout at his Colorado apartment on Sunday as 37-year-old Matthew Riehl.
A YouTube user with the same name had posted on Dec. 13, saying that the sheriff of Douglas County, Colorado, Sheriff Tony Spurlock, should be fired and replaced by him, according to the Associated Press. The motive for the shooting is still unknown.
The gun battle started after officers were called to an apartment building in Highlands Ranch, Colorado, in suburban Denver, because of a complaint around 5:15 a.m., after responding to a similar call at the same location about four hours earlier.
Spurlock described the shooting Sunday as "an ambush-type attack on our officers."

Officers entered the apartment complex when a resident let them in, Spurlock said, and were shot "almost immediately." The shooter barricaded himself in the bathroom.
"I do know that all of them were shot very, very quickly," Spurlock said at a news conference. "And they all went down almost within seconds of each other... He knew we were coming. We obviously let him know that we were there to investigate a disturbance."
Douglas County Sheriff's Deputy Zackari Parrish, 29, died in the encounter, after being shot multiple times. Sheriff's deputies Mike Doyle, 28, Taylor Davis, 30, and Jeff Pelle, 32, were also shot and injured, and were unable to pull Parrish to safety as bullets continued to rain down on them. Spurlock said the injured deputies are all in stable condition.
The gunman also shot two bystanders during the attack. They are suffering non-life-threatening injuries, Spurlock said.
The suspect was later killed in a shootout with a SWAT team. During that exchange, Tom O'Donnell, 41, an officer with the nearby Castle Rock Police Department, was injured, but he is also in stable condition, according to Spurlock.
Spurlock said the suspect shot at least 100 rounds during the attack.
BuzzFeed News has contacted the Douglas County Sheriff's Office for more information.

Police said Tuesday that Riehl made the 911 call that brought the deputies to his door, saying he was a victim of domestic violence, the Denver Post reported. Riehl streamed the first 911 call on Periscope, as well as the confrontation that happened later, prompting several people to report it.
On Wednesday, police said the suspect had legally purchased 11 firearms from a Wyoming store between 2010 and 2013, although it was not clear if any of those guns were used in the shooting, the Associated Press reported.
While many details remain unclear, Spurlock said Sunday that the department hoped that the officers' body cameras would help shed light on what happened during the deadly incident. He also said that the officers talked to the gunman and his roommate before Riehl barricaded himself in the bathroom. The roommate is cooperating with authorities, according to the sheriff.
According to local media reports, Riehl had a history of mental illness dating back to 2014, after his weapons purchases in Wyoming. The Associated Press reported Sunday that Riehl had repeatedly posted online rants, including one called "Fire Sheriff Spurlock."

In that video, which appeared to have been removed by Sunday night, Riehl identified himself as a libertarian, but was generally vague about his political beliefs, according to the AP. He then expressed contempt for the Douglas County Sheriff's Office, calling out one officer in particular, whom he derided as a pimp. He later talked about Spurlock and called him a "clown" who would fail in the next election.
In some of the videos he is seen wearing an Iraq combat veteran hat. A National Guard spokesperson told Denver7 that Riehl briefly served in Iraq. He was honorably discharged from the military in 2012, and graduated law school in Wyoming the year before, the AP reported. In 2014, he was hospitalized in a VA psychiatric ward for several weeks, according to records obtained by the Denver Post.

In 2017, University of Wyoming police were alerted to social media threats Riehl had posted, prompting them to contact police in Colorado, where Riehl had moved. Family members had also warned police they were worried about his mental state, according to the Denver Post.
Parrish, the officer killed in the New Year's Eve attack, had been a deputy for about three years, and previously served with the Castle Rock Police Department. He is survived by his wife and two children.

President Donald Trump tweeted his condolences Sunday, stating that "We love our police and law enforcement."