Astonishing Police Video Shows Deer Flying In Air In High-Speed Collision
Oh deer!
The Kenton County Police Department said it was sharing the video on Facebook because the footage serves as a good example of how to handle a collision with a deer.
We think this video is a pretty good training video on how to react when a four-legged furry friend attempts to abruptly cross your path.

Officer Pittaluga applied his brakes and steered away from the deer in a controlled manner. Although he didn't manage to avoid the collision, he did maintain control of his vehicle throughout the entire incident, even when the large (but apparently agile and acrobatically trained) deer was performing a Triple Axel over the hood of his cruiser.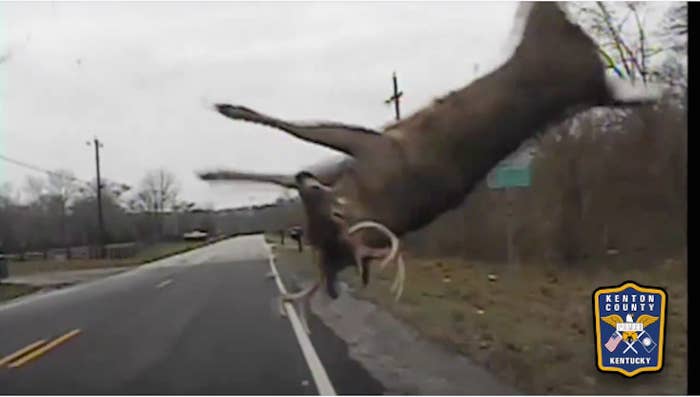 The police department added that the officer and deer appeared to be OK after the collision, although the car did sustain some damage.
Our officer was unharmed but the cruiser did sustain some damage. As for the deer, he appeared to brush off the incident before quickly running away into the woods.
Police also said they checked with Santa to make sure it wasn't one of his employees, although there's no word on whether anyone asked Bambi if he's OK.
We did place a call to Santa just to be sure this deer didn't belong to him (we would hate to end up on the naughty list). He was quick to point out that he employs reindeer and that, although this deer did appear to fly, it was not a reindeer (we still aren't clear whether we will be making the nice list or not).