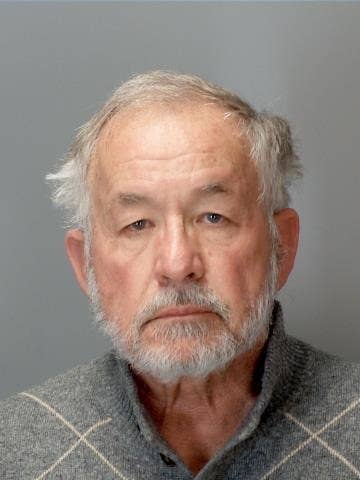 A former dean at Michigan State University has been charged amid an investigation into the school's handling of allegations against Larry Nassar, a former MSU doctor convicted of sexually abusing dozens of female patients.

William Strampel, 70, has been charged with allegedly using his office to harass and sexually assault female students as well as having pornographic material on his work computer, including a video of Nassar performing "treatment" on a young female patient.
He was arraigned Tuesday afternoon and bond was set at $25,000 personal recognizance. Strampel is prohibited from having contact with victims, witnesses, or any current or former Michigan State University medical students.
He faces a felony charge of misconduct in office, a misdemeanor of criminal sexual conduct in the fourth degree and two misdemeanor counts of willful neglect of duty.

Strampel's lawyer did not immediately respond to BuzzFeed News' request for comment.
A former dean of the College of Osteopathic Medicine, Strampel was Nassar's boss at MSU, and oversaw the implementation of new protocols after a Title IX investigation into the sports medicine doctor's conduct.
Nassar was sentenced in January to serve between 40 and 175 years in prison, after more than a hundred women detailed how he had assaulted them while working at MSU and as the team doctor for USA Gymnastics. The women and girls said Nassar inserted his ungloved fingers into their vaginas under the guise of medical treatment.
The case sparked outrage over how Nassar's abusive behavior was able to continue for decades. During the sentencing hearing, some women who were abused by Nassar said they reported it to university officials, but nothing was done to stop his abusive behavior.
The Title IX investigation cleared Nassar of wrongdoing in 2014, and he continued seeing patients until the summer of 2016, when more victims came forward.

According to an affidavit by special prosecutor Bill Forsyth, Strampel allowed Nassar to see patients before the Title IX investigation concluded and did not enforce the protocols put in place for Nassar following the probe.
"Nassar continued 'treating' numerous patients unchecked by the protocols supposedly put in place by Strampel to protect Nassar's patients," the affidavit reads. "As a result, Nassar was able to commit a host of sexual assaults against new victims until, following news reports of additional allegations against Nassar, MSU finally terminated his employment over two years later."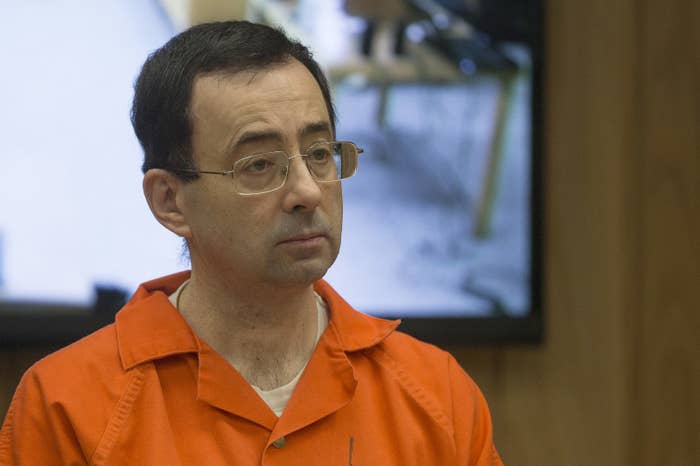 Strampel worked at MSU from 1999 until December, when he took a leave of absence for medical reasons, the university said. As well as being a dean, he was the lead medical director of MSU HealthTeam, according to the school's website.

According to Tuesday's affidavit, Strampel used his position to sexually harass and assault at least four female medial students. The allegations include groping and inappropriate sexual comments.
According to the document, one woman alleges Strampel told her she would not make it in the medical field unless she started to dress sexier. The same woman said he groped her buttocks in 2013 during a scholarship dinner.
A spokesperson for MSU said the university will continue to cooperate with all ongoing investigations.

During a press conference Tuesday, Forsyth said his team received a tip about Strampel resulting in a search warrant. Investigators seized the former dean's computer and found approximately 50 photos of bare vaginas, nude or semi-nude women, sex toys, and pornography. Several of the women in the photos appear to be MSU students.
"In a previous statement, [MSU interim president John] Engler has said that Strampel did not act with the level of professionalism we expect from individuals who hold senior leadership positions, particularly in a position that involves student and patient safety," a statement from the MSU spokesperson states. "Allegations have arisen that question whether his personal conduct over a long period of time met MSU's standards. We are sending an unmistakable message that we will remove employees who do not treat students, faculty, staff or anyone else in our community in an appropriate manner."
A Wall Street Journal report this month revealed that Strampel told students and school officials in the fall of 2016 that he did not believe the women accusing Nassar of abuse.
"Patients lie to get doctors in trouble. And we're seeing that right now in the news with this Nassar stuff," Strampel reportedly said in a 2016 meeting, a written account of which was obtained by the Journal. "I don't think any of these women were actually assaulted by Larry, but Larry didn't learn that lesson and didn't have a chaperone in the room, so now they see an opening and they can take advantage of him."