Philadelphia Police On Alert For Radical Group Possibly Tied To Shooter
An anonymous tipster warned Philadelphia police that the self-proclaimed jihadist who shot an officer multiple times last week was connected to a radical group.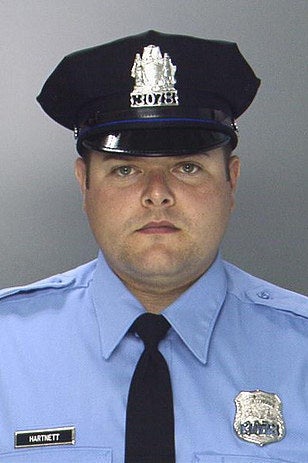 Terror investigators are reportedly seeking three men connected to an ISIS-inspired gunman who allegedly launched an ambush-style attack on a Philadelphia police officer last week "in the name of Islam."
According to ABC News, an anonymous woman stopped a Philadelphia police officer on Saturday and warned that the man who shot Officer Jesse Hartnett multiple times Thursday night was connected to a radical group.
The suspected shooter, 30-year-old Edward Archer, pledged allegiance to ISIS after he fired on the officer Thursday night, police said. Hartnett survived with serious injuries.
Archer was charged with attempted murder and is accused of firing 11 times at Hartnett as the officer sat in his patrol car.
Members of the Joint Terrorism Task Force are taking the woman's warning seriously, sources told NBC News. "The threat to police is not over," the person was quoted as saying.
According to an incident report obtained by ABC, the woman said Archer was not the most radical of a group of four men and that the individuals frequented the area where Hartnett was shot.
The person also said Archer became more radical after joining two different mosques in the area.
Philadelphia police said in a statement they "take this type of information very seriously" and were actively investigating the allegations along with the Federal Bureau of Investigation.
"The Philadelphia Police Department has alerted all department personnel of this matter and will continue to have officers work with a partner until further notice," officials said. "As always, we encourage any information or tips from members of the community regarding this matter."
Archer allegedly confessed to shooting Hartnett "in the name of Islam," officials said on Friday, and "stated that he pledges his allegiance to Islamic State."
Archer has a past criminal arrest in 2013 for 8 counts including terroristic threats. He plead guilty to a firearm charge and simple assault and was sentenced to up to 23 months in jail and two years of probation, but was paroled immediately due to time served.
He also traveled to Saudi Arabia in 2011 and to Egypt in 2012, which the FBI is also investigating.