In a closely watched special election for an Alabama Senate seat, Democrat Doug Jones defeated Republican Roy Moore, who refused to step out of the race amid allegations of past sexual misconduct against teen girls.
While it's too early to know the breakdown of the voting demographics in the race, many people on social media credited the win to black voters, especially black women.
Some cited exit poll data.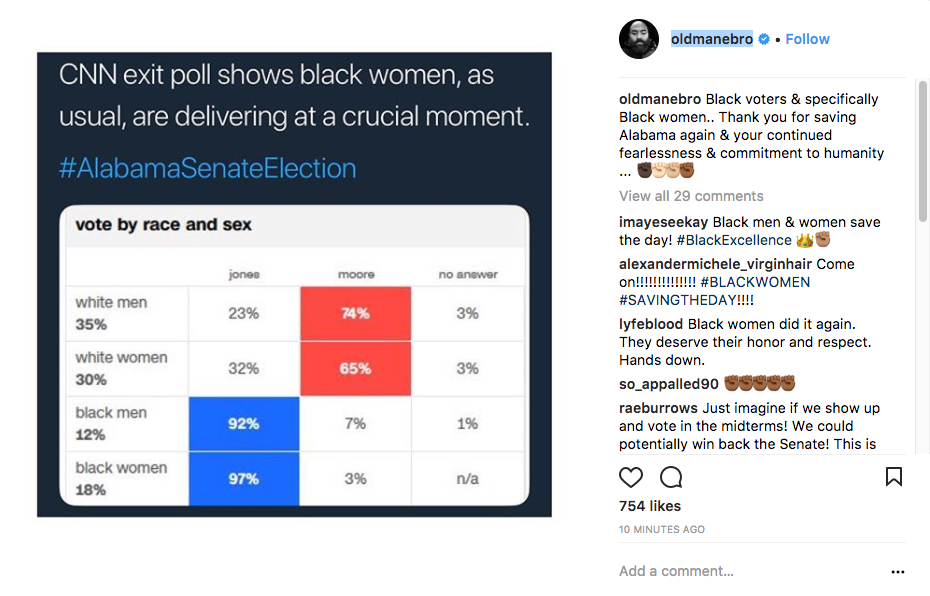 Black residents make up 26.8% of Alabama's population, according to US Census data, and often vote for Democrats. And voter turnout during Tuesday's election was high.
"Trust black women, trust a real investment of resources, and trust excellent organizing," Symone Sanders, Priorities USA strategist, told BuzzFeed News.
The night before the election, Kayla Moore, Roy Moore's wife, had defended her husband against people who said he was racist.
"We have many friends that are black, and we also fellowship with them in church and in our home," she said at a campaign rally.
For his own part, Jones has pointed many times to his record of helping black residents, often pointing to when he was a federal prosecutor in the infamous 1963 bombing of the predominantly black 16th Street Baptist Church in Birmingham, pursuing a case against two members of the Ku Klux Klan.
Either way, people wanted to show they appreciated black women in the campaign against Moore.
People praised their power.
A lot of people were just like, yasssssss.
Along with praising black women, people noted that former President Obama had done a robo call urging people to vote for Doug Jones.
People also noted the historical precedent.
There was also some pushback to the idea that black women voted to "save everyone."
"If you are thanking the black women of Alabama tonight for defeating Roy Moore," one user wrote, "maybe tomorrow you can start thinking about how to repay them."