A 45-year-old Phoenix attorney and community activist, who is Muslim, announced in April that she would run for the US Senate in 2018 as a Democrat against a popular Arizona Republican.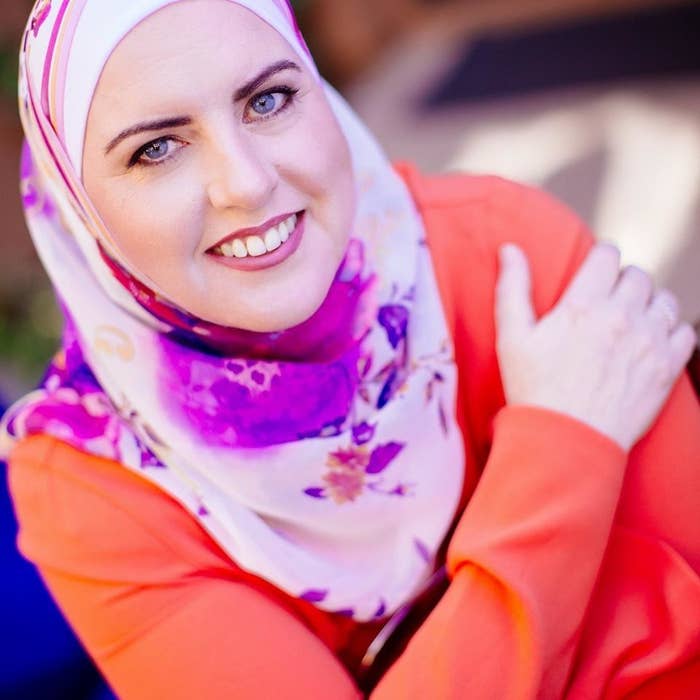 Deedra Abboud was the first Democrat to enter the race — a bold move considering that a Democrat hasn't won the seat since 1988. She is also running against incumbent Republican Senator Jeff Flake, who has held the position since 2013, and has more than 15 years of political experience in Arizona.
"This isn't about left and right. It's about today and a tomorrow that unites us, gets the work done," Abboud said in her announcement. "I'm ready to have the tough and candid conversations that we need in Arizona so that we can progress. I'm ready to hold our president and his administration accountable."
On Tuesday, an article was published in the Arizona Republic about how Abboud's Facebook posts have been filled with thousands of hateful comments, some of which have been threatening.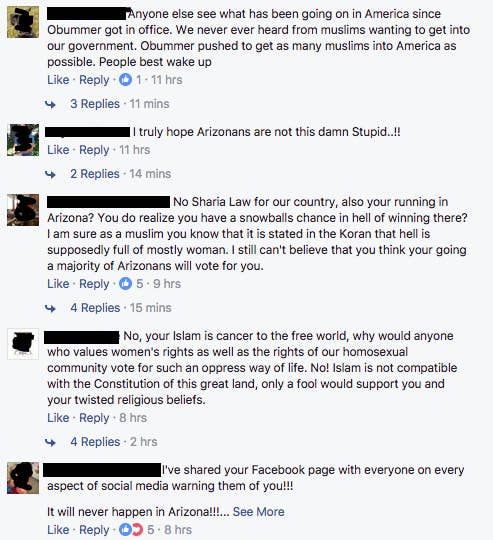 A spokesperson for the Democratic candidate told the Arizona Republic that Abboud has had to use police escorts at her events because "we have received a lot of hate." She said that at one event they held the "alt-right showed up."
In an interview with BuzzFeed News, Abboud said the last election had empowered online bullies: "It doesn't even matter who they're talking to."
In response to the report, Sen. Flake on Tuesday tweeted an apology for the attacks, telling her to "hang in there."
Despite being a member of the GOP, Flake has been an outspoken critic of President Donald Trump. Politico reported on Monday that the White House has been meeting with prospective Republican challengers in order to unseat Flake. By the end of the 2016 presidential election, Trump reportedly became so angry that he said he would spend $10 million of his own money to help someone defeat him.
Abboud told BuzzFeed News that she was happy about Flake's tweet, and said that politicians needs to speak out when they see these kinds of abusive comments coming in so that their "supporters know that that's where they stand."

"People who can, should put themselves out there," Abboud said. "Because as long as people are scared, those bullies are going to continue to be empowered. We have to hold them accountable. We have to say no, that's not who we are."

In response to Flake's tweet, people online were praising him for "saying the right thing."

Others called it a classy move.

And said Flake made them proud.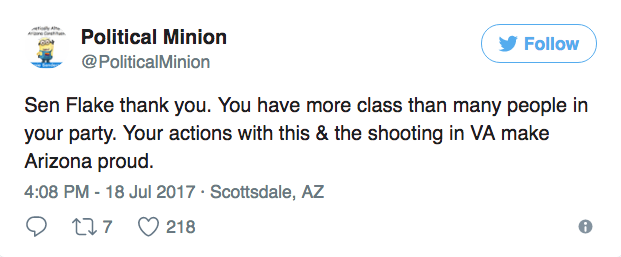 Many people applauding the senator said they were Democrats.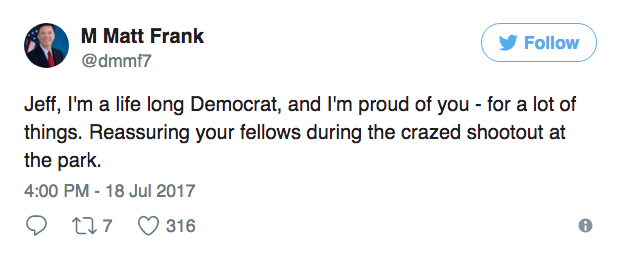 A Democratic senator from Connecticut called Flake "one of the most decent people I know."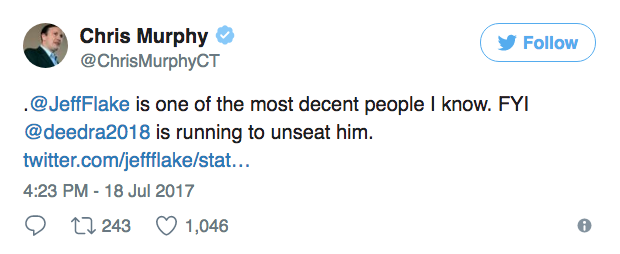 And a member of New York Gov. Andrew Cuomo's communications team, who is a Democrat, said "Bravo."

Others noted that Flake, by tweeting about his opponent, introduced the little-known candidate to people for the first time.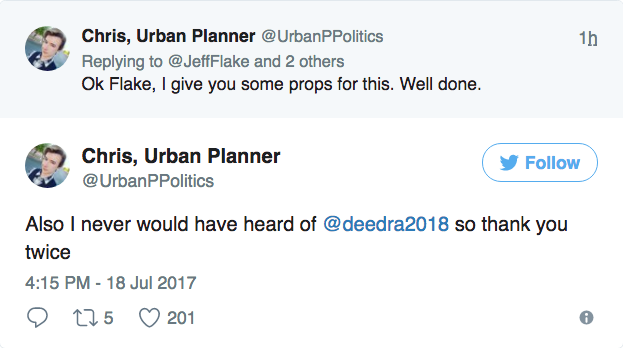 Abboud's campaign manager, Joseph Harris, told BuzzFeed News that Flake's tweet had brought the campaign a great deal of attention "from both sides."

"There's been a lot of news stories put out about 'Why isn't there anybody running against Jeff Flake? Where is the Democratic Senate candidate?' We've kind of been waving our hands, saying 'we're right here,'" Harris said.
"But nobody has noticed us until now," he added. "This kind of propelled our campaign into the national spotlight."