Pennsylvania High School Cancels Football Season Over Alleged Hazing, "Waterboarding"
Central Bucks High School West cancelled the season after hazing allegations surfaced, including that players were forced to grab each others' genitals.
Central Bucks High School West in Doylestown, Penn., has cancelled the remainder of the varsity and junior varsity football season and suspended all members of the coaching staff, as part of an investigation into allegations of hazing.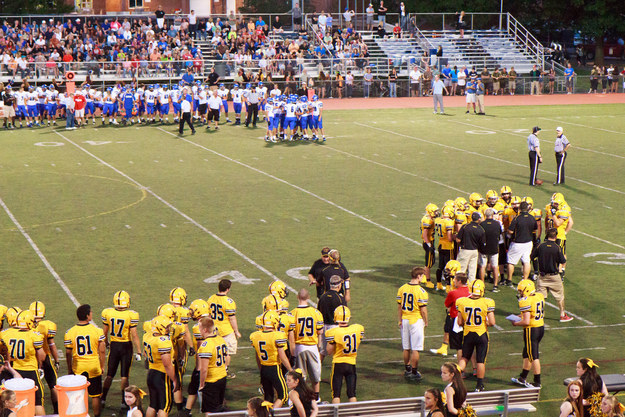 Younger players on the team were allegedly forced by senior members to perform "humiliating and inappropriate" acts.
The school wrote in a letter to parents that one student was forced to grab another's private parts while fully clothed, as others on the team watched.
Central Bucks Regional Police Chief James Donnelly said Wednesday that they were investigating allegations that freshman were forced by older players to put towels over their heads and then sent into the showers, which was described by detectives as "waterboarding."
Another allegation reported by ABC's local affiliate was a hazing activity called "sugar-cookie," in which players spray water on younger players and then dump talcum powder on them.
School officials said they were only made aware of hazing accusations on Oct. 14, when they started interviewing team members and coaches as part of their investigation.
All of the hazing activities took place over the summer during the preseason, when the players were supposed to be working on team-building activities, but school officials said they were only told of the accusations on Oct. 14, prompting their investigation.
Donnelly said police were still determining if criminal charges are warranted. The results will be turned over to Bucks County District Attorney's Office for further consideration.
The football season that was cancelled included two more games — an Oct. 24 Homecoming game against Central Bucks East and the final game on Oct. 31. The team has won four state championships in the past.
The coaching staff of the varsity and junior varsity football teams have been suspended from the athletic department, but will continue to teach their academic classes as the investigation continues.
The school district released a statement Thursday, announcing the cancellation of the remainder of the season at Central Bucks High School West:
Superintendent David Weitzel stated, "Based on all available, verified information gathered from an ongoing internal investigation into allegations of improper conduct by numerous Central Bucks West football team members, and the failure of the coaching staff to properly supervise activities, swift and firm action is absolutely necessary." He also apologized to any member of the football program who was subjected to the "demeaning actions of fellow players who should have served as role models."

Only recently was it learned that such activities occurred during the football team's pre-season. These allegations were first reported to the District on the evening of October 14th. Immediately thereafter, multiple interviews were held over several days with all team members and the entire coaching staff. Information gleaned was discussed with the School Board, administration, district solicitor, and local police to determine appropriate action.

The District Code of Conduct and Discipline in place for the past decade specifically prohibits students from engaging in any acts of "hazing and/or initiation ceremonies." Dr. Weitzel emphasized that "there will be no exceptions when it comes to compliance," and that "team-building activities cannot be permitted to spin out of control and become hazing."
Earlier this month, a high school in Sayreville, N.J., had their football season canceled and seven team members charged with hazing-related crimes, including aggravated sexual assault. The players could face up to five years in jail if convicted. The head coach and four assistants have been suspended with pay.