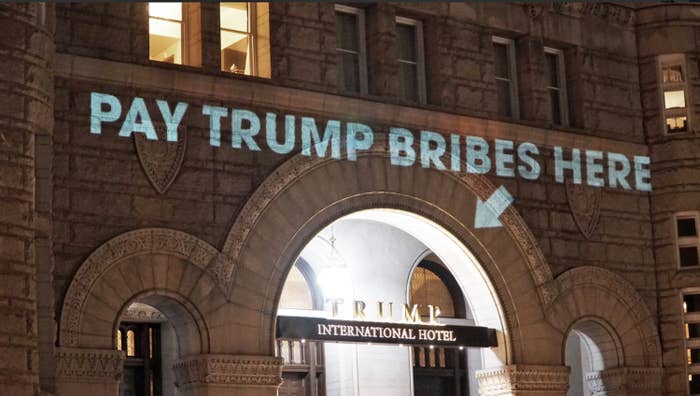 Photos of a large light projection were shared online late Monday night showing protest messages sprawled across the front of the Trump International Hotel in Washington, DC, including one that read "Pay Trump Bribes Here" with an arrow pointing to the hotel's entrance.

"It was about 10 minutes before the security came," Robin Bell, the social justice artist behind the projections, told BuzzFeed News. "They blocked the projector."

Bell said he has outfitted a "projection van, so we pulled up and did it." But one security guard came up to the projector and "walked right up to the lens."
Witnesses who saw the video projection shared photos online of projections saying "Emoluments Welcome" with an "Open 24 Hour" motel sign. Another photo showed the text of the Emoluments Clause, a part of the Constitution that watchdog groups have said blocks Trump-owned businesses from accepting payments from foreign governments.
Bell said he chose to show flags in his projection of "the countries we know for sure are paying Trump money." A video taken by Bell and his team shows flags for Turkey, China, Saudi Arabia, and Russia waving in the installation.

Bell estimated that it was the fifth time he had successfully projected images on Trump's DC hotel, located just a few blocks from the White House. He works with a team to set up the guerrilla projections, he said, and images on Bell's Instagram show him at the hotel on multiple occasions since Trump was elected president last November.
"I'm starting to feel at home there," he joked. "Unfortunately he keeps doing horrible things, so we keep having to go back there."
The artist first attracted attention back in 2015 for projecting animated poop emojis with the hashtag #JaredLies onto the outside of a Subway that was set to open in his Mount Pleasant neighborhood in DC.
Bell is also an activist and spent the summer of 2016 traveling around the Southern United States with a group called the 1 In 3 Campaign, which works to secure women's access to abortion and reproductive health care. Bell projected images onto state capitols while women read their stories about abortion.
Bell said he hopes his projections make people stop and think, and maybe even clap and laugh.

"One of the best moments tonight was one of the big tourists buses stopped in front of the hotel, and everyone started to clap," Bell said. "That was amazing."