Republican House Speaker Paul Ryan said Monday that President Donald Trump was "wrong" when he blamed the violence in Charlottesville on "both sides."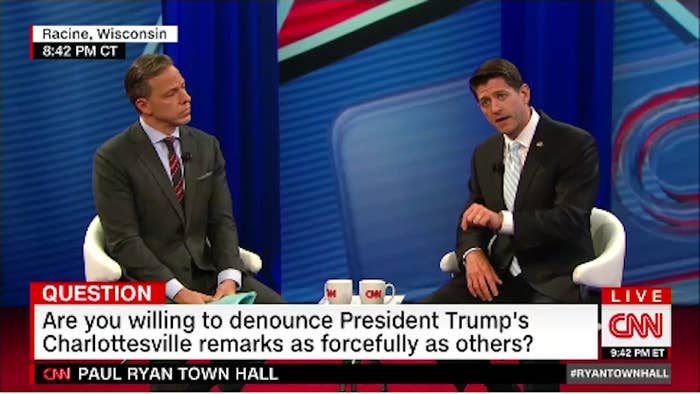 Speaking during a CNN town hall with Jake Tapper Monday night, Ryan said that Trump "needed to do better" in responding to the white supremacist violence that broke out in Charlottesville last weekend.
Asked by an audience member if he would condemn Trump's comments putting "blame on both sides" for the violence — and apparently equating liberal protesters with the white supremacist rallies that led to the death of a 32-year-old woman —Ryan responded that the country needed moral clarity following the events that the president failed to provide.

"I think he made comments that were much more morally ambiguous, much more confusing. And I do think he could have done better," Ryan said. "I think he needed to do better."
"So I do believe that he messed up in his comments on Tuesday, when it sounded like a moral equivocation, or at the very least moral ambiguity," Ryan continued, "when we need extreme moral clarity."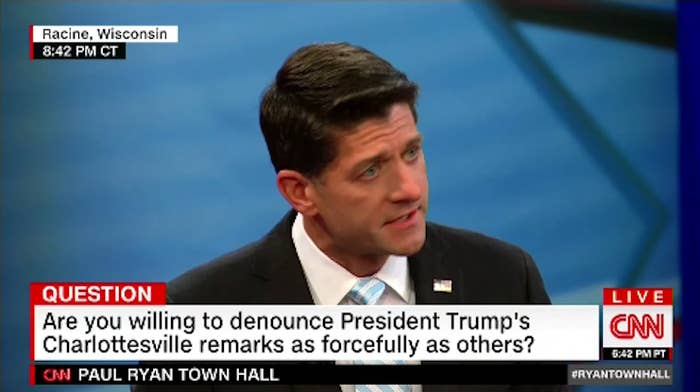 Ryan said the issue of racism and extremism is bipartisan.
"Every single one of us needs to unify and stand up against this repulsive, repugnant, vile bigotry," he said.
After Tapper pushed the House speaker on whether Trump's statements were morally ambiguous or morally wrong, Ryan struck a firmer note. The president's response, he said, "was not only morally ambiguous, it was equivocating. And that was wrong."

"I have a hard time believing, if you're standing in a crowd to protest something and you see, you know, all these anti-Semitic slogans, and 'Heil Hitlers' and swastikas, that you're not a good person," Ryan said. "This is very clear. I totally agree with that."
Ryan went on to say that "it was very, very important" that Trump had since "cleared that up," implying that his speech Monday provided clarity on this issue. Trump said at his speech in Fort Myer, Virginia that the country should "heal our divisions within," and "when one citizen suffers an injustice, we all suffer together. Loyalty to our nation demands loyalty to one another. Love for America requires love for all of its people."
"I don't think any of us have done enough," Ryan added. "I think we all have a lot more to do. We have a lot more to do in this area. And I think we have a lot more to do to make sure these guys don't get normalized."