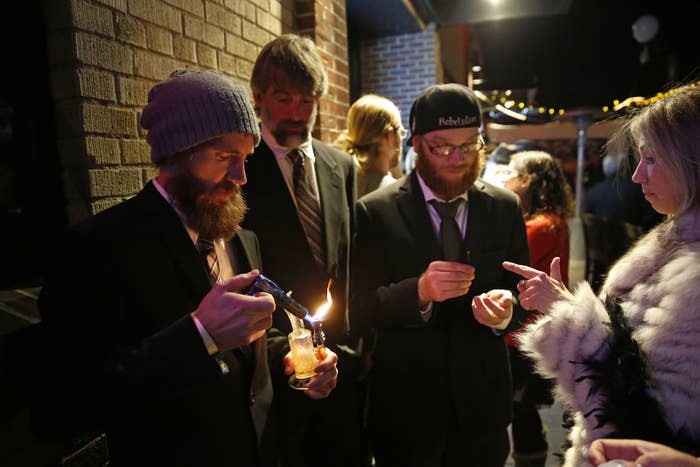 While recreational marijuana sales have been legal since 2014 in Colorado, for many people there's been nowhere to legally smoke — but now that's about to change in Denver.

A ballot measure passed on Nov. 15 in the city will create a four-year pilot program to allow businesses like cafes and yoga studios to obtain permits for "consumption areas" where people could use marijuana. The Associated Press and the Denver Post called the election in favor of Initiative 300, as the measure is known, Tuesday, when results showed more than 53% of the votes in support.
Supporters had been celebrating the apparent success of the measure since earlier this week as voting totals showed it likely passing.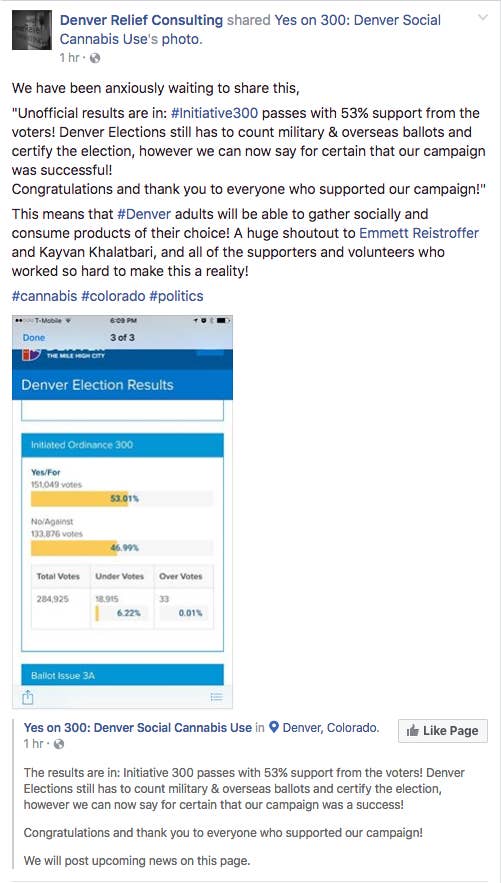 But on Friday, state licensing officials announced an additional regulation to the initiative that will ban businesses with liquor licenses from allowing marijuana consumption on their premises, the Denver Post reported. Dispensaries are already banned from allowing cannabis consumption on premise, and this new regulation will greatly limit the amount of businesses that will be able to obtain a weed permit.
The Liquor Enforcement Division of the Colorado Department of Revenue developed the regulation, which was approved by the department's director.
"This doesn't completely hinder the entire law," Mason Tvert, who was a supporter of Initiative 300, said to the Post. "Remember that this whole thing kind of got started with the Colorado Symphony Orchestra fundraiser that was held in an art gallery," referring to a cannabis-themed music event that led to city crackdown in 2014 on marijuana events.

In order to obtain a permit, a business would need the backing of a neighborhood group, like a city organization or business improvement district. This would allow the outside group to determine operating conditions.

While a few private bars where marijuana can be consumed have emerged, and it is legal to smoke in your own home, Initiative 300 will allow people over 21 to bring their own marijuana and consume it at permitted businesses such as galleries or restaurants. The measure would allow people to vape or eat edibles indoors, or smoke in outdoor areas.
People who supported the initiative said it will finally give tourists as well as residents who live in buildings that ban marijuana an area to consume pot legally. Those who opposed the measure, such as Protect Denver's Atmosphere, argue that instead of reducing public use, it will increase it as well as harm public safety.