Parents Honor Dying 5-Year-Old's Wish To Choose "Heaven Over Hospital"
An Oregon family said they are choosing to honor their terminally ill daughter's end-of-life wish not to seek medical assistance if her condition worsens.
The family of a 5-year-old girl who is dying from an incurable neurodegenerative disease are allowing her to decide whether to seek medical treatment if her condition worsens.
Julianna Snow has Charcot-Marie-Tooth disease, which affects the nervous system, making movement in her legs and arms, as well as swallowing and breathing, difficult at times, CNN reported.
The young girl has been treated repeatedly at the hospital for infections and currently uses a breathing mask. Her parents, Steve Snow and Michelle Moon, have been warned that while their daughter is stable now, she will continue to get weaker and be in more pain.
Moon, a Vancouver neurologist, talked to her daughter about whether or not she wanted to return to the hospital the next time something happens to her.
"Very clearly, my daughter was telling me that getting more time at home with her family was not worth the pain of going to the hospital again," Moon said of her daughter to CNN.
"I made sure she understood that going to heaven meant dying and leaving this Earth," Moon continued. "And I told her that it also meant leaving her family for a while, but we would join her later. Did she still want to skip the hospital and go to heaven? She did."
Moon has had many conversations with patients about end-of-life decisions, but found little information about how to talk to a young person about their choices. That's why, after Moon talked to her daughter in May, she wanted to share on her blog her daughter's difficult decision.
Below is the conversation Moon had with her daughter and shared on the blog The Mighty.
Julianna: Mom, do you want me to get a shot?

Me: It depends. If you need the shot…

J: Do you want me to go the hospital and get a shot?

M: You don't want to go to the hospital, right, J?

J: I don't like NT [naso-tracheal suction, the thing she hated the most from the hospital].

M: I know. So if you get sick again, you want to stay home?

J: I hate NT. I hate the hospital.

M: Right. So if you get sick again, you want to stay home. But you know that probably means you will go to heaven, right?

J: (nods)

M: And it probably means that you will go to heaven by yourself, and Mommy will join you later.

J: But I won't be alone.

M: That's right. You will not be alone.

J: Do some people go to heaven soon?

M: Yes. We just don't know when we go to heaven. Sometimes babies go to heaven. Sometimes really old people go to heaven.

J: Will Alex [her 6-year-old brother] go to heaven with me?

M: Probably not. Sometimes people go to heaven together at the same time, but most of the time, they go alone. Does that scare you?

J: No, heaven is good. But I don't like dying.

M: I know. That's the hard part. We don't have to be afraid of dying because we believe we go to heaven. But it's sad because I will miss you so much.

J: Don't worry, I won't be alone.

M: I know. I love you.

J: Madly.

M: Yes, I love you madly. I'm so lucky.

J: And I'm so lucky.

M: Why?

J: Because you love me madly.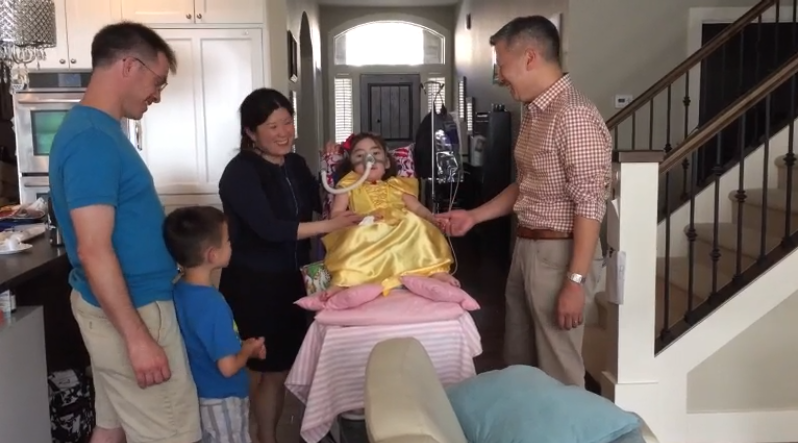 Not everyone agrees with the family's decision to let someone so young make an end-of-life decision.
"This doesn't sit well with me. It makes me nervous," Art Caplan, a bioethics professor at the Langone Medical Center at New York University, told CNN. "I think a 4-year-old might be capable of deciding what music to hear or what picture book they might want to read. But I think there's zero chance a 4-year-old can understand the concept of death. That kind of thinking doesn't really develop until around age 9 or 10."
Moon responded to Caplan's comments and said that while she understands people will have different opinions, her daughter is the only one who has experienced firsthand her suffering and she should get to decide what will happen to her.
Dr. Danny Hsia, Julianna's pulmonologist, said he agrees with the family's choice to respect the 5-year-old's wish.
"In that case, it makes a lot of sense to listen to her. I have the utmost faith in her mother and father," Hsia said to CNN.
"For her, there is no light at the end of the tunnel," he added. "She doesn't have a long time to live."
Julianna's family did not immediately respond to BuzzFeed News' request for comment Tuesday.