Voters in several states and cities went to the polls Tuesday to consider legalizing marijuana for recreational use, medical purposes, and other initiatives that would make access to pot easier. Here's a look at the results.
The general attitude toward marijuana has been shifting in the past decade, with Washington and Colorado the first states to legalize recreational marijuana in 2012. In addition, 18 states have decriminalized weed, and 23 states have passed laws in support of medical marijuana.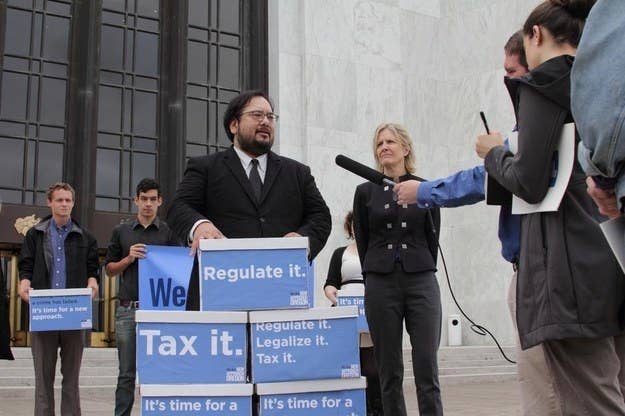 Oregon
Voters in Oregon narrowly rejected recreational marijuana legislation in 2012, but had the chance to reconsider the issue Tuesday, passing the measure with 54% in favor and becoming the third state in the nation to legalize weed after Colorado and Washington.
The measure, which will not take effect until July 1, allows possession of up to eight ounces of marijuana, while cultivating four plants. Pot shops will be regulated like liquor stores and will only be open to people over the age of 21, with proceedings reportedly going toward public schools, treatment programs, drug education programs, law enforcement, and the Oregon Health Authority.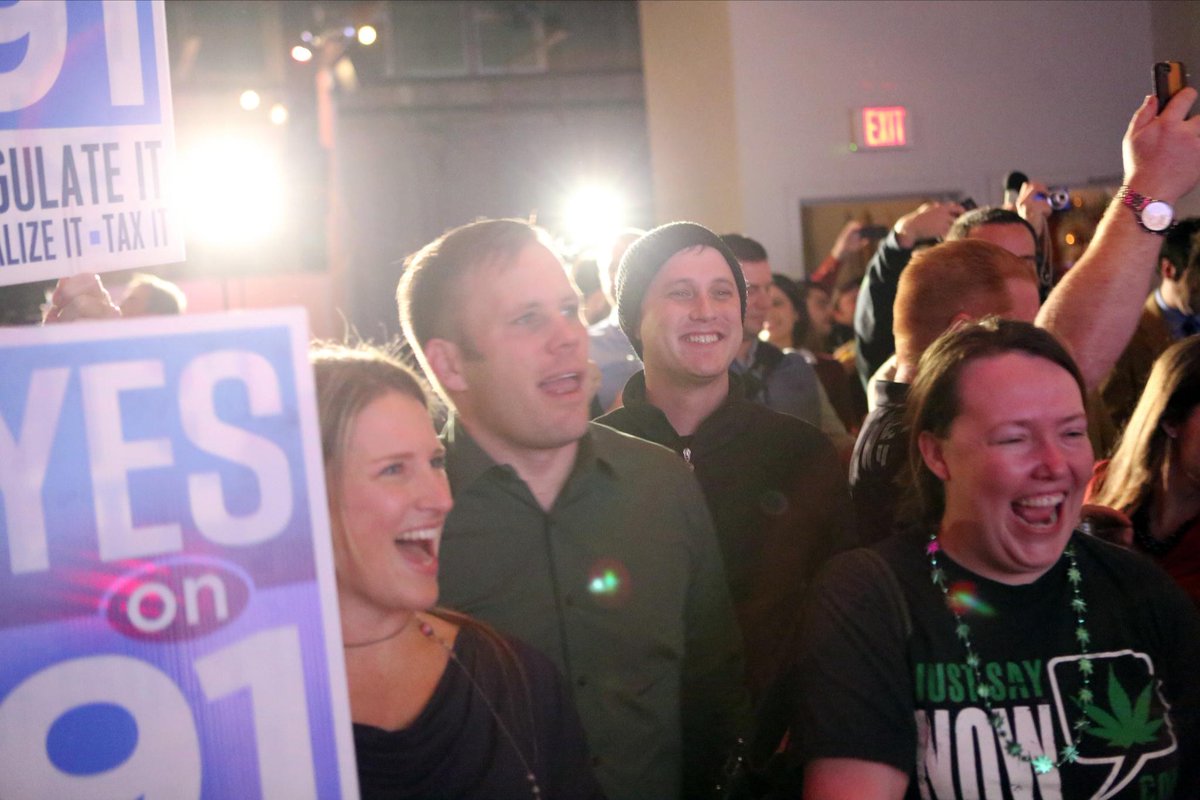 Supporters in Oregon spent millions of dollars on a large advertising budget that featured a retired judge, a retired deputy sheriff, a former drug addiction official, and others.
Ethan Nadelmann, whose organization, Drug Policy Alliance, helped fund the measure, called the win "fantastic news," especially given that it was during a midterm election.
"It's just a fantastic victory, all the more so because it's in a non-presidential election year," Nadelmann said. "I think it bodes very well for 2016 and the years beyond."
Kevin Sabet, an opponent of marijuana legalization who traveled to Oregon twice this year to oppose the measure, said his side needed to fight harder in 2016.
"We are going to redouble our efforts," he said. "We can now get very serious with potential donors and supporters about how important 2016 is."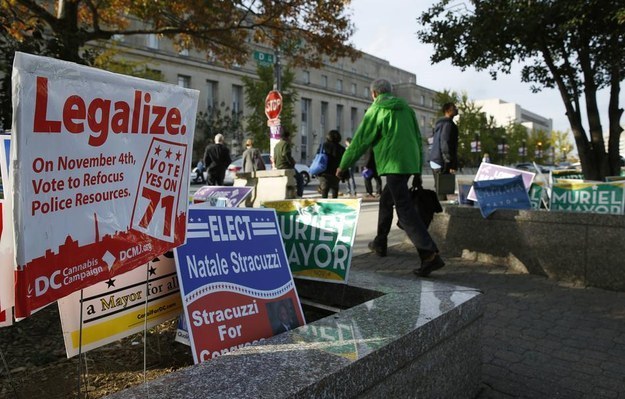 Washington, D.C.
D.C. residents voted Tuesday to legalize possession of two ounces of marijuana and allow for the cultivation of six plants at home for people over the age of 21. Poll results showed an overwhelming 69% voted in favor.
The initiative does not create a legal market for marijuana, but it is assumed local officials will establish pot shops. However, the city's unique status as a federal district means that Congress will have 30 days to overturn it, and lawmakers do have a history of overriding local will in the area. Representative Andy Harris, Republican of Maryland, has made clear his intention to push Congress to do so.
Supporters of the measure said blacks in the city had been disproportionately targeted for marijuana arrests.
"The criminal justice system is getting bogged down by marijuana use, and a lot of the people who use marijuana aren't criminals," said Gary Fulwood, who works as support staff for the fire and EMS department and voted for the initiative. "I don't see it being any worse than alcohol."
Alaska
Alaskans voted Tuesday on a ballot measure that legalized a market for recreational marijuana, allowing the state to tax at a wholesale rate of $50 per ounce. The measure also allows residents to possess one ounce of marijuana and grow limited amounts in private. Results showed 52% of voters supported legalization.
"This victory in Alaska is the coda to a perfect evening for marijuana legalization supporters," said Erik Altieri, communications director for NORML, a marijuana advocacy group. "In a year where Republicans swept many state and local races, marijuana reform brought voters of both parties together in their support for ending marijuana prohibition."
Alaska became one of the first states to decriminalize weed in 1975, and legalized medical marijuana in 1998.
This leaves some wondering if Snoop Dogg will make good on his promise to play a show in Alaska if voters approved the ballot measure.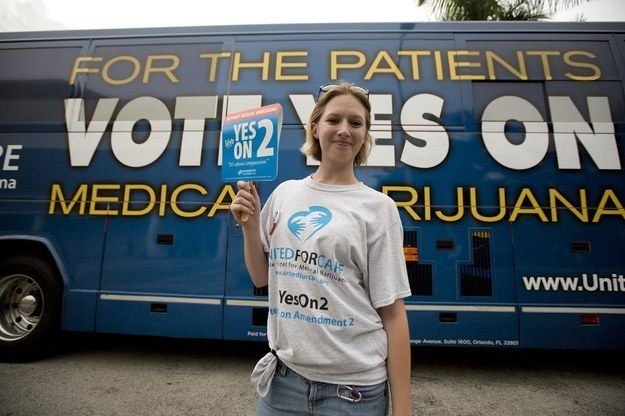 Florida
The Sunshine State voted Tuesday against a ballot initiative to allow the use of medical marijuana to treat "debilitating diseases" such as cancer, multiple sclerosis, glaucoma, or HIV. To pass, the measure needed at least 60% of the vote, but it was just below the threshold, with 57% in favor.
State lawmakers signed into law a limited medical marijuana bill in June that allows the use of "Charlotte's Web," a non-euphoric strain of cannabis, for the treatment of epilepsy, cancer, and amyotrophic lateral sclerosis (ALS), but supporters said Amendment 2 was necessary to make medical marijuana available for more patients with a broader range of diseases.
The campaign for medical marijuana was one of the most expensive ballot measures in the country, with both sides spending millions of dollars.
Many advocates vowed to return to fight in Florida. "While it's disappointing that patients in Florida won't be able to find legal relief with marijuana just yet," Marijuana Majority founder Tom Angell told BuzzFeed News, "tonight's result does show that a clear majority of voters in the sunshine state support a new direction."
Orlando attorney John Morgan, who worked in favor of the initiative, tweeted: "We will win this war!"
The Drug Free America Foundation, which opposed the initiative in Florida, said: "The people of Florida strongly and wisely rejected efforts to make Florida the next front in the push to legalize marijuana nationwide. I am proud that Florida voters saw this amendment for what it really was: a backdoor entrance for the full legalization of marijuana."
Guam
Early Tuesday, voters in Guam, a U.S. territory, passed a bill to legalize medical marijuana, with 56% in favor, Pacific Daily News reported. The local government will now be required to create and implement rules for the dispensing and use of medical marijuana.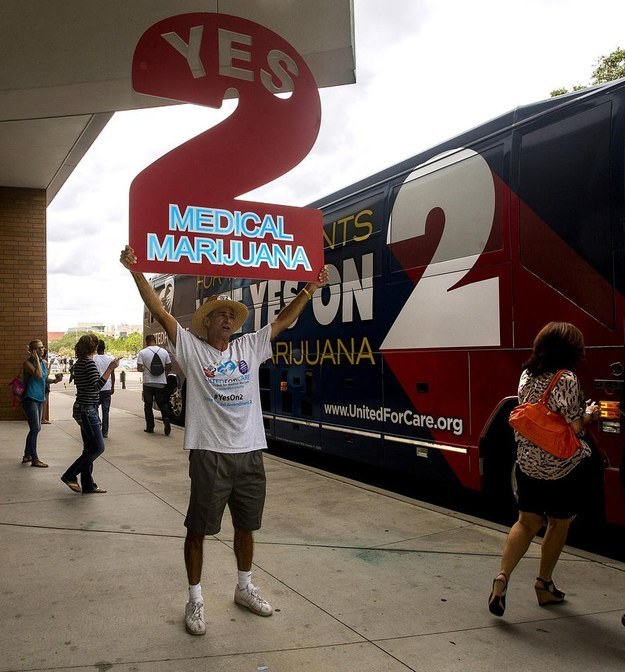 Maine
Residents in South Portland approved marijuana legislation by more than 50% of the vote, joining their neighbors in Portland, who passed a similar measure last year that legalizes possession of up to an ounce for those age 21 and over.
Voters in Lewiston, Maine, also voted on a similar marijuana measure, but rejected it by about 1,300 votes, according to unofficial election results.
Michigan
Over the past few years, more than a dozen cities in Michigan have voted to remove fines for small amounts of marijuana possession. This year, 11 cities are voting on similar measures.