North Korean Leader Declares "Quasi-State Of War" Against South Korea
North Korean leader Kim Jong Un ordered troops on Friday to be ready for combat as tensions with rival South Korea escalate, state media reported.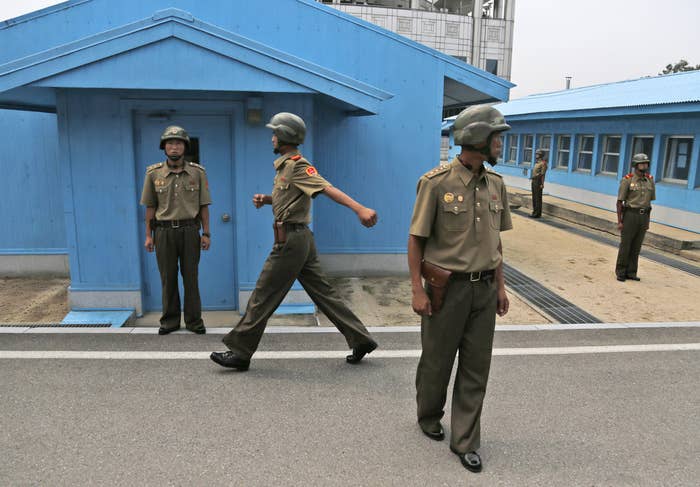 North Korea's 32-year-old leader Kim Jong Un has ordered his troops to "enter a wartime state" and have full combat readiness as tensions with rival South Korea escalated one day after shell fire was exchanged across the world's most heavily fortified border, Agence-France Presse reported.
Hours after the shelling on Thursday, Kim met with his party's central military commission and ordered commanders to prepare front-line troops for battle as the two countries enter a "quasi-state of war," according to North Korea's state media. The two countries have technically remained at war since the 1950-1953 war ended in an armistice.
"Commanders of the Korean People's Army were hastily dispatched to the front-line troops to command military operations to destroy psychological warfare tools if the enemy does not stop the propaganda broadcast within 48 hours and prepare against the enemy's possible counteractions," the North's Korean Central Television reported.
Military equipment was also reportedly moving toward the border with South Korea.
Tensions started escalating after the North fired a rocket into a western border town Thursday afternoon, possibly taking aim at a loudspeaker blasting anti-North Korea propaganda, the BBC reported.
The attack prompted South Korean troops to counter with artillery fire of their own, the South's defense ministry said. There were no casualties reported in the exchange, South Korea's Yonhap News reported.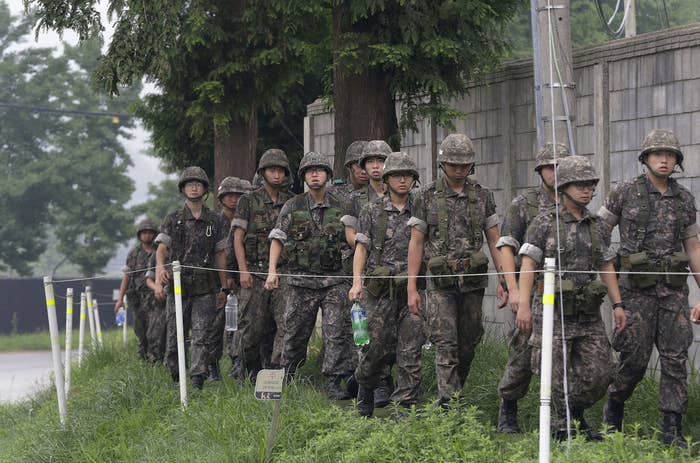 After more than a decade of silence on the loudspeakers, the South started airing the messages on Aug. 10 after a mine blast left two South Korean soldiers severely injured.
South Korea claims the mine was planted in the demilitarized zone that separates the two countries, but North Korea has denied the charge.
After the shelling on Thursday, North Korea issued a threat to take military action against South Korea if the country does not stop playing its propaganda messages on loudspeakers that cross the border, saying it would carry out "indiscriminate strikes" on South Korea.
South Korea's defense ministry dismissed the threat and said they would continue airing the messages, although troops were placed on maximum alert.
The United States and United Nations have said they are monitoring the situation on the Korean peninsula closely. The U.S. State Department said it remained "steadfast" in its commitments to defend South Korea.
On Friday, the U.S. and South Korea also raised the warning level on their joint alert watch system, called WATCHCON, Yonhap News reported.