New Video Shows President Obama Meeting His Half-Brother For The First Time In Decades
The brothers, who first met in 1988 when Barack Obama visited Kenya, lost touch for the next twenty years, until Ndesandjo surprised his big brother on the 2008 campaign trail in Austin, Texas, before a debate with Hillary Clinton.
Never-before-seen home video released Tuesday from Inside Edition shows the 2008 reunion of then-candidate Obama and his half-brother Mark Obama Ndesandjo.
Mark Obama Ndesandjo is the president's younger half-brother. The two share the same father, Barack Obama Sr., who married Ruth, a Jewish school teacher from Massachusetts after they met at Harvard in 1964. Barack Obama Sr. divorced Ann Dunham only a few months earlier, when the future president was two years old.
Ndesandjo has released an autobiography, Cultures: My Odyssey of Self-Discovery, which tells his story of growing up in Kenya with Barack Obama Sr., who he says was an abusive alcoholic.
His mom eventually left Barack Obama Sr. and later remarried, which is where Ndesandjo gets his last name.
Ndesandjo went to Brown University, got a Masters from Stanford, and an MBA from Emory University.
In 2002, he moved to Shenzhen, China, and got married. He flew from China, when he came to visit his brother in 2008.
When Obama became president, his half-brother visited him again in the White House in 2009. The two met again that year in China.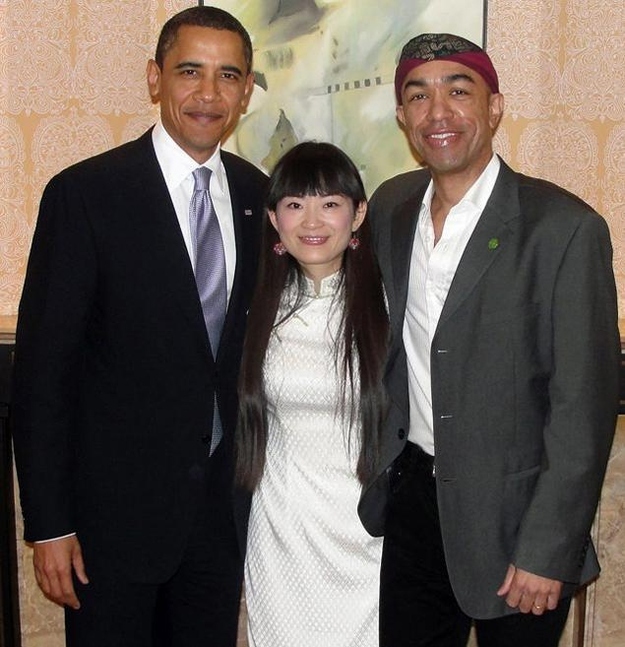 Ndesandjo is one of the president's seven half-siblings, born to the same father. The president also has a half-sister with whom he was raised, Maya Soetoro-Ng, the daughter of his mother and her second husband.