A Naked Guy Who Went Swimming With Sharks At An Aquarium Has Been Taken Into Custody By The Police
He even did a backflip into the shark tank.
It was just another Friday at the aquarium until a man stripped naked and jumped into a tank full of sharks known as the "Dangerous Lagoon."
Naturally, another visitor at Ripley's Aquarium of Canada, in downtown Toronto, started filming, and the footage he posted to social media shows a naked man casually floating around the tank, before swimming to one end, climbing out, and doing a backflip — to cheers — into the shark tank.
After less than a minute, the man left the pool, passed by aquarium employees, and walked naked into the crowd of visitors who had been watching him with a mix of reactions.
The Toronto Police Service identified the man Monday as 37-year-old David Weaver of Nelson, British Columbia. In a statement, police had said they were looking for Weaver in connection with an assault that occurred earlier Friday — before the shark swimming — outside the Medieval Times in downtown Toronto.
He was taken into custody Tuesday, after police identified him during a vehicle stop, the Toronto Police Services told BuzzFeed News.
Police said Weaver fled the scene at Medieval Times around 8 p.m. after allegedly assaulting a man, who was hospitalized with serious injuries sustained in the attack. After fleeing the scene, it seems that Weaver went to the aquarium, about 3 miles away.
Police were called to the aquarium shortly after 10 p.m.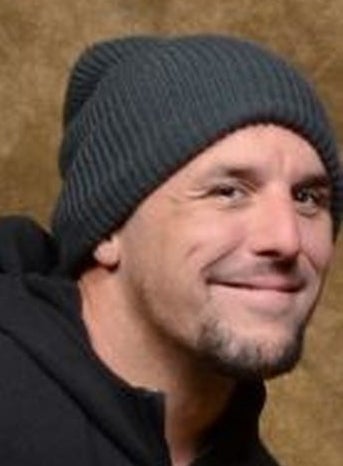 "Later the same evening, police attended the Ripley's Aquarium of Canada ... in response to reports of a man who had exposed himself," the police statement said. "Further investigation revealed the man involved in both incidents was the same person."

Because of his shark swimming, Weaver will also be charged for interfering with property, police said.
Ripley's Aquarium of Canada said in a statement sent to BuzzFeed News that Weaver purchased a ticket before entering the aquarium.
"He immediately disrobed and proceeded to climb over the security barrier into the exhibit," the statement said. "Toronto Police Services were notified while Aquarium personnel tried to persuade the individual out of the exhibit."

The Dangerous Lagoon, where Weaver went skinny-dipping, contains sand tiger sharks, green sawfish, Queensland groupers, green moray eel, lookdowns, and green sea turtles, according to the aquarium's website.