At Least 10 Killed In Fiery Bus Crash In California
A tour bus carrying more than 40 Los Angeles-area high school students collided with a tractor trailer in Northern California, the California Highway Patrol said. It is unclear what caused the truck to swerve before deadly bus crash, officials said.
Updated — April 12, 12:05 p.m. ET
The FedEx tractor-trailer that sped across a grassy median on a Northern California freeway and crashed into a tour bus, killing 10 people, was already on fire according to a nearby couple who saw the collision, the Associated Press reported.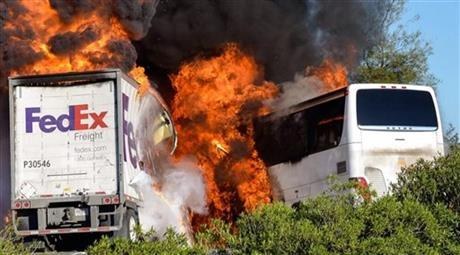 On Thursday afternoon, the tractor-trailer slammed into a bus carrying high school students on Interstate 5. It was completely engulfed in flames.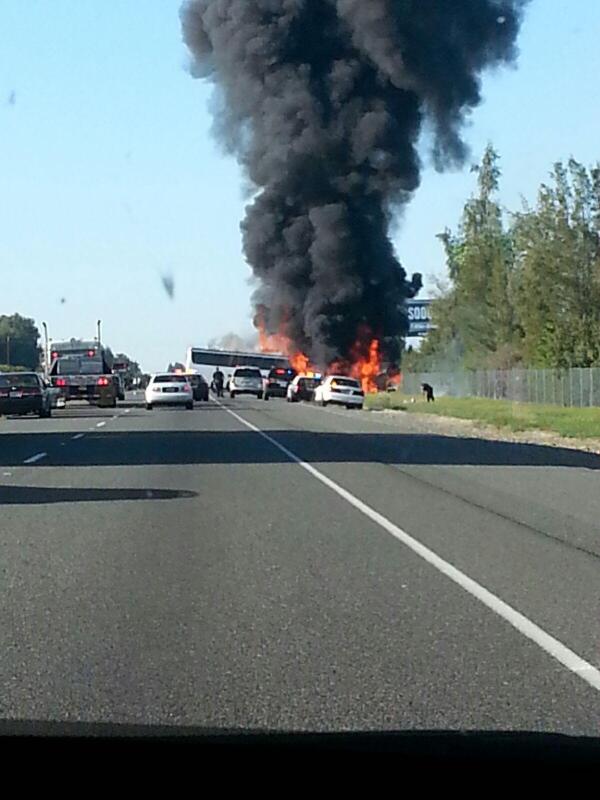 The couple that witnessed the crash, Joe and Bonnie Duran, were northbound on the 5 Freeway on Thursday when they said a FedEx truck heading south struck their rental car and slammed into the oncoming bus.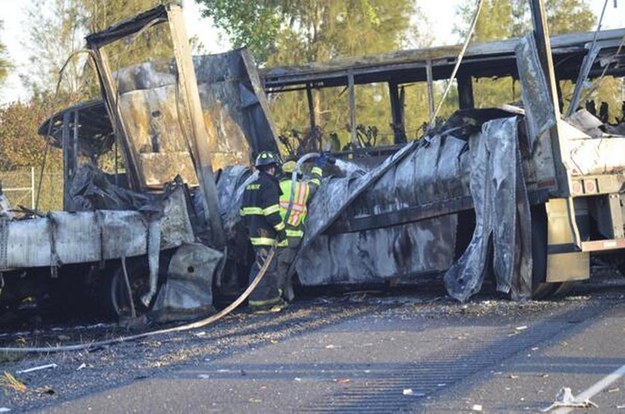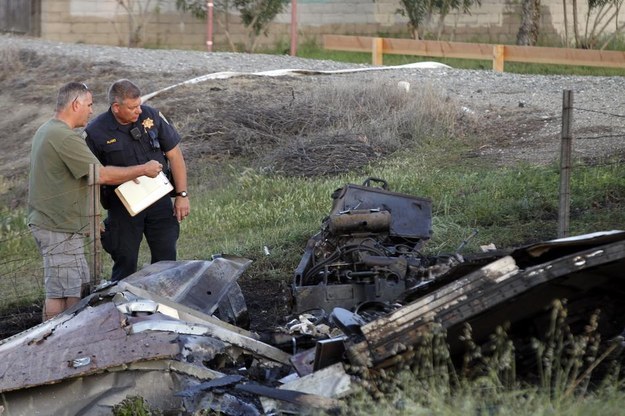 There were reportedly 46 passengers on board the bus, many of whom were students from the Los Angeles Unified School District on their way to visit Humboldt State University for a college tour, the California Highway Patrol reported.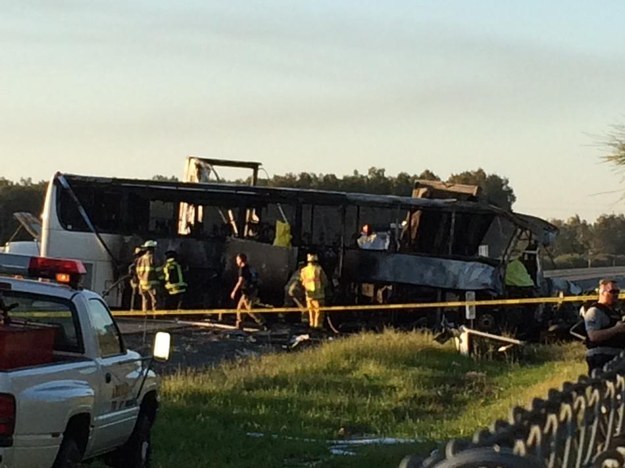 At least 10 people are reported dead, including the two drivers.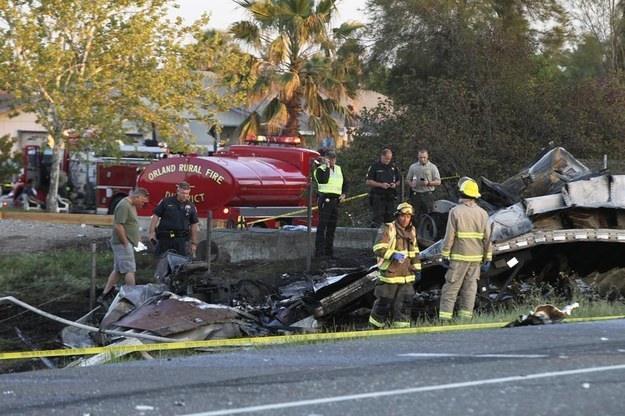 The crash happened on Interstate 5 north of Highway 32 in Orland, Calif.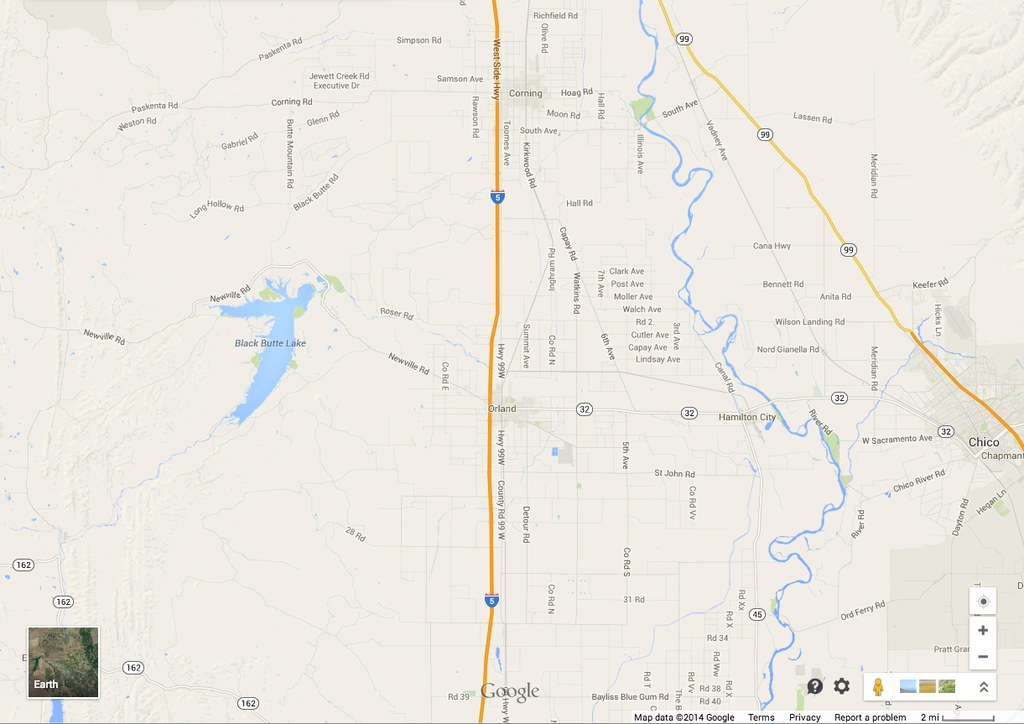 Interstate 5 has been shut down in both directions and emergency crews are assisting in the area.
Here is a photo taken inside the bus before the crash by a survivor. The bus was operated by Silverado Stages, a tour bus company based out of San Luis Obispo, Calif.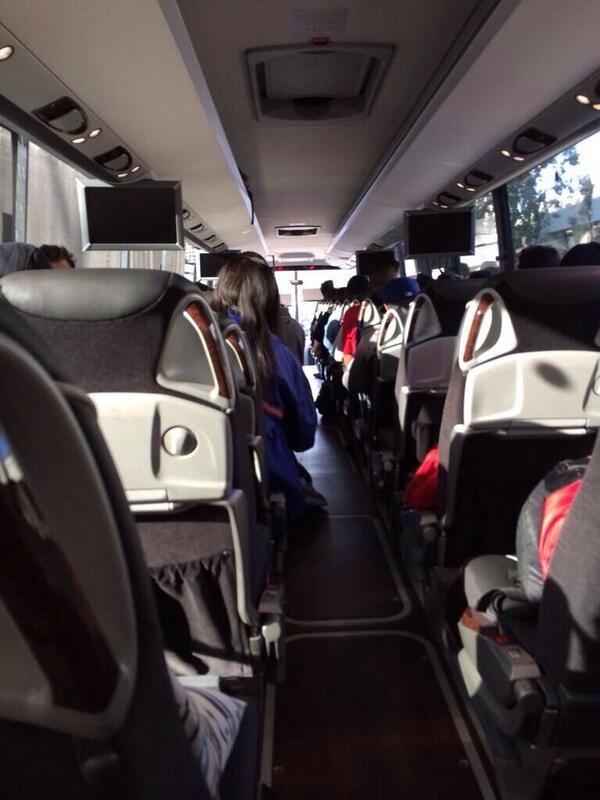 Gov. Jerry Brown issued a statement on the accident:
"Anne and I extend our heartfelt and deep sympathies to the families, friends and loved ones of those who died in the tragic accident near Orland this evening. As we mourn the loss of those who died, we join all Californians in expressing our gratitude for the tireless work of the Red Cross and emergency personnel who responded bravely to this terrible tragedy."
Mayor Eric Garcetti tweeted he was "saddened."
The Los Angeles Unified School District Superintendent John Deasy posted a statement on Facebook that says: "We do not know how many L.A. Unified students were victims of the crash."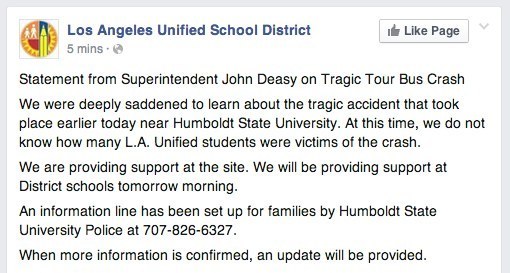 The National Transportation Safety Board announced it had sent a team to investigate the crash:
It said that the investigation would continue for months.
KNBC reported that the California Highway Patrol would interview the Durans to obtain more information about what they saw on April 12.