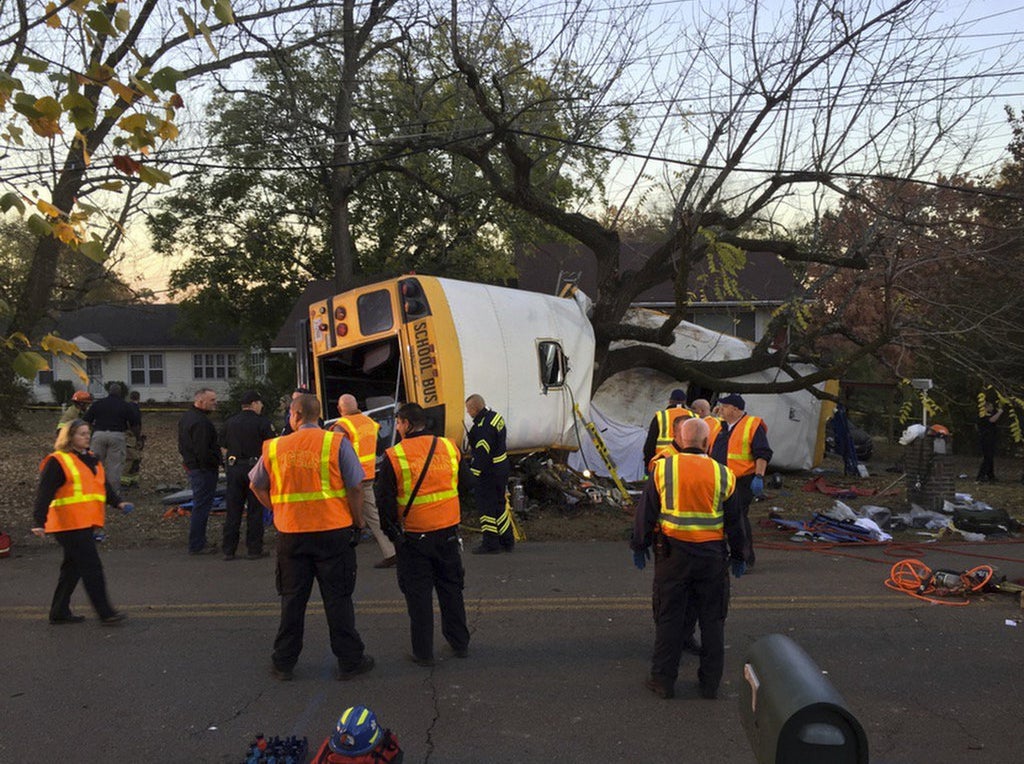 Five children were killed Monday when a school bus careened into a tree in Chattanooga, Tennessee, but it could take days to determine how the crash happened, officials said.
National Transportation Safety Board Chairman Christopher Hart told reporters Tuesday that the investigation will take up to 10 days, and will include an inspection of the vehicle, including interior and exterior cameras installed on the bus.
Johnthony Walker, 24, has been arrested and charged with five counts of vehicular homicide, reckless endangerment, and reckless driving, citing speed as contributing factor.
Four girls and one boy died in the crash, Hamilton County Schools Interim Superintendent Dr. Kirk Kelly said. Three of the children were fourth-graders, one was a first-grader, and one was in kindergarten, she added.
The students aboard the bus ranged from kindergarten to fifth-grade.
Twelve students were being treated at the hospital of which six remained in the intensive care unit, Kelly said.
In all, Hart said 37 children were on the bus at the time of the crash, and that the cabin did not have seatbelts. Citing the early stage in the investigation, Hart was scant on details regarding the cause of the crash, but did say that Walker had only received his commercial driver's license in April.
The crash occurred on Tally Road around 3:30 p.m. and was the only one involved.
The scene was "every first responder's worst nightmare," Fletcher said.
"We are heartbroken for all of our students and their families," Kelly said. "Yesterday was the worst day that we have had for Woodmore and for Hamilton County Schools that I can recall in my life as an educator and as a parent and as a member of this community."
Gov. Bill Haslam also expressed his condolences and pledged support in a statement.
"We're going to do everything we can to assist in any way. It's a sad situation anytime there's a school bus with children involved, which there is in this case," he said. "We will do everything we can to assist in what I think is going to be a very sad situation."
It took more than two hours for rescue crews to get all the students out of the toppled bus due to the interference of the toppled tree on the wreckage.
The Chattanooga Times Free Press reported that nearly an hour after the crash, two bloodied students on stretchers were still in a nearby front yard.
Others who did not go to the hospital were seen walking away with their parents and looking dazed.
Dr. Darwin Coller of Erlanger Children's Hospital told reporters on Tuesday that in addition to the 12 seriously wounded pediatric patients, 19 other students arrived, which he called the "walking wounded."
Many of them were so "dazed" that they were unable to spell their own names or say who their parents were, which made identification difficult, Coller said. Photos of the students were taken by school officials and later identified by their teachers in an effort to notify parents, he added.
After the crash, local blood banks said they would stay open late due to a "critical need for blood and platelets."
President-elect Donald Trump tweeted on Tuesday his condolences to the families of the victims and described the deadly crash as "so sad & terrible."
Tennessee Sen. Bob Corker called the crash "heartbreaking" and said his "thoughts and prayers are with the children, families and first responders."
Tennessee Rep. Scott DesJarlais said, "As a parent nothing can prepare you for this kind of news."
Tennessee Rep. Chuck Fleischmann said he was "absolutely heartbroken over this tragedy."