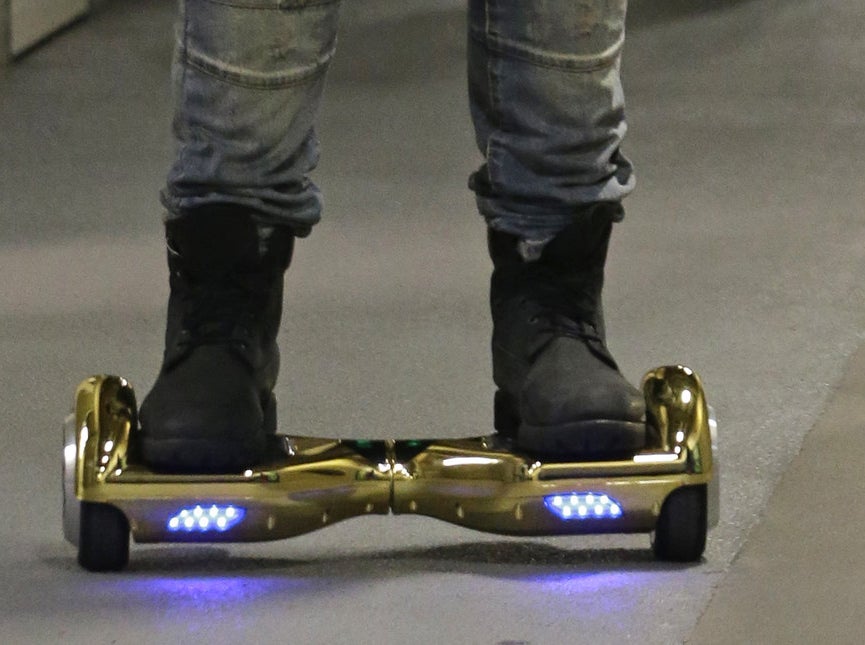 Seattle Seahawks wide receiver B.J. Daniels riding a hoverboard in October.
Hoverboards, the electric-powered hands-free skateboards that have become one of the year's hottest holiday gifts, are apparently hotter in more ways than one after numerous reports of the devices spontaneously bursting into flames, even burning one family's house down.
In response Thursday, the three biggest U.S. airlines — Delta, American and United — announced they will ban the devices from carry-on and checked luggage, joining Jet Blue, British Airways, Hawaiian Airlines, Virgin America, Spirit Airlines, Allegiant Air and Alaska Airlines, who had already instituted a ban.
Hoverboards are typically powered by lithium batteries, which have been known to overheat while charging, especially if they have a defect. Last month, a Louisiana family said their home was burned to the ground after a brand-new hoverboard exploded.
Delta said in a statement the lithium-ion batteries powering hoverboards are often mislabeled. "Delta reviewed hoverboard product specifications and found that manufacturers do not consistently provide detail about the size or power of their lithium-ion batteries."
The airlines added that the strength of the batteries "often" exceeded government mandated limits of 160 watt hour. "While occurrences are uncommon, these batteries can spontaneously overheat and pose a fire hazard risk," the statement said.
United said its policy is effective immediately; Delta said it will begin banning the devices on Friday; and American will implement its new policy starting on Saturday.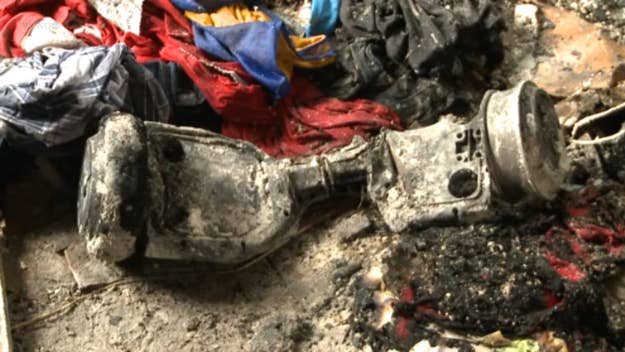 "As cool as they are, there's one big problem: they are not safe to transport on an airplane," Alaska Airlines said Thursday in a statement.
Southwest Airlines told ABC News that they are reviewing their policy, but said for now "as long as the battery size requirements are met (the lithium-ion or lithium polymer battery cannot exceed 160 watt-hours)" hoverboards would be accepted.
The U.S. Consumer Product Safety Commission said it is investigating reports of "at least 10" fires started by hoverboards.
"CPSC is looking into the safety of the entire product line," agency spokesman Scott Wolfson told NBC. "We are taking the position that if there is an incident ... we are working to open an investigation right away."
The agency said officials were collecting samples of hoverboards, calling it a "high-priority investigation."
There have also been reports of hoverboards exploding in the United Kingdom. Last week, U.K. officials announced they had seized more than 15,000 hoverboards over concerns of fire risk.
Online discount retailer Overstock.com also announced Thursday that it planned to stop selling hoverboards.
"Customer safety is always our top priority," said Overstock.com Senior Vice President Mitch Edwards in a statement. "With the continued emergence of news reports highlighting safety concerns with 'hover board' self-balancing electric scooters, we have made the decision to remove all similar products from our website as a precautionary measure."
The company said it would refund anyone who purchased a hoverboard through the site.
BuzzFeed News reached out to the FAA, FedEx, UPS, and Consumer Product Safety Commission for additional information on policy regarding hoverboards.