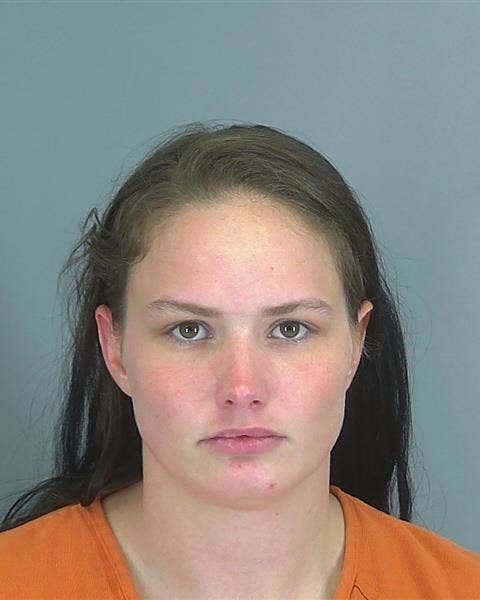 A South Carolina woman has been charged with murder Wednesday after her 17-month-old daughter died from salt poisoning, officials said.
Peyton Martines was taken off life support on Wednesday, a day after being declared brain-dead, the Spartanburg County Sheriff's Office told the Associated Press.
The toddler's mother, 23-year-old Kimberly Martines, has been charged with homicide by child abuse.
Spartanburg County Solicitor Barry Barnette said Martines fed her daughter a teaspoon of salt in order to gain the attention of her husband, who she is currently separated from.
"She basically did that to try and get her husband's attention — to get him back into her life," the prosecutor said.
The 17-month-old baby girl was hospitalized on Sunday after suffering from seizures and a high fever.
High levels of sodium chloride, the main component in table salt, are toxic for everyone, but especially for children, because their kidneys are still developing.
Salt poisonings by parents are a recognized form of child abuse. Last year, a New York woman who had blogged about her 5-year-old son's death was convicted of fatally poisoning him by giving him sodium through a feeding tube.

According to the arrest warrant for Martines, a pediatrician was concerned about the toddler in November because she was not gaining weight. The pediatrician referred Martines to a specialist who deals with developmental delays, but she never followed up.

The toddler's twin sister and another sibling are in protective custody, officials said.
BuzzFeed News has reached out to the Spartanburg County Sheriff's Office, the Spartanburg County Solicitor's Office, and the county coroner for additional information.