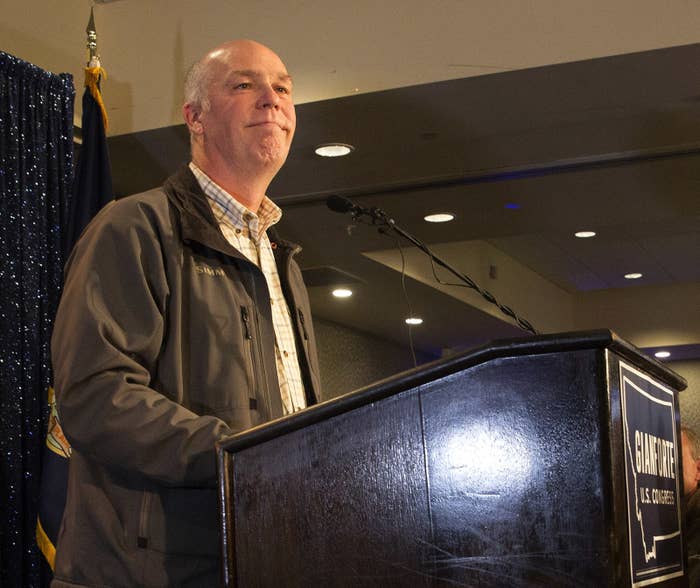 Montana Congressman-elect Greg Gianforte has penned a lengthy apology to the reporter he assaulted on the night before his election, describing his actions as "unprofessional, unacceptable, and unlawful." Gianforte also said he would donate $50,000 to the Committee to Protect Journalists.

Ben Jacobs, the Guardian journalist who was "body slammed" by Gianforte last month, received the letter on Wednesday as part of an agreement that settles any potential civil claims, the Guardian reported. Gianforte still faces criminal charges.
"I have accepted Mr. Gianforte's apology and his willingness to take responsibility for his actions and statements," Jacobs said in a statement sent to BuzzFeed News. "I hope the constructive resolution of this incident reinforces for all the importance of respecting the freedom of the press and the First Amendment and encourages more civil and thoughtful discourse in our country."

The incident took place on May 24 at a campaign meet-and-greet in Bozeman after Ben Jacobs asked Gianforte a question about healthcare. Jacobs tweeted that he was "body slammed," breaking his glasses.

"My physical response to your legitimate question was unprofessional, unacceptable, and unlawful," Gianforte wrote in a letter to Jacobs, which was shared with BuzzFeed News. "As both a candidate for office and a public official, I should be held to a high standard in my interactions with the press and the public. My treatment of you did not meet that standard."
Gianforte said the $50,000 donation to the CPJ, an independent non-profit that promotes press freedom and defends the rights of journalists, was made "in the hope that perhaps some good can come of these events."
The congressman-elect's campaign initially blamed "aggressive behavior from a liberal journalist" for the assault, but audio of the incident recorded by Jacobs and Fox News reporters who witnessed the event, contradicted the claim.
"Gianforte grabbed Jacobs by the neck with both hands and slammed him into the ground behind him," reporter Alicia Acuna wrote on Fox News' website.

That night, Gianforte was charged with assault. If found guilty, he could face up to six months in jail or a $500 fine. The next day, he won the election against Democratic candidate Rob Quist with 50.2% of the vote. The Missoulian reported that two-thirds of the ballots were sent by mail before the assault occurred.
At his victory party, Gianforte apologized for his actions, but did not address his campaign's false statements about the incident. Wednesday's letter seemed to address it: "Notwithstanding anyone's statements to the contrary, you did not initiate any physical contact with me, and I had no right to assault you...I take full responsibility."
The Guardian reported that as part of the settlement Jacobs had signed a release foregoing any civil claim against Gianforte because of the donation.