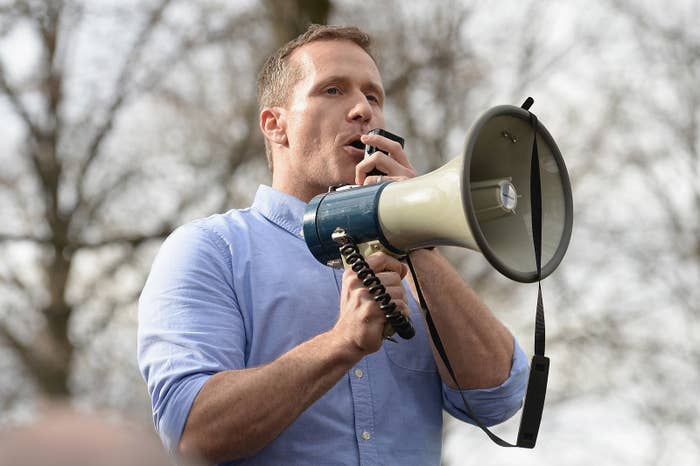 Missouri Gov. Eric Greitens admitted late Wednesday night to having an extramarital affair, just hours after delivering his second "State of the State" speech.

The affair, which happened in March 2015, before Greitens became governor, was first reported by St. Louis TV station KMOV.
KMOV reported that it obtained a voice recording between the woman who had an affair with Greitens and her then-husband.
On the recording, the woman is heard telling the man that Greitens took a photo of her to blackmail her to stay quiet about their sexual encounters. The identity of the couple was not revealed. Greitens denied the blackmail claim.
The ex-husband recorded his wife confessing to her sexual encounters with Greitens, but according to the report, she did not know she was being recorded. The man told KMOV he was speaking out now because he had been repeatedly contacted by law enforcement agencies about this and "wanted to get in front of a story he believed would come out eventually." The woman did not make a statement to KMOV.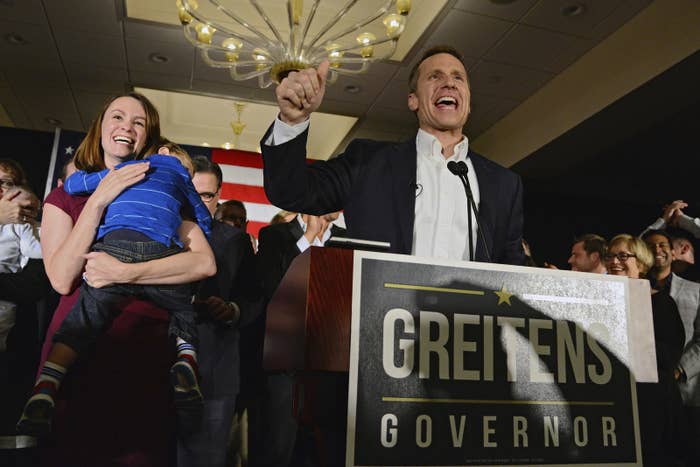 The governor and his wife, Sheena Greitens, released a joint statement on Wednesday admitting to the affair, which was sent to BuzzFeed News.
"A few years ago, before Eric was elected Governor, there was a time when he was unfaithful in our marriage. This was a deeply personal mistake. Eric took responsibility, and we dealt with this together honestly and privately. While we never would have wished for this pain in our marriage, or the pain that this has caused others, with God's mercy Sheena has forgiven and we have emerged stronger. We understand that there will be some people who cannot forgive – but for those who can find it in your heart, Eric asks for your forgiveness, and we are grateful for your love, your compassion, and your prayers."

After KMOV released its report, the governor's lawyer refuted the claim that Greitens attempted to blackmail the woman, in a statement sent to BuzzFeed News.
"The governor has now seen the TV report that ran tonight," the statement said. "The station declined to provide the tape or transcript in advance of running their story, which contained multiple false allegations. The claim that this nearly three-year-old story has generated or should generate law enforcement interest is completely false. There was no blackmail and that claim is false. This personal matter has been addressed by the Governor and Mrs. Greitens privately years ago when it happened. The outrageous claims of improper conduct regarding these almost three-year-ago events are false."