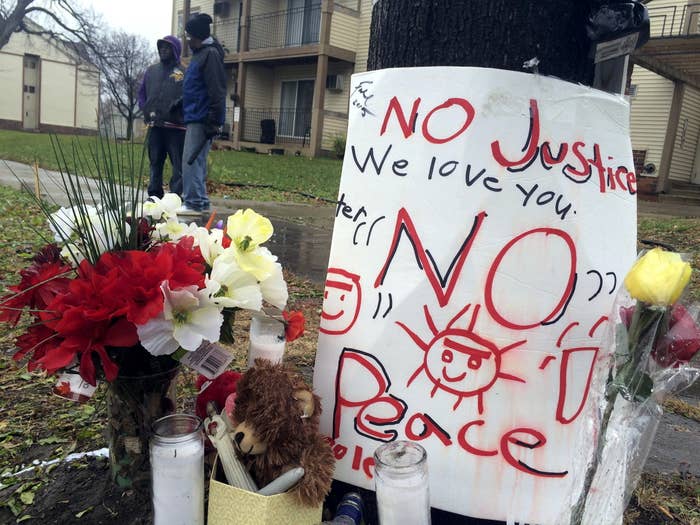 With conflicting police testimonies and witness accounts, state authorities are still trying to determine whether or not 24-year-old Jamar Clark was in handcuffs when police shot him Sunday night, BuzzFeed News confirmed.
Minnesota state Bureau of Criminal Apprehension Superintendent Drew Evans said during a press conference Tuesday that his team was trying to ascertain "whether or not they were on Mr. Clark or whether or not they were just (fallen) at the scene," the Associated Press reported.
On Wednesday, the Minnesota Department of Public Safety released the names of the two Minneapolis Police officers who were involved in the fatal shooting: Mark Ringgenberg and Dustin Schwarze.
Both have been in the profession for seven years, and have been with the Minneapolis Police Department for 13 months, according to a Minneapolis DPS release sent to BuzzFeed News. Ringgenberg and Schwarze are currently on administrative leave.
Clark was shot by two police officers in Minneapolis on Sunday, which left him in critical condition. He was taken off life support on Monday, and died shortly after. The shooting prompted anger from the community and a meeting with the mayor and police chief.

Witnesses said Clark was handcuffed when he was shot. However, police officers said in a press briefing Sunday that their preliminary investigation shows that wasn't the case.
The two officers involved in the shooting, who have not been identified, were placed on administrative leave, officials said.
Evans added on Tuesday that while similar investigations take two to four months to complete, the bureau had expedited Clark's case.
Minneapolis officials announced Monday they have asked the Department of Justice to open a federal civil rights investigation into Clark's death.
Mayor Betsy Hodges and Police Chief Janeé Harteau announced the request Monday at a press conference after the shooting sparked protests around the city.

"Everyone involved needs and deserves the truth," Harteau said.
Since then, the FBI has agreed to open a civil rights investigation, according to the AP.

Nekima Levy-Pounds, president of the Minneapolis NAACP, identified Clark — a black man in his mid-20s. In a statement, Levy-Pounds said Clark was "shot and killed" by police, according to the Minneapolis Star Tribune. However, a family member later told the newspaper that Clark was in intensive care at the local hospital, and that a doctor had told them he was brain dead.
Police said they were called to an apartment complex around 12:45 a.m. local time following a report of an assault.

When police officers arrived, they said the man was interfering with the victim, who was being attended to by paramedics. Police said they tried to calm the man, but a scuffle started and at some point an officer shot and hit the man.
Witnesses started to crowd around and became frustrated as police tried to keep them away. They also said several people were pepper-sprayed.
"We've been saying for a long time that Minneapolis was one bullet away from Ferguson. Well, that bullet was fired last night," said Jason Sole, an associate professor at Metropolitan State University and chair of the local NAACP chapter.

"We want justice immediately," Sole told Minnesota Public Radio News.

Hodges and Harteau organized a meeting with the community Sunday evening.

After the meeting, Harteau told the Associated Press that there was a lot of misinformation being spread about the incident, but wouldn't specify which facts were incorrect.

The State Bureau of Criminal Apprehension will conduct an independent investigation, Harteau added.
"We need to know exactly what happened, we need to know the truth," she said. "Everyone involved needs that and deserves that."
The two officers involved in the event are on paid leave, which is standard protocol for investigations.
Hodges and Harteau stepped away from the meeting after making their initial comments, as they were drowned out by arguments between people in attendance, while others started to yell "Justice for who? Jamar!"
Protesters marched on Sunday afternoon, carrying Black Lives Matter banners. The group of about 250 people started where Clark was killed and marched to a police precinct, where they knocked on the door and demanded to be let in.

Raeisha Williams, a member of the Minneapolis NAACP, said to the Associated Press that protesters plan to stay at the precinct until the names of the officers involved are released.