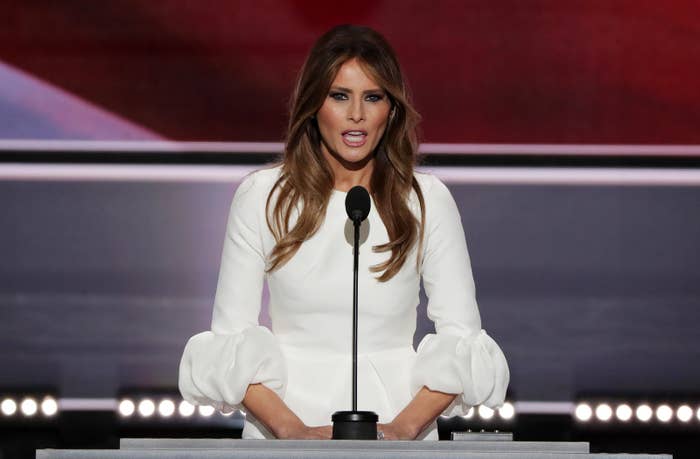 Melania Trump delivered a rare speech on the first night of the Republican National Convention about her husband Donald Trump, which shared an almost identical section to first lady Michelle Obama's Democratic convention speech in 2008.
The presumptive Republican nominee's wife discussed the work ethic instilled in her by her parents, treating people with respect, and wanting a better future for children — which were all apparently things she took from Michelle Obama's address.
Melania Trump said in her speech Monday:
From a young age, my parents impressed on me the values that you work hard for what you want in life. That your word is your bond and you do what you say and keep your promise. That you treat people with respect. They taught and showed me values and morals in their daily life. That is a lesson that I continue to pass along to our son, and we need to pass those lessons on to the many generations to follow because we want our children in this nation to know that the only limit to your achievements is the strength of your dreams and your willingness to work for them.
Michelle Obama's convention speech in 2008 hit on many of the same themes:
And Barack and I were raised with so many of the same values: that you work hard for what you want in life; that your word is your bond and you do what you say you're going to do; that you treat people with dignity and respect, even if you don't know them, and even if you don't agree with them.

And Barack and I set out to build lives guided by these values, and pass them on to the next generation. Because we want our children — and all children in this nation — to know that the only limit to the height of your achievements is the reach of your dreams and your willingness to work for them.
Before taking the stage Monday night, Melania Trump told NBC's Matt Lauer she wrote the speech.

"I wrote it... with a little help as possible," she said.
The Trump campaign did not immediately respond to a BuzzFeed News request for comment, but released a statement through a spokesperson on Monday night that addressed Melania's speech:
In writing her beautiful speech, Melania's team of writers took notes on her life's inspirations, and in some instances included fragments that reflected her own thinking. Melania's immigrant experience and love for America shone through in her speech, which made it such a success."
The similarities were first pointed out by Jarrett Hill on Twitter.

Two former Obama staffers said the original author of the lines was Sarah Hurwitz, a former Obama campaign speechwriter who now works in the White House as a special assistant to the president.
Former Obama speechwriter Jon Favreau said he had "no idea" how the blunder could have happened. "A stray line or phrase could be a mistake. Two full paragraphs from the current first lady is just incomprehensible," he said. "I can't believe someone would do that to her."
"Michelle's head speechwriter used to be Hillary's," Favreau tweeted. "So the Trump campaign plagiarized from a Hillary speechwriter."
Donald Trump has previously attacked Vice President Joe Biden for, notoriously, plagiarizing a speech from a British politician in 1987.
"I've had a great record, I haven't been involved in plagiarism," Trump said.
On Tuesday morning the Trump campaign maintains that there was no plagiarism.

"What she did was use words that are common words," Trump campaign chairman Paul Manafort said Tuesday on New Day.
He said that it was "crazy" to think that she would copy from Obama's speech knowing that she was speaking in front of 35 million people and that her words would be scrutinized.
On the Today show, Chris Christie said he could not make a case for plagiarism.
"I know Melania and I think she worked very hard on that speech and a lot of what I heard last night sitting on the floor sounded very much like her and the way she speaks about Donald all the time," Christie said. "Having been friends with them for 14 years, that sounded like her to me last night. I think what's most important is that the American people gets a picture of how she feels about her husband and what their relationship is like."

Here's a video comparing the two speeches:
Ben Smith contributed to this report.