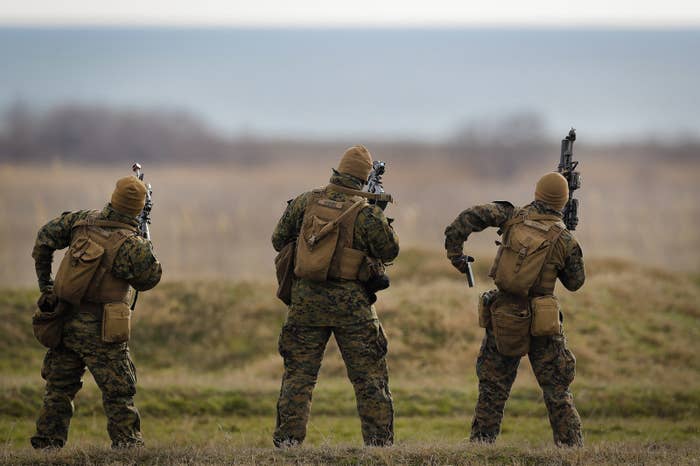 For the first time in history, a woman will be assigned to lead a platoon of infantry Marines after becoming the first female to complete the notoriously demanding officer training course.
The female lieutenant and her male colleagues recently completed the intense 13-week Infantry Officer Training course after finishing basic training for the Marine Corps, said Capt. Karen Anne Holliday, the communications director at the Marine Corps Air Ground Combat Center in Twentynine Palms, California.
The course is seen by many as the toughest in the military. In the Marine infantry, troops need to endure carrying heavy body armor and packs that can weigh more than 100 pounds, and often live in challenging combat conditions for extended periods of time.
Since combat positions were opened to women almost two years ago, only three other female Marines have attempted the Infantry Officer Course, a training and education command spokesperson told BuzzFeed News.
The woman, who has not yet been identified, is set to graduate on Sept. 25, officials said. She will then lead a platoon of about 40 infantry Marines in service.

In April 2016, all combat jobs were opened to women in the military after President Obama ordered the be integrated. Before then, women had served in combat in Iraq and Afghanistan, but were prohibited from so-called ground combat fields, such as the infantry, armor and Special Forces.

Joining the infantry has been important to women as major step toward advancing up the chain of command. Last year, the Army assigned its first female infantry officer, Capt. Kristen Griest, after she completed Ranger School, which is also known for being extremely challenging.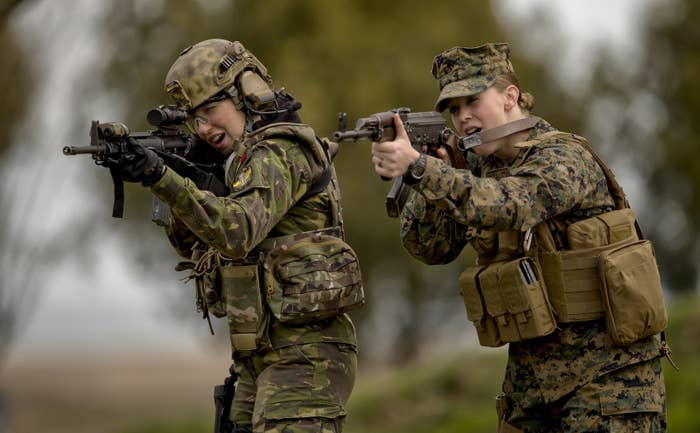 The Marine Corps has been resistant to integration. In 2015, they requested an exemption, citing a study that said integration could hurt its ability to fight, but it was ultimately denied, with then-Defense Secretary Ash Carter saying everyone should operate by the same rules.

This year, the Marine Corps has also struggled with a scandal in which hundreds of veterans were investigated for sharing nude photos of female colleagues in a private Facebook group.
Since 1949, the Marines have had a separate area for the sole purpose of training women in South Carolina, which is still in use even though male and female recruits now get the exact same training. It's staffed solely by female drill instructors and officers and is the only all-female unit in the Department of Defense.

Women have not yet integrated into Special Operations positions, including the Navy SEALs, or the Army Special Forces, known commonly as the Green Berets.
The military banned racial discrimination in 1948, which led to racial integration, and lifted the ban on gay and lesbian service members serving openly in the military in 2011. Carter enacted a policy in 2016 to allow transgender people to serve openly in the military and receive transition-related care, but this summer, President Trump announced a new policy banning open transgender service, although military leaders are still awaiting guidance on how to implement it.