Marijuana Will Be Legal In Oregon And Here's Where You Can Get It For Free
Recreational marijuana use will be legal in Oregon starting on Wednesday, but with nowhere to buy it until October, advocates say they will give it away for free.
Starting Wednesday in Oregon, possession of up to 8 ounces of marijuana for recreational use will be legal for people 21 and older.
But there's a catch: There won't be anywhere to buy it. At least, not initially. That's because state regulators are drafting new retail rules, which won't be in place and ready to take effect until Oct. 1.
The new changes mean Oregon will become the fourth state to legalize recreational marijuana use, joining Colorado, Washington, and Alaska. Washington, D.C., has also legalized possession.
How much weed can I have in Oregon?
In addition to growing four plants, people 21 and older can possess 8 ounces at home and up to 1 ounce on themselves when in public.
Also, adults over 21 can posses up to 1 pound of solid edibles, 72 ounces of marijuana-infused liquid, and 1 ounce of marijuana extract — a concentrate form of weed — such as butane hash oil, the Oregonian reported.
Where can I get marijuana?
The state is still working to create a regulatory system, which residents granted the Oregon Liquor Control Commission the right to do when they voted to legalize weed last fall.
The only people who will be able to buy marijuana legally on Wednesday will be those who already have been able to since 1998 — medical marijuana cardholders. Sales for recreational pot aren't scheduled to start until 2016, although if a new bill is passed, that date would move to Oct. 1.
Medical marijuana patients, however, will also be allowed to grow pot and give it away, so they may be hit up for a gift or two.
People who do not have medical cards will not be able to buy cannabis plants until dispensaries open, but they can ask friends who already grow weed for a starter. Medical patients are allowed up to six plants.
The National Organization for the Reform of Marijuana Laws Portland chapter are also hosting a seed giveaway at midnight on July 1, the Oregonian reported. The group said advocates will also be giving away marijuana to people 21 and older — out of public view.
The event is being held at Portland's Burnside Bridge. For more details, go here.
Oregon's new marijuana law also prohibits people from bringing pot across state lines, although authorities say those 21 and older who travel into Oregon with pot from Washington are "not an issue."
Where can I smoke?
Weed is only legal to consume at home or other private places. It's not OK to smoke on your porch if you can be seen from the street.
It's illegal to light up at a park, in a street, in schools, amusement parks, public transportation, or bars. If you get caught smoking in public, it counts as a Class B violation, like a traffic ticket, and includes a fine of up to $1,000.
Also, vape pens count as consuming weed, so even if you think your device is discreet, it's not legal.
Just like tobacco and alcohol, it is legal to smoke weed around minors, although many officials have said it's not a good idea.
"I would advise people not to use marijuana in front of minors just to be safe," said Anthony Johnson, an advocate of the new marijuana law.
It's also illegal to drive or bike while under the influence of marijuana.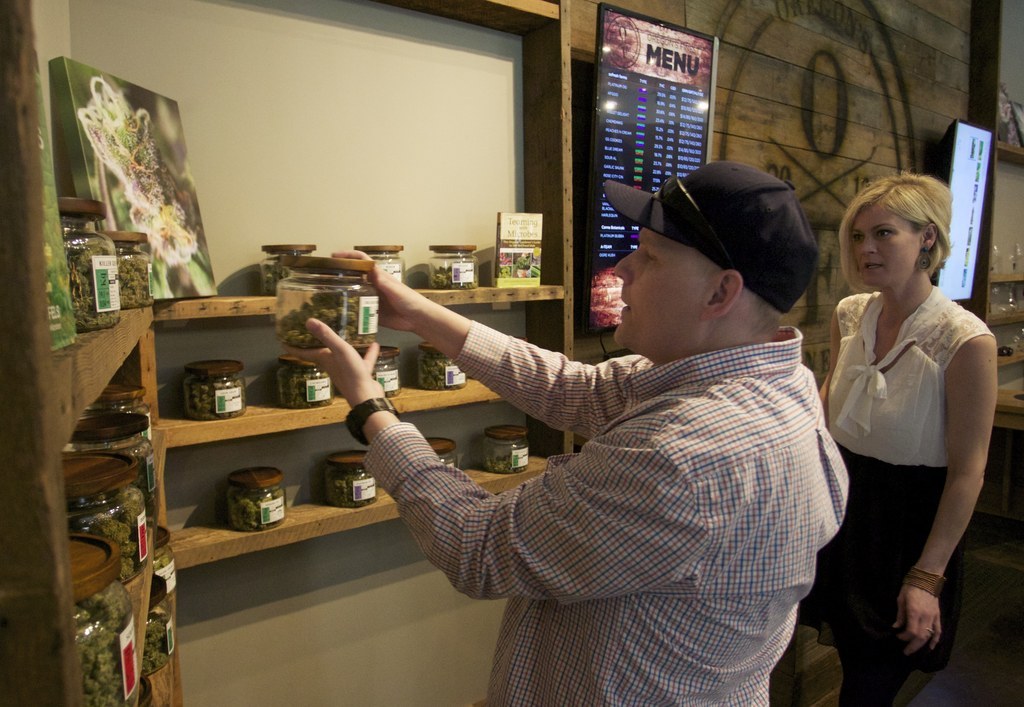 When will I be able to buy weed?
The Oregon legislature's joint marijuana committee voted to start retail operations on Oct. 1 using the more than 300 operating medical dispensaries already in existence, the Associated Press reported.
The time will allow the OLCC to finish writing retail regulations for dispensaries, and for the cannabis harvest to ensure there will be enough product for medical and recreational customers.
Under the legislation, eligible buyers will be allowed to purchase one-quarter ounce of marijuana each day from a dispensary, as well as seeds or plant starers.
City and counties will be able to make their own rules about where pot dispensaries can be located. Many small towns in central and eastern Oregon, which were not supportive of the pot measure, may end up being more restrictive.
State lawmakers approved a sales tax of 17% for marijuana products, the Oregonian reported. Local governments will be allowed to add a 3% tax with voter approval. Officials estimate the tax could produce more than $30 million a year.