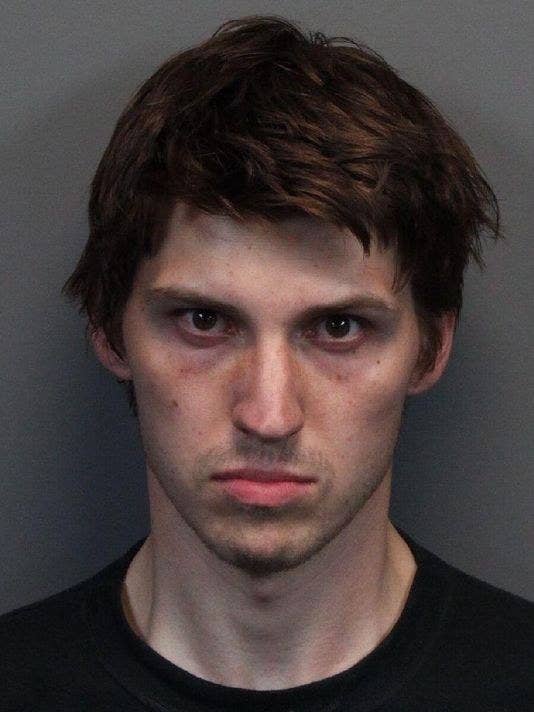 A 25-year-old Nevada man was sentenced to up to 28 years in state prison on Thursday after he was convicted of recording himself torturing, dismembering, and killing seven dogs.
Jason Brown, of Reno, had initially pleaded no contest, claiming he couldn't remember committing the horrific acts because he was a drug addict, the Associated Press reported. The former psychology major will be eligible for parole in 11 years.
During the trial, Washoe District Judge Elliott Sattler watched videos of Brown torturing and skinning the dogs. He beheaded at least four of them.
The recordings were only shown to the judge, lawyers, and a detective on the witness stand, but Brown could be heard saying he was taking the dogs to his "House of Pain" and wanted to turn them into a fur coat.
"The cruelty, the sadism you exhibited is simply shocking," Sattler said, according to the AP. "The part that frightened me most about the videos is that you produced them in the first place. That tells me you wanted to go back and watch them again — a trophy, if you will, of your behavior. You watched with friends and laughed."
Brown is heard saying on one of the recordings that he found the dogs through Craiglists and looked for "pets free" on the ads. People that had responded to Brown's requests through Craigslist testified he seemed like a normal guy. They were seen sobbing while the recordings were shown.
Brown was arrested in 2014 after police discovered a gruesome scene at a Reno motel where he was staying. Four dog heads were found in the room's mini-fridge.
He claimed that he couldn't remember committing the acts because he was injecting heroin, methamphetamine, and cocaine during a more than monthlong binge.
"It's sickening to hear these things and realize it's me," Brown said in court.
The recordings were taken by Brown, as well as two friends who had been with him. The audio was described as incredibly emotional, including squeals from the dogs, as well as the sound of knives or blades clinking together over and over again.
"I'm making a jacket out of them," Brown is heard saying.
One of the friends says if Brown gets caught he will go to jail for "like four years."
"If you go to a jury, oh God," a friend said. "The jury — people would show up at the trial with their service dogs and they'd be crying."
As he talks about how he would get the dogs through Craiglist, Brown is recorded saying: "The little white Chihuahuas are my favorite. If I get one of those, they are coming to Jason's House of Pain."
"Pugs, instead of barking, pugs sound like humans, like little kids. They yell," he said, mimicking the noise "Ahhhhhhrrgggghhhh."
"Let me show you," he said. "You want me to get one tonight?"