Man Dies After Lighting Firework On Top Of His Head
A 22-year-old man, who had been celebrating the 4th of July, died instantly after he placed a firework on the top of his head and lit the fuse.
A 22-year-old man in Calais, Maine, died on July 4, after he lit a firework off his head, officials said Sunday.
Devon Staples had been drinking with his friends and setting off fireworks Saturday night, before he placed a mortar tube on his head and lit the fuse, the Associated Press reported.
The firework exploded and killed Staples instantly, said Stephen McCausland, a spokesman for the state Department of Public Safety.
"When he suggested he was going to do this, his friends gathered around him and they thought they had convinced him not to do it," McCausland said Sunday, according to the Bangor Daily News.
But before his friends could react, Staples set off the explosive, McCausland added.
His 25-year-old brother Cody Staples told the New York Daily News that it was an accident and that he was with his brother in a Calais backyard when the firework went off.
"I was the first one who got there. There was no rushing him to the hospital. There was no Devon left when I got there," Cody said. "It was a freak accident … Devon was not the kind of person who would do something stupid. He was the kind of person who would pretend to do something stupid to make people laugh."
Staples lived in Orlando, Florida, where he once worked at Walt Disney World as Gaston.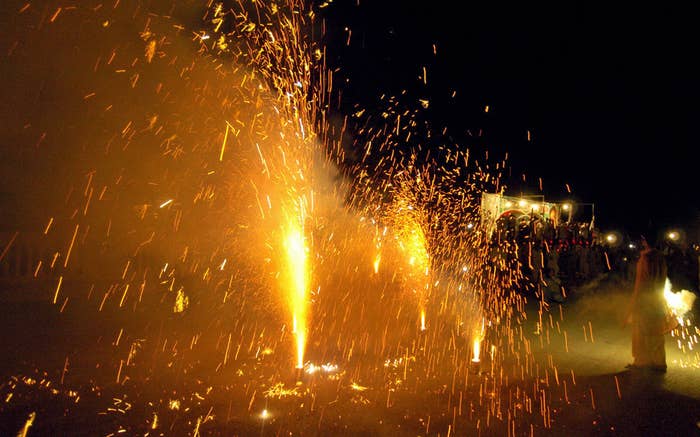 The state of Maine legalized fireworks on Jan. 2, 2012, and this is the first firework-related death reported since the law was changed. Fireworks had been banned in Maine since 1949, but lawmakers voted to repeal the law saying it would create jobs and generate revenue.
Maine officials said they were investigating several minor injuries related to fireworks, including incidents in the towns of Friendship, Lebanon, Jefferson, Woodstock, and another in Calais. Most of these incidents involved burns or eye injuries.