Louisiana Family's Daring Rescue Saves Kidnapped Mother
The family of a kidnapped Louisiana mother tracked her down and killed the father of her child in the abandoned house where he allegedly held her prisoner for 30 hours, authorities said.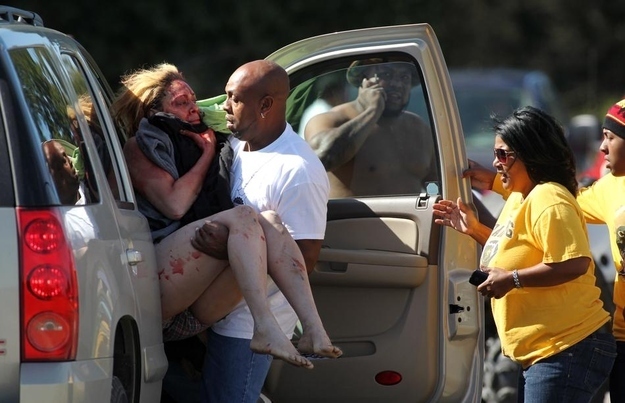 Bethany Arceneaux, 29, who was kidnapped Wednesday outside a child care center where she was picking up her 2-year-old son, was found by her family Friday about 10 miles away inside an abandoned house where she was being held prisoner.
The abductor Scott Thomas, 29, allegedly shoved Arceneaux into his white Buick LeSabre in a parking lot outside the daycare center, before driving off, Lafayette Police Department spokesman Paul Mouton told ABCNews.com.
Thomas was the father of Arceneaux's child, who was left behind in her car and later taken into custody by Arceneaux's mother. Arceneaux had a restraining order against Thomas, and was allegedly a victim of years of domestic abuse.
Law enforcement officials found Thomas' car later that night near a sugarcane field in Lafayette Parish, La. Police searched the field Wednesday night and Thursday but nothing was found.
Friday morning more than a dozen of Arceneaux's family members continued to search across the street from the field, where they came upon a vacant house behind a thicket of trees.
One of the family members heard a scream from the house, and Arceneaux's cousin kicked in the door and entered, Lafayette Parish Sheriff's Department Captain Kip Judice said.
Inside the home the family found Thomas stabbing Arceneaux. The armed cousin shot at Thomas until Arceneaux was able to break free. She suffered several stab wounds and was taken to Lafayette General Medical Center, where she is in stable condition.
Officers who heard the gunshots surrounded the house, and upon entering they found Thomas, who had sustained several gunshot wounds on the ground. He died later Friday, after succumbing to the injuries.
No charges have been filed against Arceneaux's cousin who shot Thomas, and it is unlikely that the he will be charged, Judice said.