Listen To The Hawaiian Name That Was Too Long For A Driver's License
After the news went viral in September that Janice Keihanaikukauakahihuliheekahaunaele was told to trim her last name in order to fit it on her driver's license, the Department of Transportation agreed to extend the character count to accommodate her name. On Dec. 30, the Hawaii resident finally received her new driver's license.
UPDATED — Dec. 30, 8 p.m. ET: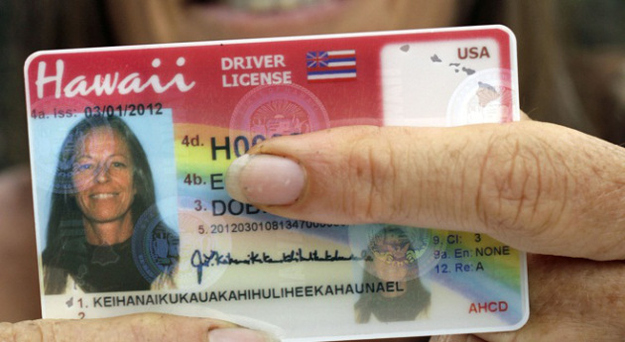 The Hawaii resident's long last name is 36 characters. Her old driver's license didn't feature her first or middle name and dropped the 36th character of her last name.
She said it caused problems when traveling and confusion when she was being questioned by a police officer during a traffic stop.
After the news went viral, the Department of Transportation agreed to extend the limit to 40 characters for last names, 40 for first names, and 35 for middle names.
On Dec. 30, she finally received her new driver's license with her full name.
Keihanaikukauakahihuliheekahaunaele said the Department of Transportation suggested in September she take her maiden name or shorten her last name. But that would mean taking away something she still has from her husband, who passed away.
"And I went, 'How disrespectful of the Hawaiian people,'" Keihanaikukauakahihuliheekahaunaele said to KHON2 News.

In an email sent to the Lee Valley tool company in 1999, she explained that her husband's whole name was Keihanaikukauakahihuliheekahaunaele. He didn't have a first, middle, or last name and he never wanted to change it to fit in.
You see, to some people in the world, your name is everything. If I say my name to an elder Hawaiian (kupuna), they know everything about my husband's family going back many generations... just from the name. When the name is sliced up, changed or altered it distorts the intention and meaning that the name represents. Unfortunately, many people have been shamed into hiding their real names because they don't fit in with the dominant culture's lack of respect for the name.
The ID she received in May, which looks just like her old driver's license.
Keihanaikukauakahihuliheekahaunaele said on Monday she was happy with her success to change IDs to have sufficient space for long last names.