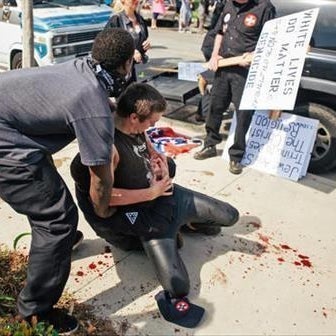 Five Ku Klux Klan members who were arrested over the weekend during a violent confrontation with counter-protesters in Anaheim, California, have been released after authorities determined they acted in self-defense.
The violent assault occurred Saturday when counter-protesters confronted the white supremacy group as it held an anti-immigration rally in Pearson Park. The fight included more than a dozen people and left three people with stabbing injuries. All of the victims are reportedly in stable condition.
Police said after reviewing video footage and interviewing witnesses that they had concluded the KKK members acted in self-defense after being attacked by the counter protesters. The case will still be presented to Orange County prosecutors who will make the final decision on whether to file charges.
Seven people, who police said were seen beating and attacking the KKK members with wooden posts, remain in custody. Authorities said the Klansmen stabbed three counter protesters — and at least one person was stabbed with the decorative end of an American flagpole.
"Regardless of an individual or groups' beliefs or ideologies, they are entitled to live without the fear of physical violence and have the right, under the law, to defend themselves when attacked," a police statement said.
The Anaheim Police Department have been criticized both for their response to the violence and for not having people on hand before it happened.
Ku Klux Klan leader Will Quigg, who said he was beaten during the brawl, told the Associated Press he had asked the department for a police presence before the protest, but the agency denied his request. Quigg said he told police he would instead hire outside security, but was told he could not do that either.
Anaheim Police Sgt. Daron Wyatt told the AP that he thought Quigg was asking for personal security guards for Klansmen when he denied the request.
Police also said in a statement that officers were present at the protest but did not specify how many were there. They added that officers arrived at the scene of the violence in less that two minutes after reports.
"Officers rendered medical aid to those who were injured and arrested all but one of the suspects," the agency said in a statement.
Authorities said they are still looking for one assault suspect and released a photo on Saturday of the unidentified man, asking for help from the public.
The KKK historically has had a strong presence in Anaheim. In the 1920s, Klansmen held four out of five seats on the City County.
On Sunday, at least a dozen protesters gathered outside the Anaheim police station and demanded the release of the seven protesters, including one juvenile, who remain in jail.
A vigil against the KKK was also planned for Monday evening in Anaheim.