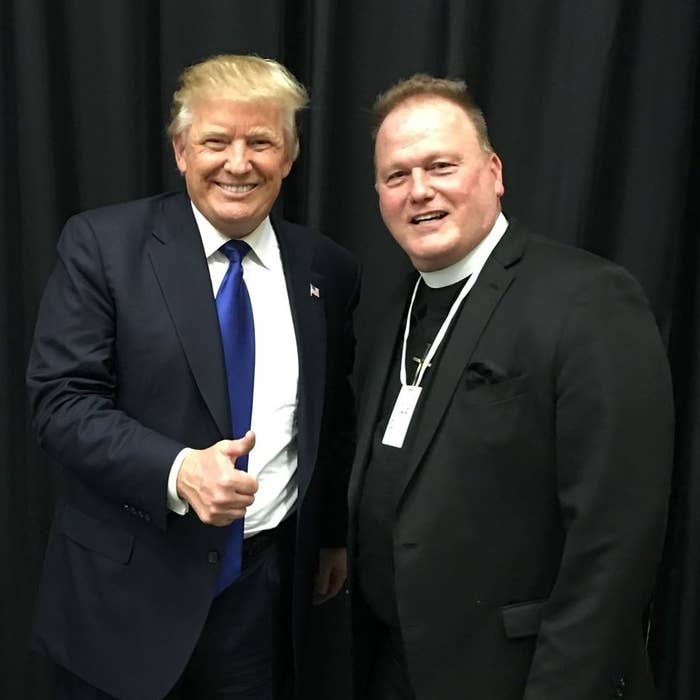 Kentucky state Rep. Dan Johnson killed himself on a bridge Wednesday after being confronted with allegations that he sexually assaulted a teenage girl, officials said.

Bullitt County Sheriff Donnie Tinnell told WDRB that Johnson shot and killed himself on a bridge on Greenwell Ford Road in Mt. Washington, and that the gun was recovered.

BuzzFeed News reached out to the sheriff's office for more information.

On Monday, the Kentucky Center for Investigative Reporting (KyCIR) published a seven-month investigation detailing allegations the Republican state representative woke his daughter's friend during a sleepover in 2013 and assaulted her.
Johnson was the pastor of the Heart of Fire Church and called himself the "pope." He opposed abortion rights and gun control restrictions, which helped him win a seat in Kentucky legislature in 2016, according to KyCIR. The alleged victim, who is now 21, became close to Johnson through his daughter, Sarah, and considered him a "second dad," KyCIR reported.
She said at one of his alcohol-filled parties at his house — known as the "Pope's House" — on New Year's Eve in 2012 she woke up on the couch with Johnson kneeling above her, according to KyCIR. He then stuck his hands under her bra and groped her, the report states, and then stuck his tongue in her mouth and put his fingers in her vagina.
"What you did was beyond mean, it was evil," the woman said she wrote in a message on Facebook to him shortly after the incident, according to KyCIR.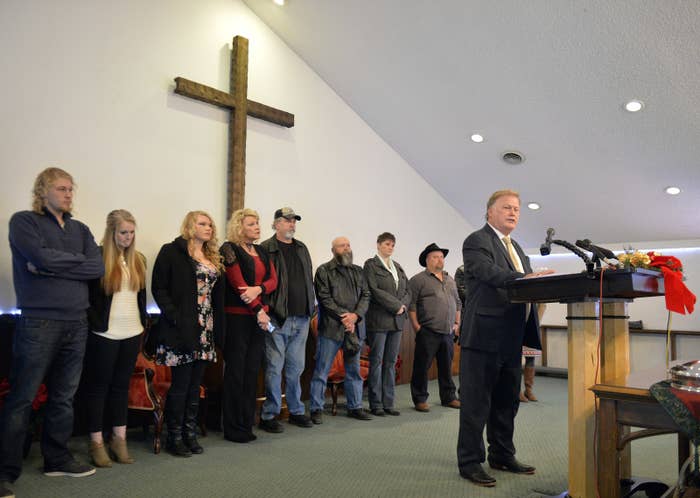 At a news conference at his church on Tuesday, Johnson denied the allegations and said he would not step down.
"This allegation concerning this lady, this young girl, absolutely has no merit, these are unfounded accusations, totally," he said, according to the Louisville Courier-Journal.

He did acknowledge knowing the girl, but said he didn't "want to blast this girl."
On Wednesday, he posted a statement of Facebook again denying the allegations. He also wrote that the nation "will not survive this type of judge and jury fake news." He urged conservatives to take a stand, and discussed his love for his wife, Rebecca, and family.

He also referenced the 9/11 attacks, and said he suffered from PTSD, calling it "a sickness that will take my life."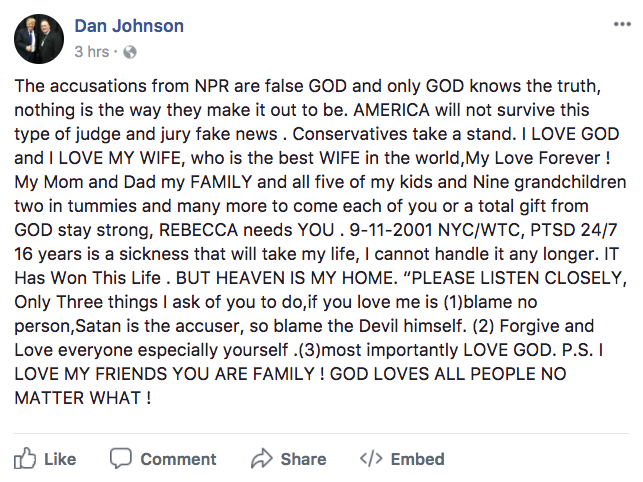 Johnson was in New York during the attacks, and had previously led events on the anniversary of the attacks to remember those who died that day, according to WDRB.
Following the suicide, Kentucky Gov. Matt Bevin said on Twitter that he was saddened to hear of Johnson's death and that his heart "breaks for his family tonight."
Sen. Rand Paul tweeted that he "cannot imagine his pain or the heartbreak his family is dealing with tonight," and said he and his wife "pray for his loved ones."
CORRECTION
The woman who accused Johnson of sexual assault went on the record with KyCIR. An earlier version of this post misstated that she wasn't named.