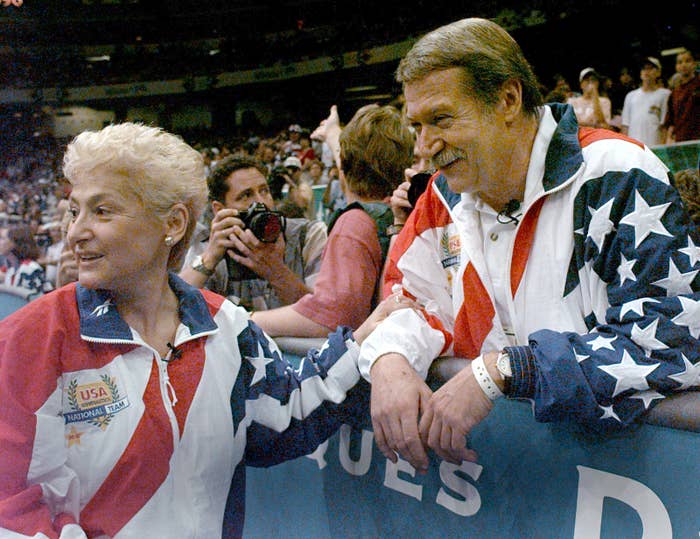 In their first interview since the Larry Nassar scandal surfaced, Martha and Bela Karolyi said they did not know about the sexual abuse that took place at their Texas training camp, and denied creating an environment that allowed for abuse to take place.
The Karolyis, who are now 75, were both head coaches and pioneers of the training program used by USA Gymnastics. They spoke to NBC News in an interview that aired on Dateline Sunday night.
In the interview, the couple admitted that the environment at their training camp was "intense," but denied accusations — including those leveled by former gymnasts — that they fostered an abusive culture at the ranch.
"I don't feel responsible," Martha Karolyi said. "But I feel extremely hurt that these things happened and it happened everywhere but it happened here, also."

Nassar, 54, is serving an effective life sentence in prison after being found guilty of sexually assaulting girls and women under his care, and of federal child pornography charges. The cases revealed that he sexually abused hundreds of young aspiring athletes under the guise of "treatment" for more than two decades — including abuse that many gymnasts have said took place at the Karolyi Ranch.
USA Gymnastics announced at the beginning of the year that it would stop using the couple's ranch, which is now under investigation by authorities in Texas. Before that, the Karolyi Ranch had been the most important training camp for US gymnastics for 16 years.

There are also two lawsuits against the Karolyis that accuse the couple of abusing gymnasts in their care, including hitting and scratching, withholding food and water, and making comments about the athletes' weight.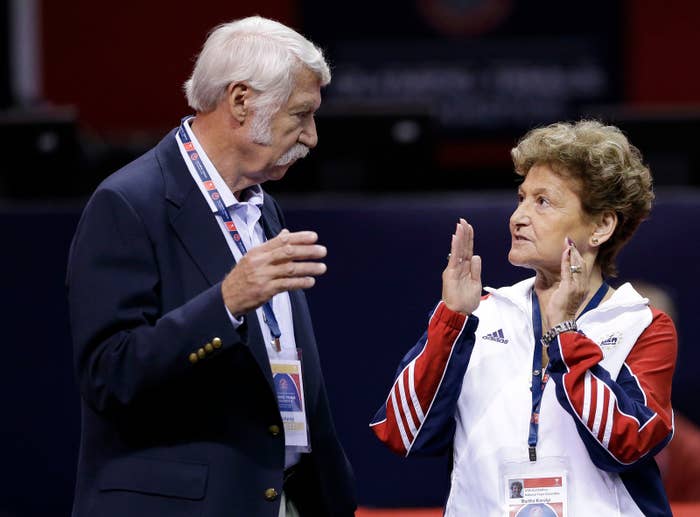 The Karolyis, who are now retired, told NBC News the atmosphere at their property was "serious."
"You have to find out who are the best ones, who are the best ones who are able to stand the pressure," Martha Karolyi said.

Still, they denied the allegations in the lawsuits against them, including verbal and physical abuse.
"Verbally, we were not abusive. Emotionally, it depends on the person. You have to be a strong person to be able to handle the pressure," Martha Karolyi said. "Maybe you say a little overweight, but in order to be a good gymnast, you need to have the right ratio between strength and weight."
"I never touched anybody and if anybody comes up with that one, that's a dirty lie," Bela Karolyi said of his interactions with US gymnasts.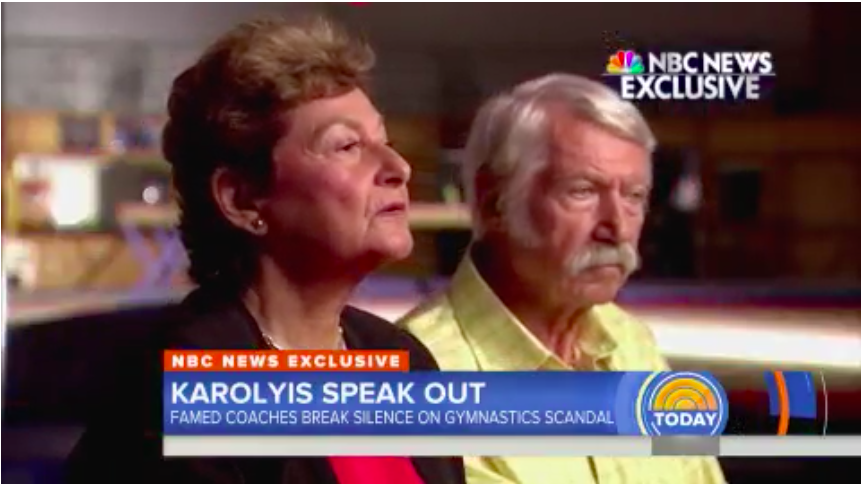 The Karolyis also denied that there was any way they could have known about Nassar's sexual abuse, with Martha Karolyi insisting that she "never, ever [heard], not one single complaint" about the doctor.
She also noted that the gymnasts' parents were similarly unaware of Nassar's abuse.
"I heard during the testimonies that some of the parents were in the therapy room with their own child and Larry Nassar was performing this," Martha Karolyi said. "And the parent couldn't see. How I could see?"
"The whole gymnastics community couldn't recognize this," she added. "Everybody said, 'Larry Nassar is a good doctor, Larry Nassar is a good guy.'"
McKayla Maroney, a former US Olympic gymnast and one of more than 200 women who have said Nassar abused them, told Dateline that much of the abuse occurred at the Karolyi Ranch, as well as on trips with the national team. In her own interview with NBC News, she cast doubt on the Karolyis' denials.
"They just want to say, oh, we didn't know. You knew what I ate. You controlled what I wore. You controlled what I said. How could you not know?" Maroney said. "That's what everybody says, that it's not their responsibility. They were the leaders of everything."