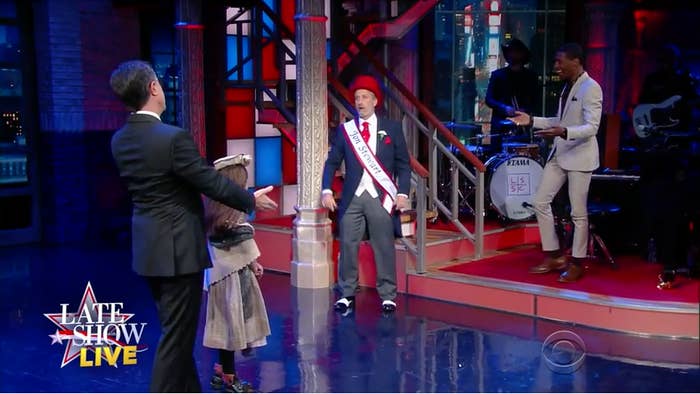 On Monday night's Late Show with Stephen Colbert, Jon Stewart joined his old friend as the Mayor of Candy Town, along with a little girl who sang about being scared to vote.
Stewart came on stage wearing a red top hat and sash and saying, "If the girl doesn't want to vote, then the girl doesn't have to vote," while handing out "toffee from an old man's pants."
"There's nothing in the law that says the people have to vote. Let the child do what she wants, don't stuff voting down her throat!" Stewart sang.
Colbert questioned if he knew who the Republican nominee is. When Stewart heard Colbert say Trump's name, he spit his drink in his face.
"What? Are you kidding me?!" Stewart said.
"That son of a — are you serious? That angry tax- and draft-dodging little orange groundhog is running for president?"
Stewart then made Colbert tell him again, spitting in his face in disbelief for a second time.
When the girl questioned who was worse, Clinton or Trump, Colbert and Stewart yelled in unison, "He's worse! Much worse!"
The Late Show was also assisted by Hamilton's Javier Muñoz, who rapped about "not throwin' away your shot" on the election "because history has its eyes on you."
Finally, Stewart left us with a little rap of his own. "He has been endorsed by David Duke. His tiny hands might get a nuke," he rhymed about Trump.
"He acts real tough, but he's a wussy," Stewart continued. "He'll probably fill the court with Gary Busey. And then he'll grab your mother's..."
"Jon!" Colbert cut him off. "We got the kid."
"...kitty cat. Meow," Stewart finished.