Jeffrey Wright got into a massive Twitter fight with a Trump supporter on Tuesday and people loved it. The whole thing started with an empowering, Feminist tweet that Wright had shared the day after Donald Trump's presidential win.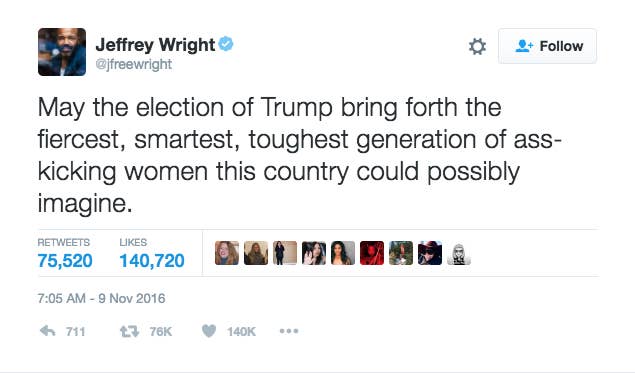 (NB: This post contains spoilers.)
Then on Nov. 12, Twitter user Howlman, who describes himself as a retired police lieutenant that is blocked by Cher, responded by saying all Trump supporters should boycott Westworld, noting "Hollywood does not represent America."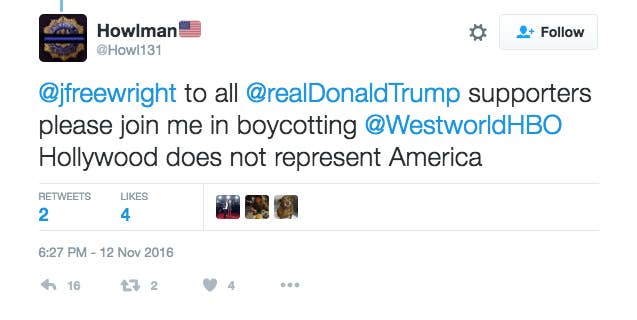 Then on Tuesday, Wright responded. "Lemme explain. I'm as American as any American. Go back centuries." He added that Trump's recent Treasury Secretary nominee Steven Mnuchin helped finance X-Men and Avatar.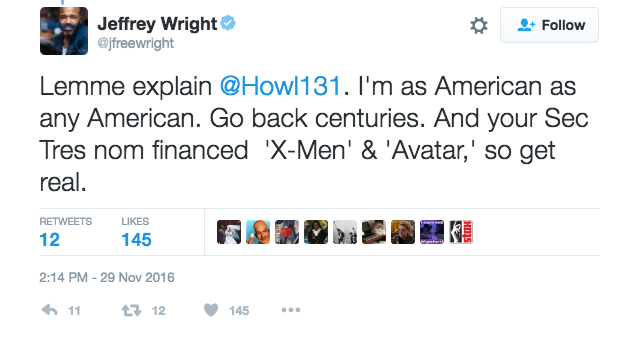 Wright tweeted that he had nothing against Howlman, but that he had a right to express Trump was a fraud.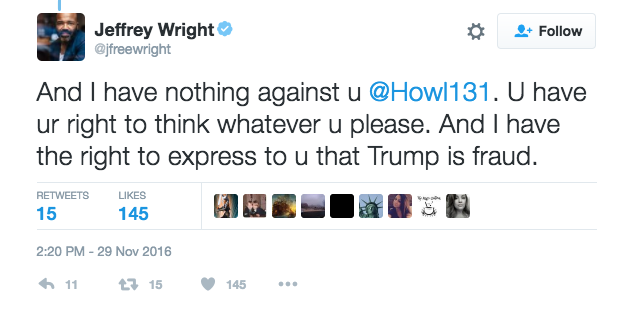 Howlman responded by saying Wright's character on Westworld, Bernard Lowe, who it was recently revealed is a host, is smarter than the actor. "Horrible acting," he added.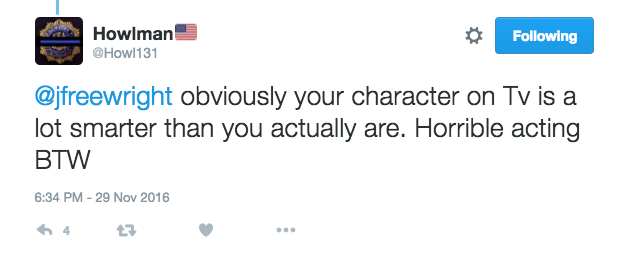 "Don't be an idiot," Wright said.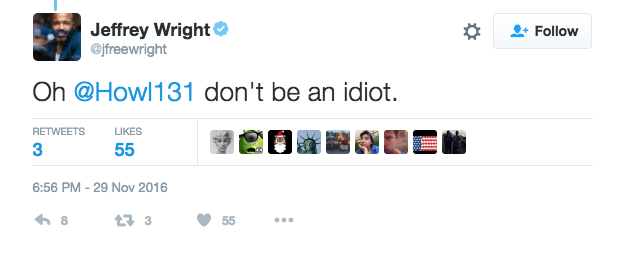 Since the conversation had clearly moved from politics to television, Howlman decided he would continue with his Westworld review.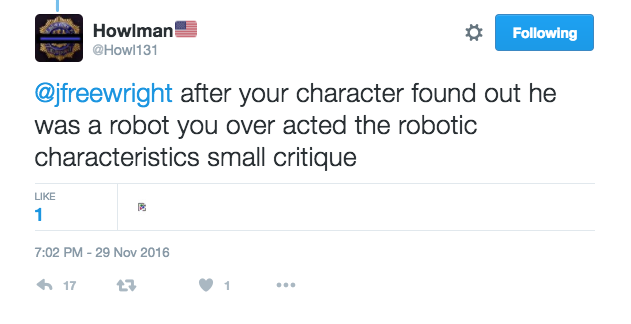 This was all just too much for people watching the Twitter fight though and they started chiming in. After the acting critique, a reporter at Green Bay Press-Gazette was just like no.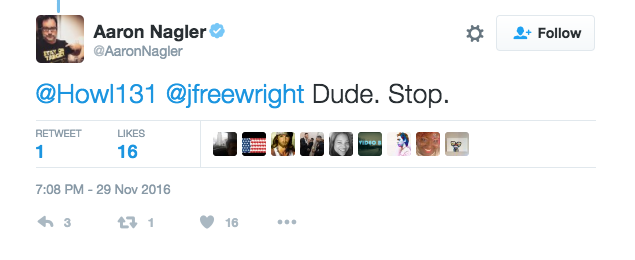 Wright seemed to appreciate the support.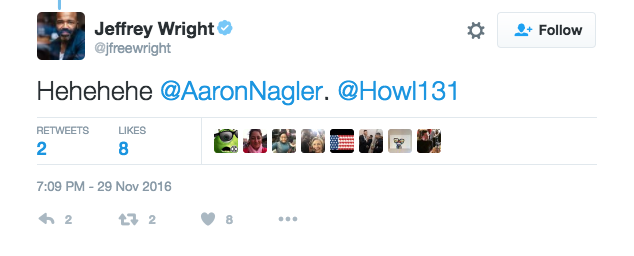 Then Wright came in with this clap back for Howlman: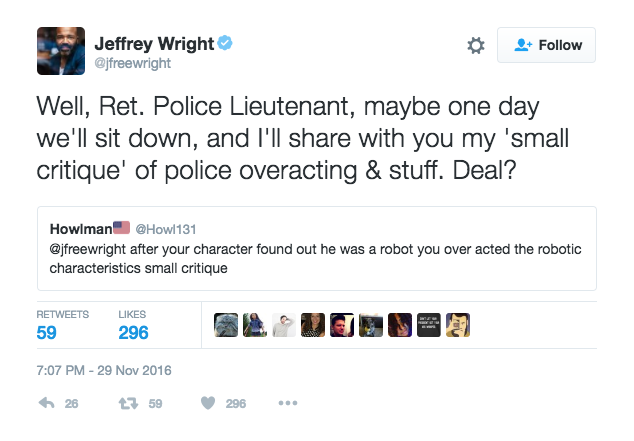 Howlman responded that it was easy to say after the fact that a police officer was "over reacting." "I had to take a life once it's not something you get over," he added.
"I don't doubt it," Wright responded. "True for both sides." He clarified though that he had said "overacting" — not "over reacting."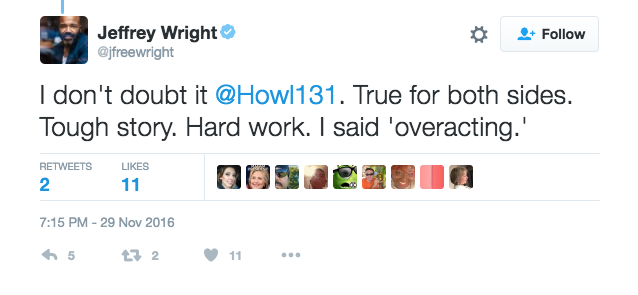 "If you were in need id be the first to assist even at the risk of my own life," Howlman said. "Even if we disagree."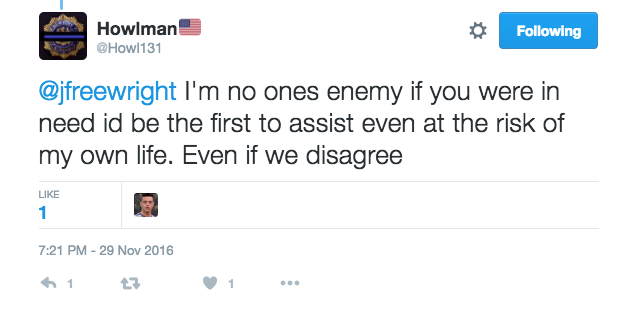 Finally, Wright put a cap on the conversation — until tomorrow.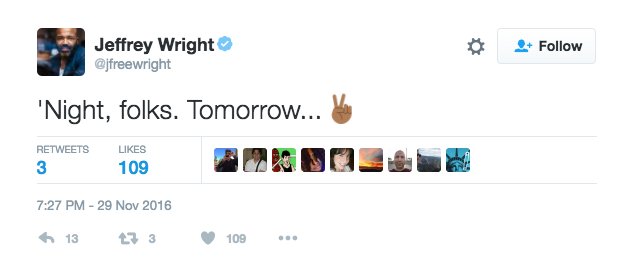 BuzzFeed News reached out to Howlman to further discuss the conversation with Wright, but he declined and said to "see our mutual attacks on Twitter if you like."