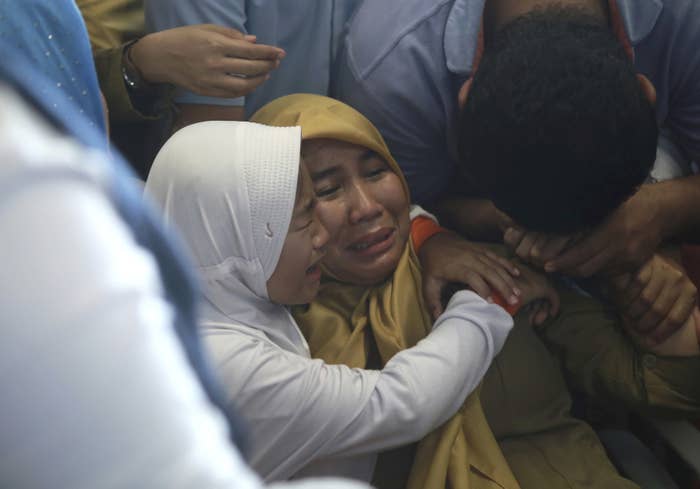 A plane carrying 189 people, including one child and two infants, crashed into the ocean shortly after taking off from Indonesia's capital city Monday morning, officials in the country said.
The Boeing 737 was carrying 181 passengers as well as two pilots and six crew members when it took off from Jakarta around 6:20 a.m. local time, according to Sutopo Purwo Nugroho, a spokesperson for Indonesia's Disaster Agency.

No survivors have been found. "We don't know yet whether there are any survivors," Muhammad Syaugi, the head of Indonesia's search and rescue agency, said at a press conference. "We hope, we pray, but we cannot confirm."
President Joko Widodo has called on Indonesians to "keep on praying."

The Lion Air flight was heading to Pangkal Pinang, the main city in the Bangka Belitung Islands off Sumatra, a trip that usually takes just over an hour.
Indonesia's National Search and Rescue Agency said that the flight lost contact at 6:33 am, less than 15 minutes after it took off. Information on Flight Aware showed that tracking for the plane ended just minutes after takeoff.
Nugroho tweeted images of debris in the water. He also shared images of recovered items, such as a cellphone, books, and a bag that had been retrieved by search and rescue crews.

"We can confirm that one of our flights has lost contact," said Lion Air spokesman Danang Mandala Prihantoro, according to the AP.
Both pilots were highly experienced. Captain Bhavye Suneja, originally from New Delhi, had flown more than 6,000 flight hours, while his copilot had more than 5,000 hours.
The Indonesian Supreme Court confirmed that three Indonesian High Court judges were on the flight, as well as a more junior judge.

Officials investigating the crash are now focused on retrieving the black box and data transmitted from the cockpit of the brand new aircraft. Weather conditions and air traffic control data will also be taken into account.
"We are preparing to depart to the location," the head of Indonesia's National Transportation and Safety Committee, Soerjanto Tjahjono, said.
"The plane is so modern, it transmits data from the plane, and that we will review too. But the most important is the black box."
Boeing, which manufactured the airplane, also tweeted that it is aware of the reports of the accident and is "closely monitoring the situation."
Founded in 2000, Lion Air is Indonesia's largest private airline and a low-budget carrier. BuzzFeed News has contacted Lion Air for more information.

Families faced an anxious wait on Monday for news of the crash investigation, at a makeshift crisis center at Halim airport in Jakarta.