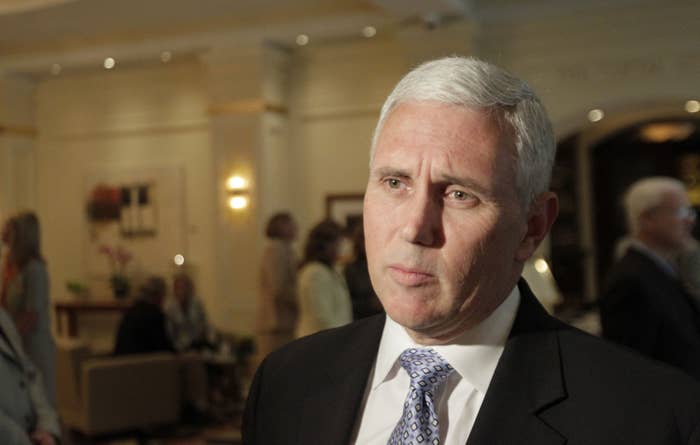 The American Civil Liberties Union filed a lawsuit Monday against Indiana Gov. Mike Pence over his decision to stop resettling Syrian refugees in the state in wake of the Paris terror attacks.

The ACLU filed the suit on behalf of Exodus Refugee Immigration — a nonprofit group working to resettle refugees fleeing war or persecution in the state — saying the governor's actions violate the Equal Protection Clause of the Constitution and federal law. The suit also names John Wernert, secretary of the Indiana Family and Social Services Administration.
"There is no border around the state of Indiana that prevents people from entering our state who may move freely within the United States," ACLU of Indiana legal director Ken Falk said in a statement. "Decisions concerning immigration and refugee resettlement are exclusively the province of the federal government, and attempts to pre-empt that authority violate both equal protection and civil rights laws and intrude on authority that is exclusively federal."
The lawsuit comes after Pence joined 30 other U.S. governors in stating he would not accept Syrian refugees in the wake of the Paris attacks over security concerns that terrorists could infiltrate the country through the program.
The nonprofit Exodus receives federal money through the state's Office of Refugee Programs, which is within the Family and Social Services Administration, to assist in the federal government's program to resettle refugees after a rigorous screening process that takes on average 18 to 24 months.
Exodus uses the government funds to help with job training, language courses, and other services. The complaint says the nonprofit, which plans to continue to relocate refugees despite the governor's order, will not be reimbursed if states agencies refuse to provide assistance.

After Pence said he would not allow refugees, a Syrian family who was supposed to arrive on Nov. 19 in Indianapolis was diverted to New Haven, Connecticut, where they were welcomed. The family had waited three years to make the move to Indianapolis.
Exodus said the funds used to help resettle the family were wasted and could have been used to help other refugees.
The program helped resettle 892 refugees in the past fiscal year and is projected to receive about the same number refugees in 2016, including 19 Syrian refugees who have already been approved to move to Indiana and are expected to arrive in the next few weeks or months, according to the ACLU complaint.
"The actions taken by Governor Pence to block Syrian refugees from entering the State of Indiana are not in line with Hoosier or American values," said Carleen F. Miller, executive director of Exodus Refugee Immigration.