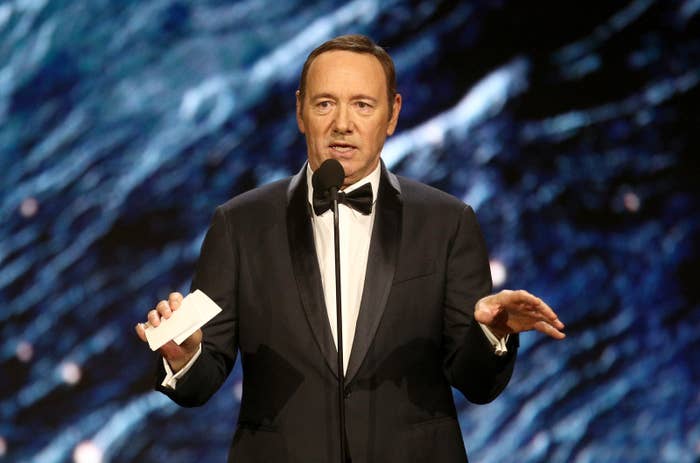 A film starring Kevin Spacey about American industrialist J. Paul Getty that had already been filmed will be reshot to replace the actor following allegations of sexual assault against him.
Spacey will be replaced by Christopher Plummer, whose representative confirmed to BuzzFeed News that he will reshoot the scenes in All the Money in the World that Spacey appeared in.
The decision was made by director Ridley Scott and the film's producers, with the support of Sony Pictures, a source close to the movie confirmed. The cast and crew, including actors Mark Wahlberg and Michelle Williams, also signed on, according to Deadline, which first reported the news.
The move is unprecedented for Hollywood. Sony Pictures did not immediately have a comment on the decision, but photos of Spacey have already been pulled from the movie's press site.
The movie — which is based on the story of Getty's refusal to cooperate with the extortion demands of a group of kidnappers who mutilated his grandson in the 1970s — was set to be released on Dec. 22, which a source said the team was committed to meeting.
Deadline reported that much of the action in movie involves the efforts of the kidnapped heir's mother, Gail Harris (Williams), and Getty's adviser (Wahlberg) to free the youth. Still, even though Spacey worked just eight to 10 days on the film, the character reportedly plays an important role.

The first allegation against Spacey came from actor Anthony Rapp, who told BuzzFeed News in October that Spacey, then 26, made a sexual advance on him when he was 14.
Since then, more than a dozen people have come forward with allegations of sexual harassment and misconduct by Spacey, including writer and actor Harry Dreyfuss, who is the son of the Oscar-winning actor Richard Dreyfuss.

Netflix has since shut down production on the last season of House of Cards, for which Spacey won a Golden Globe, and people from the set of the show have said he abused his power. London's Metropolitan Police have reportedly launched an investigation into the allegations against Spacey.